Get fantastic suggestions for what to serve with cinnamon rolls for breakfast, brunch, and more. Plus the best drinks to serve with cinnamon rolls.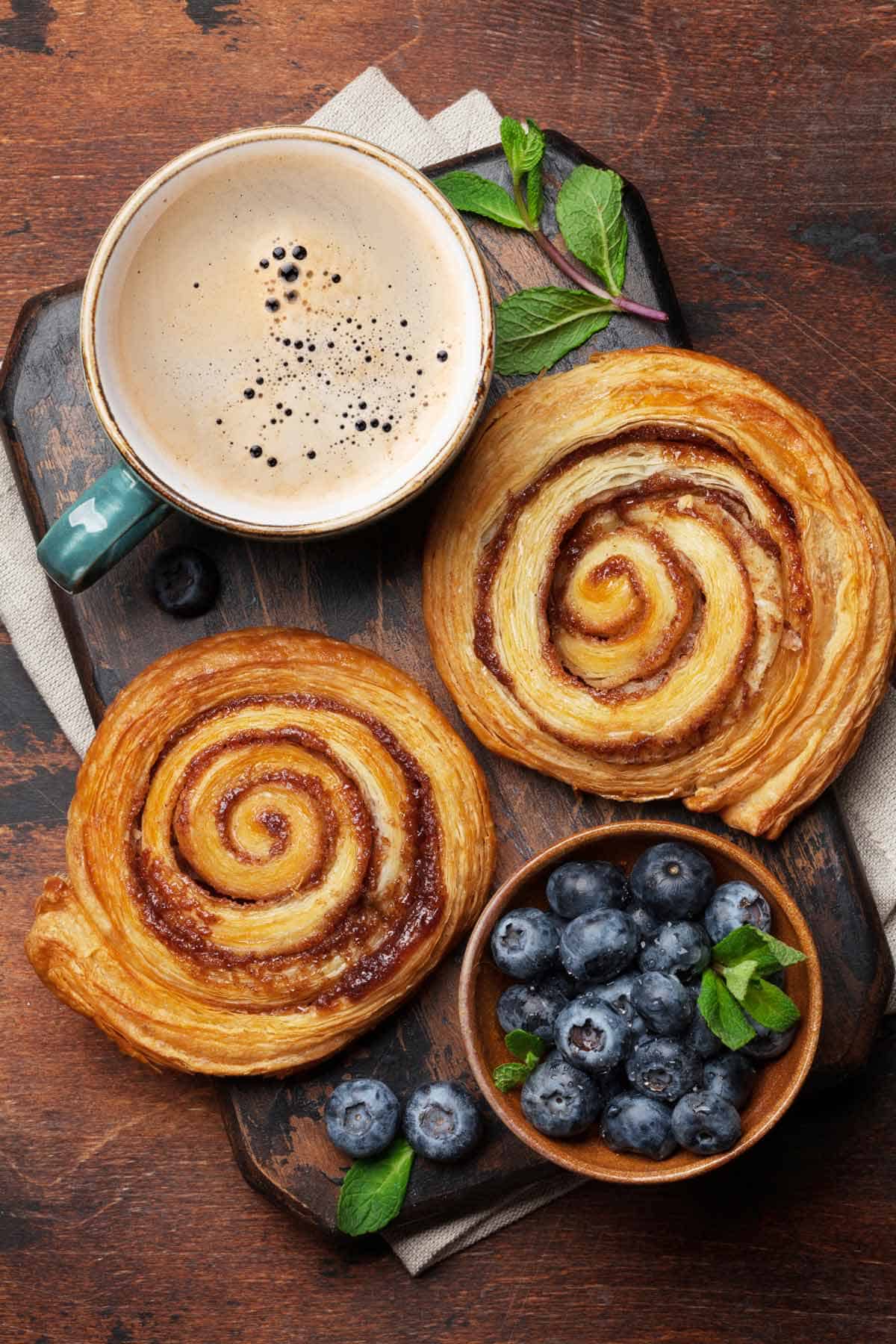 Are you planning on baking a warm batch of cinnamon rolls? Gooey, sweet, buttery cinnamon rolls are perfect for practically any meal. Serve them to your family or at any get-together.
What should you serve with cinnamon rolls? The best sides for cinnamon rolls for breakfast are scrambled eggs, bacon, and fresh fruit. Soup and chili go well with cinnamon rolls for dinner. And ice cream and hot chocolate are fantastic foods to serve with cinnamon rolls for dessert.
Learn what to serve for breakfast, brunch, dinner, and dessert when cinnamon rolls are on the menu. Plus, get drink suggestions to serve with cinnamon rolls and the best toppings to pair with them.
You may also be interested in reading up on how to make canned cinnamon rolls taste homemade. Just in case you don't have time to bake a homemade cinnamon roll recipe from scratch.
Jump to:
What to Serve with Cinnamon Rolls for Breakfast
Rise and shine! Classic cinnamon rolls are on the breakfast menu, along with these other incredible breakfast foods.
What Drink Goes Well with Cinnamon Rolls
There are many good drink options to pair with warm rolls. Both cold and warm drinks have their advantages.
Milk
You can never go wrong with a glass of cold milk and a cinnamon roll. Dairy milk and plant-based milk are both good options.
Grab the recipe for homemade almond milk. Or try homemade chocolate almond milk.
Hot Chocolate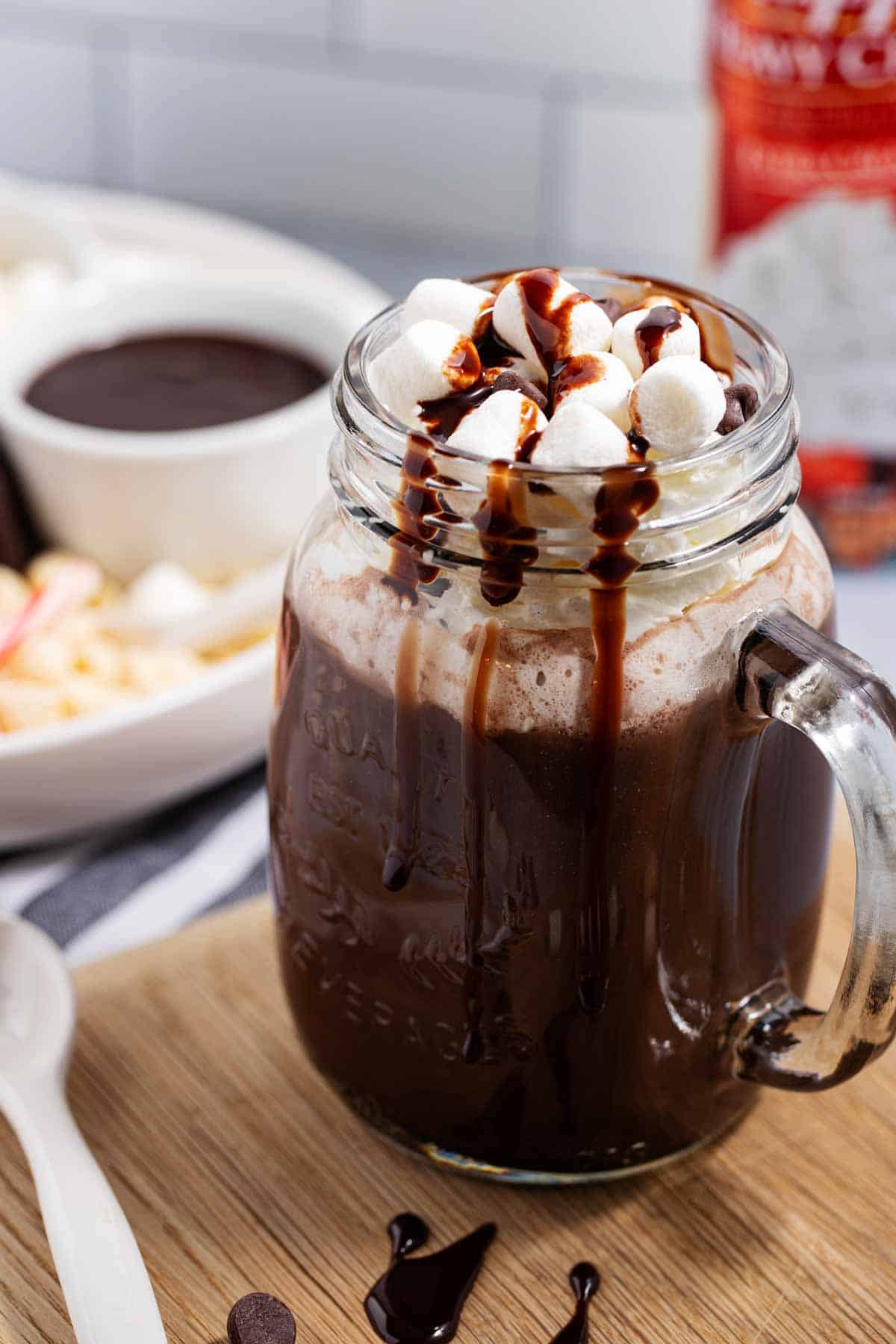 Hot chocolate goes with cinnamon rolls for dessert, at an outdoor event, or when you are camping. Get the recipe for hot chocolate made with chocolate chips. It may be your new favorite way to make hot chocolate.
Chocolate Milk
Serve chocolate milk with cinnamon rolls for breakfast. When regular milk won't do, chocolate milk will step in.
Grape, Apple, or Orange Juice
Fruit juice is an excellent drink to serve at breakfast with the rolls. Try any fruit juice, although we are partial to orange juice over here.
Apple Cider
Warm apple cider paired with cinnamon rolls or sticky buns hits the spot on chilly nights. Make a batch of apple cider and serve it with cinnamon rolls during outside holiday events.
Think corn mazes, pumpkin patches, and caroling. Grab a gallon from the grocery store. Then heat it up and serve.
Eggnog
Nothing says Christmas is coming like eggnog. Eggnog and cinnamon rolls are an easy pairing for this year's holiday get-together. Casual and delicious. You can find eggnog at all of your favorite grocery stores during the holidays.
Coffee or Hot Tea
Coffee is another hot drink that can be served next to cinnamon rolls when a chill is in the air. Or make a cup of herbal tea.
Best Icings, Toppings, and Fillings for Cinnamon Rolls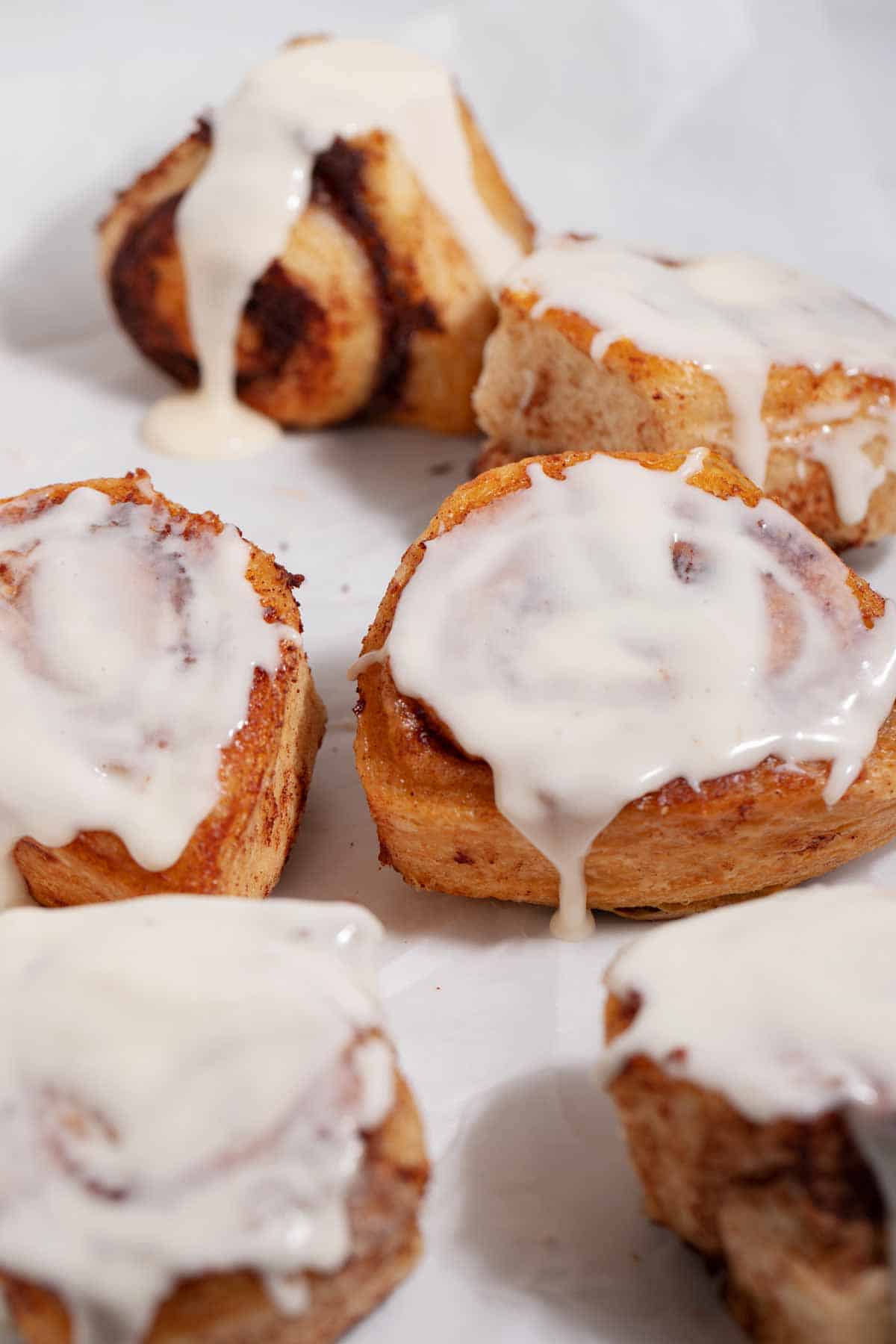 Cream cheese frosting. This is the standard finish for homemade cinnamon rolls. Cream cheese icing is made with butter, cream cheese, vanilla extract, and powdered sugar.
Apple pie cinnamon rolls. Apple cinnamon rolls drizzled with caramel sauce and sprinkled with pecans are a fall recipe through and through.
Cinnamon and brown sugar filling. Make buttery cinnamon filling next time you want to make perfect cinnamon rolls.
Peanut butter icing with bananas and pretzels. Try this unique flavor combination for the peanut butter lover. It will become one of your favorite ways to make the pastry.
Apple butter. Apple butter filling is warm, comforting, and just slightly different than you expected.
Pumpkin butter. Seasonal pumpkin butter can transform the rolls into pumpkin cinnamon rolls. Autumn is the best time to make pumpkin everything.
Coconut. You can never go wrong with a sprinkling of coconut with almost any flavor of cinnamon rolls.
Toffee chips. Toffee and cinnamon make a great pair for a sweet treat. Sprinkle toffee chips inside or on top of the rolls.
Marshmallow frosting with graham cracker crumbs. S'mores roll, anyone? Campfire ready, these are the best cinnamon rolls to remind you of camping.
Did you like this post? Then let's be social. FOLLOW ME on INSTAGRAM and PINTEREST to keep up with the latest happenings.