Wondering what to serve with chicken salad at a luncheon? The best sides to serve with chicken salad at a party are bread, salad, chips, veggies, fruits, and desserts. Quick prep dishes are desirable when cooking for a crowd.
Ready for some specifics? Let's dig into some of the best sides to serve with chicken salad at a luncheon.
You may also be interested in this post on how much chicken salad you need per person. It depends on the bun size and quantity of side dishes.
Bread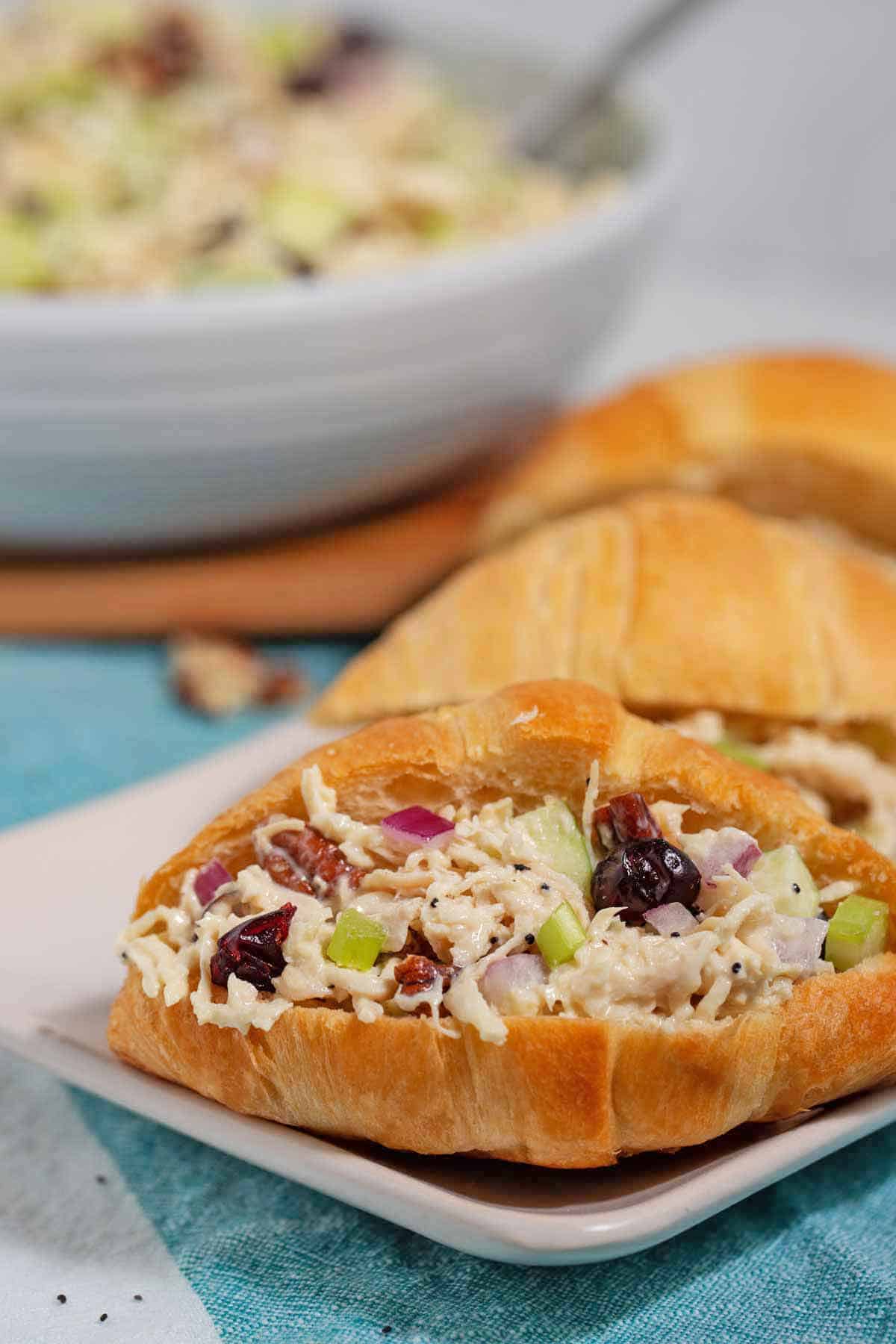 If you want the chicken salad to go further, have your guests make a sandwich. There are a wide variety of types of bread that you can serve with chicken salad at a luncheon. Like these:
Croissants. Light, flaky croissants are one of the most popular breads to serve with chicken salad.
Hawaiian rolls. Lightly sweet and soft, Hawaiian rolls are a great choice to make a chicken salad sandwich.
Potato buns. Pile chicken salad on top of soft and fluffy potato buns.
Looking for more breads to try? Check out this post on the best bread to serve with chicken salad sandwiches.
Salad
Salads don't always have to be green. Here are a few green (and nongreen) salads to serve with chicken salad at a ladies' luncheon.
Quinoa black bean salad with lime dressing. Looking for a light, filling, healthy salad? A quinoa black bean salad recipe with lime dressing is your answer. Fluffy quinoa, hearty black beans, fresh spinach, and sauteed summer vegetables, sprinkled with a zesty dressing.
Mandarin orange spinach salad. Spinach, baby orange slices, and bacon tossed with candied pecans, and a poppyseed dressing are sure to leave you craving more.
Potato salad. Sometimes you just gotta go with the classics. Chopped potatoes, hard-boiled eggs, and a dash of dill pickles is a surefire win.
Caprese salad. Slice mozzarella, beefsteak tomatoes, and basil. Then drizzle with a tasty balsamic vinaigrette for a simple salad with an Italian flair.
Coleslaw. Shredded cabbage and carrots in a healthy sauce will bring foodies back to get just one more serving.
Caesar salad. A Caesar salad is simple to throw together and a familiar favorite.
Broccoli bacon salad. Nothing like throwing bacon into a salad to entice everyone to eat their broccoli. This recipe will make you glad you are eating healthy today.
Check out this recipe for easy canned chicken salad for a crowd. You will love it.
Fruit Salad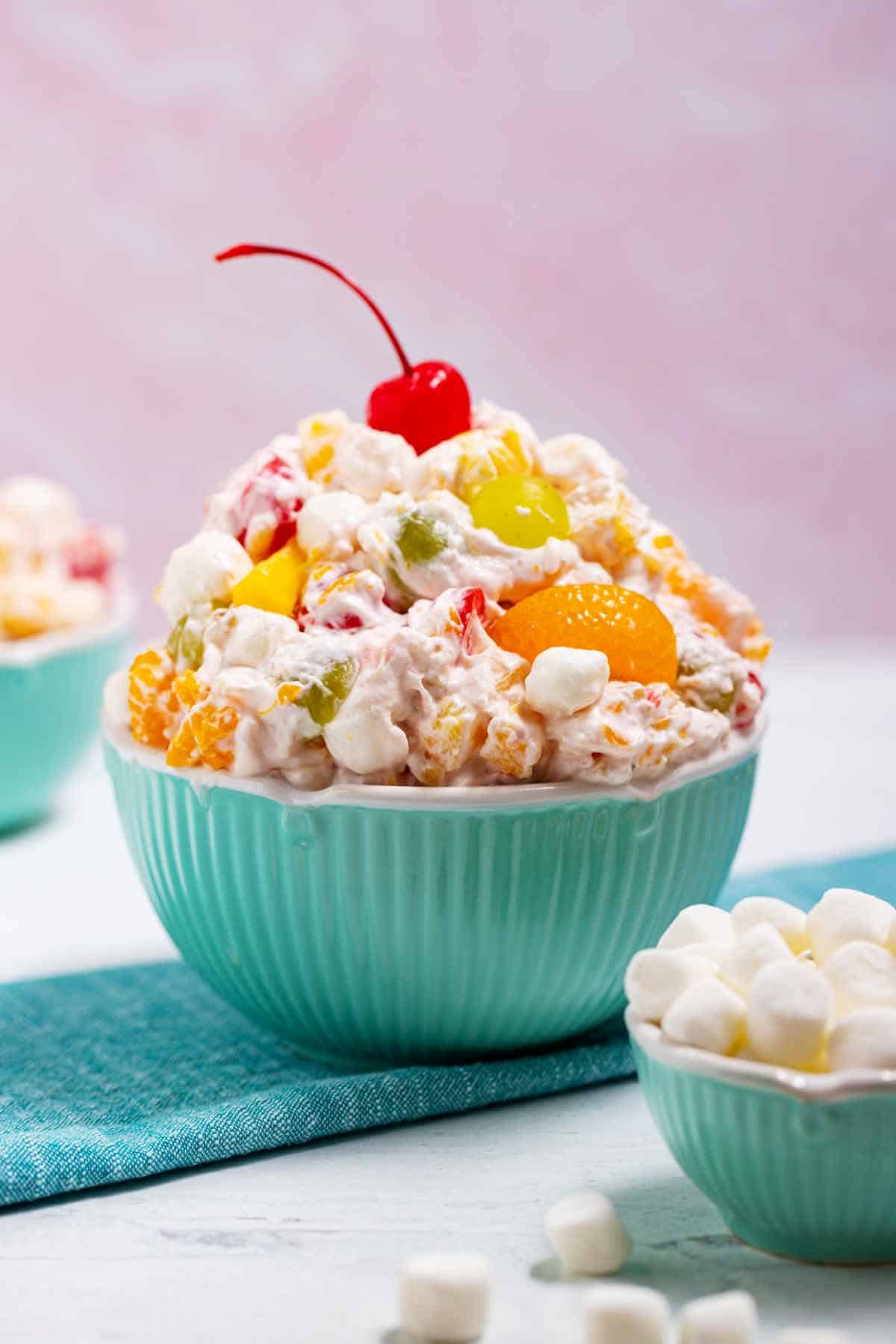 Ambrosia salad. Check out this quick, effortless crowd-pleasing potluck recipe. Vintage 1950s ambrosia salad, perfect for every party, is made with canned fruit, marshmallows, coconut, and nuts (or not) in a creamy dressing.
Mexican fruit salad (pico de gallo fruta). Try this easy Mexican fruit salad recipe (pico de gallo fruta). It is the perfect blend of sweet, spicy, and salty. Vibrant, colorful summer salad you will make again and again.
Apple snicker salad. Yup! Snicker bars in a salad. But don't worry. There are some healthy ingredients too in this sweet and tart crunchy salad.
Fruit salad with angel food cake. Fruit + cake = a fruit salad you won't want to miss. It's like a trifle but so much healthier (when salad is in the name).
Jello Salad
Mandarin orange jello salad with sherbet. Ready for the perfect easy mandarin orange jello salad with sherbet? Ideal for barbecues, parties, and all crowds. Simple 4 ingredients = party food everyone loves!
Cranberry raspberry jello salad. Creamy cranberry raspberry jello salad recipe with cream cheese, cranberries, raspberries, marshmallows, and Cool Whip. You won't find pineapple in this salad. Perfect for a crowd, you can double the recipe for potlucks and parties.
Easy cherry fluff salad. A cherry fluff salad recipe is the easiest potluck side dish you can make. It blends the flavors of cherry, marshmallow, and Cool Whip to bring out the kid in everyone. Cuz who doesn't need a bit of pink fluff in their life?
Wondering if you can make chicken salad ahead? Learn everything you need to know about making chicken salad early.
Appetizers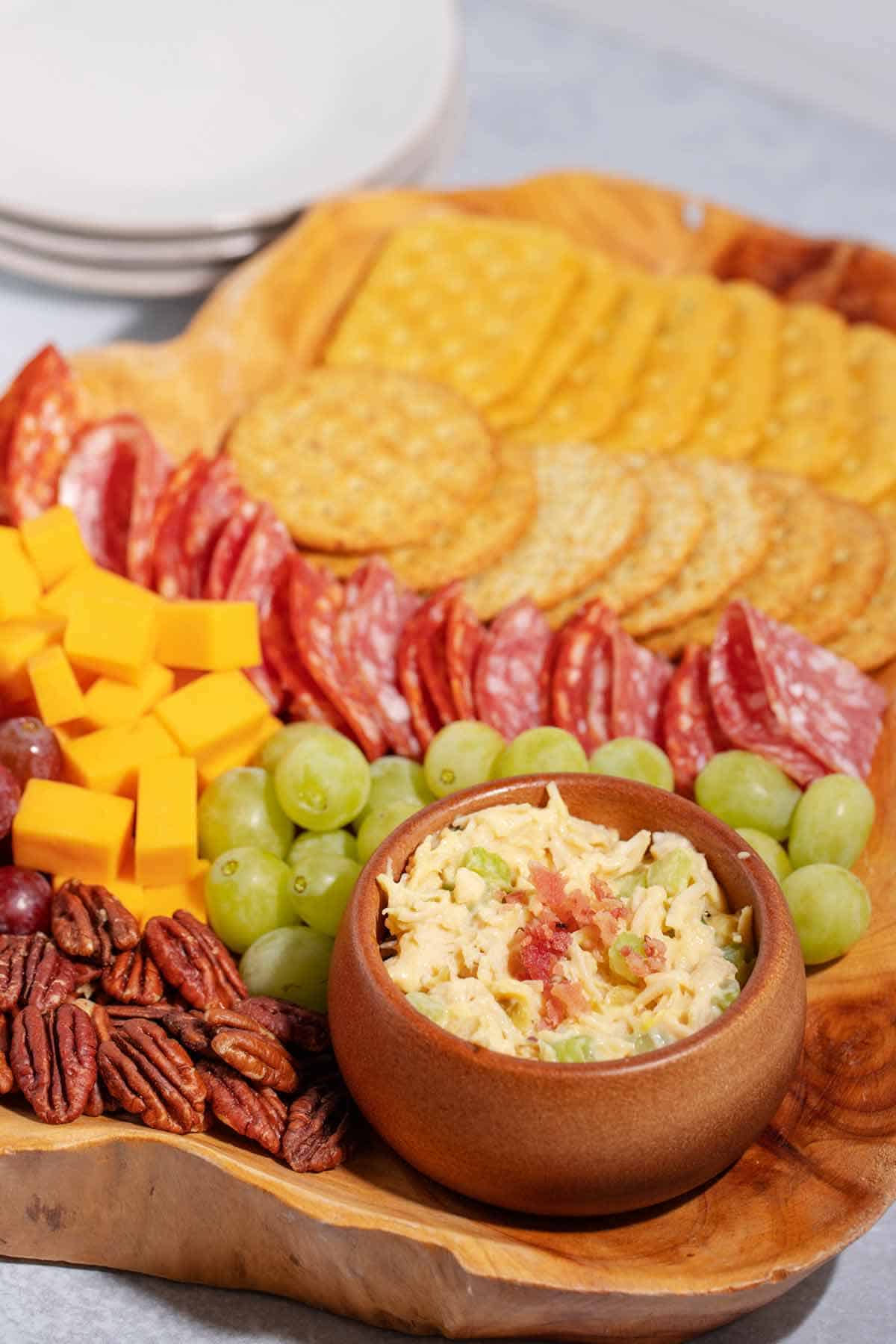 A few choice finger foods will compliment chicken salad and keep your crowd satisfied.
Charcuterie board. Sliced deli meats, cubed cheese, crunchy nuts, and crisp crackers. That is all you need to make a beautiful charcuterie board to serve with chicken salad at your luncheon.
Hummus and pita chips. A smooth, creamy, healthy dip made from chickpeas is perfect for pita chips. Originating in the Middle East, hummus combines the bitter and tart flavors of tahini and lemon juice with olive oil and spices to make a complex and exciting spread.

Try original hummus or roasted red pepper hummus.
Deviled eggs. You have the chicken salad. Now it's time for the eggs. Learn the best way to hard boil eggs to get soft, moist yolks.
Pinwheels. Veggie pinwheels are the best. All you need is a little cream cheese filling and some shredded veggies. Spread, roll, and slice.
Bruschetta. Toasted French bread. Slices of tomato, mozzarella, and basil. This simple appetizer will disappear before you know it.
Got leftover chicken salad? Find out how long chicken salad lasts. Plus, get the scoop on whether you can freeze chicken salad. Usually not, but there are some exceptions.
Fruit
Fruit tray, fruit salad, or fruit appetizers. There are so many ways to serve fruit with chicken salad at a lady's luncheon.
Sure, you can serve fruit at any luncheon, but women often prefer lighter sides. Consider these options for baby showers, bridal showers, women's business networking lunches, female church luncheons, and teacher appreciation meals.
Fruit tray. Slice fresh, seasonal fruit to make your fruit tray. Serve with marshmallow crème fruit dip for an unforgettable treat.
Fruit skewers. Choose your fruit wisely when you make skewers. The fruit should be easy to slice into large enough pieces to not fall off the stick. Berries and melons are the best.
Fruit charcuterie board. Who says charcuterie boards can only have meat and cheese. Make a board with 80% fruit and fill the rest with nuts, chocolate, and cheese.
What is a get-together without a creative way to serve the food? Learn interesting ways to serve chicken salad at a party.
Veggies
Vegetable tray. Your local farmers market can load you up with seasonal vegetables for your platter. Enjoy carrots, celery, broccoli, peas, asparagus, and radishes dipped in a sour cream dill dip.
Veggie Appetizers
Cucumber bites. Slice the cucumbers into 1-inch pieces. Then top with a dollop of ranch-flavored cream cheese. No one will complain if you sprinkle some crumbled bacon on top.

Learn all about cooking bacon in the oven for crisp or chewy strips.
Stuffed celery sticks. Nutella and peanut butter stuffed celery sticks combine sweet and savory in this unique appetizer.
Stuffed tomatoes. Pull out the hummus and stuff it into cherry tomatoes. Then top with an olive slice, and you are ready to go.
Chips
There are many ways to serve chips at a party. Plain, with dip, or with salsa. Consider these easy ideas.
Potato chips. Wavy, ruffled, classic. Flavors ranging from original and barbecue to cheddar or sour cream & onion. Buy a couple of bags and let guests choose their favorites.
Flavored tortilla chips. Doritos has the market on these chips. Try nacho cheese, cool ranch, or salsa verde.
Flavored corn chips. Hello Fritos. Original, chili cheese, or barbecue. These chips are yummy with chicken salad.
More snack chips. Ready for more snack suggestions. Consider Cheetos, pita chips, Veggie Straws, pita cracker thins, and pretzels.
Tortilla Chips and Salsa
If you have time, make some homemade salsa to go with your tortilla chips. Here are a few tasty salsas to pair with chips.
Guacamole. Learn how to make guacamole in 3 easy steps. Choose the right avocados, control your spicy heat level, and be selective with your add-in ingredients.
7-layer dip. Try this versatile 7-layer dip recipe and discover why it will be the last one you'll ever need. Learn all the layers in a 7-layer dip, plus discover why a recipe for this quick snack is optional.
Try this cranberry pecan chicken salad with poppy seed dressing. It may become your new favorite chicken salad recipe.
Crackers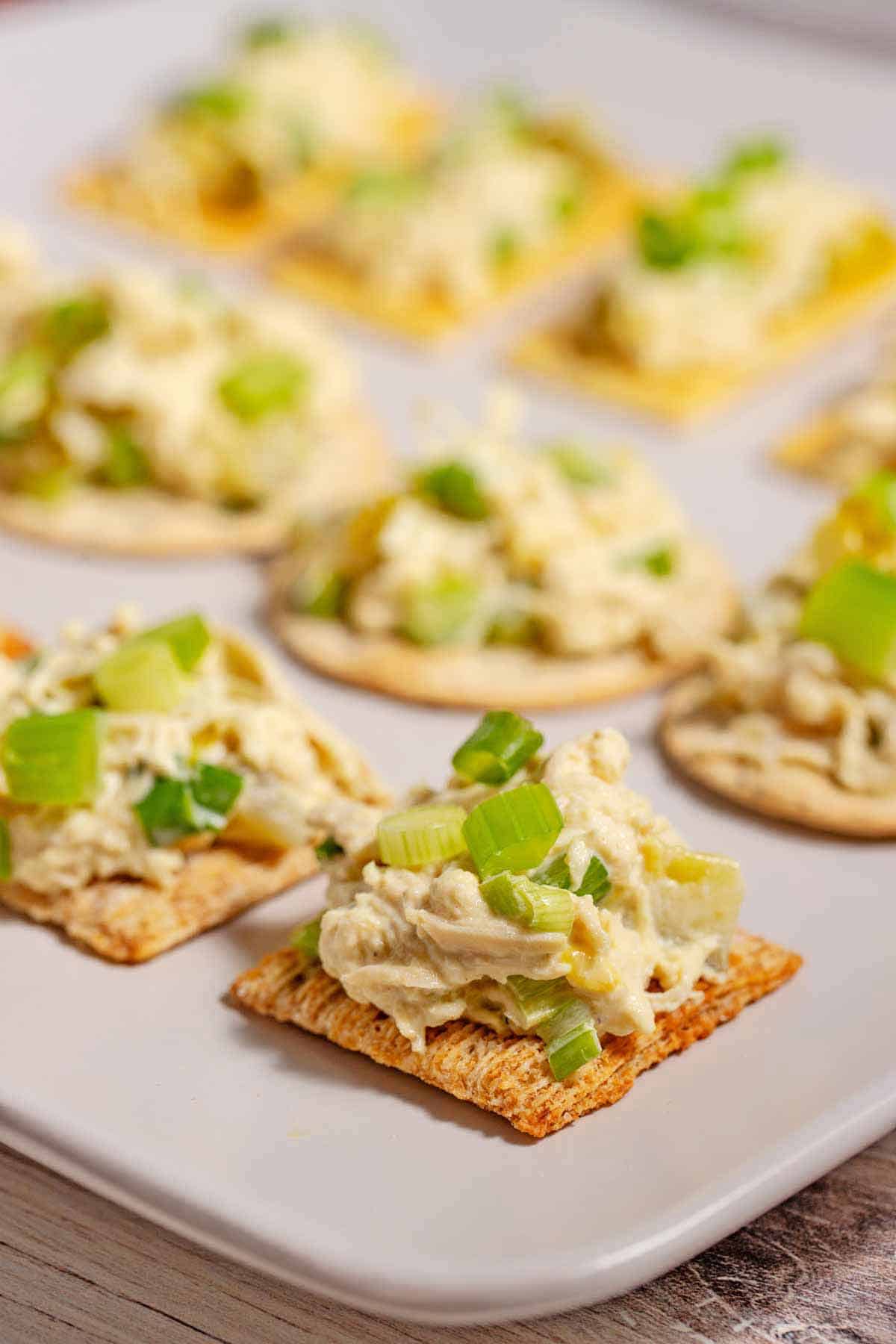 Crackers are an easy side to serve with chicken salad at a luncheon. Forget the bread and go straight to the crackers. Here are some suggestions to get you started.
Looking for even more ideas? Then you will like this post on the best crackers to serve with chicken salad.
Pasta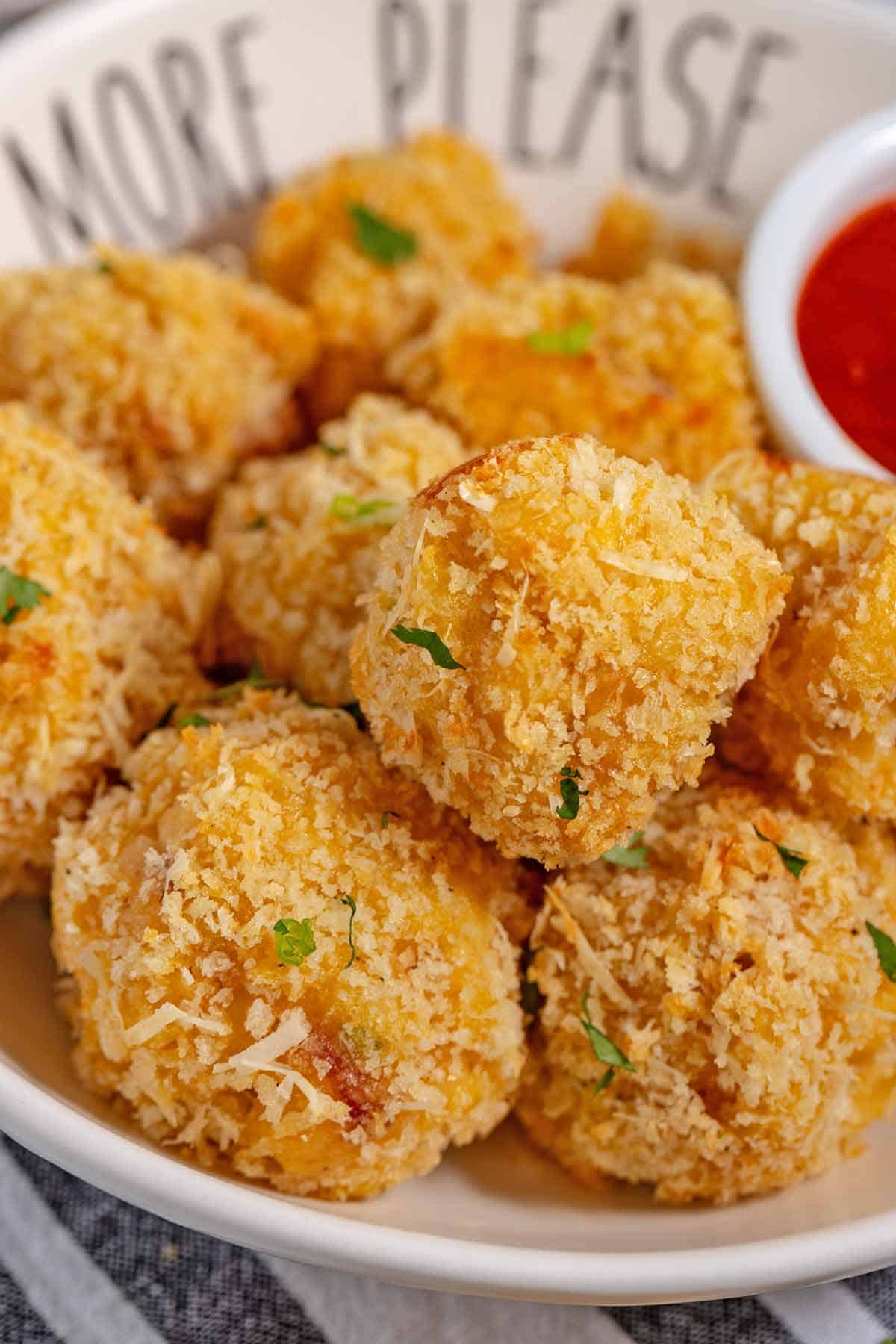 Baked mac and cheese bites. Need a fun finger food for your next party? This baked mac and cheese bites recipe is the perfect appetizer for kids and adults. Easy to freeze, quick to reheat.
Pesto pasta salad. Homemade pesto makes this pasta salad stand out. That and the grilled onions and peppers topping freshly cooked pasta. A crowd favorite for sure.
Macaroni fruit salad. Macaroni fruit salad is a little sweet, a little savory, and a little creamy. You may not see it on every buffet table, but it is delicious and filling. Just what you need.
Mac and cheese. Ready for some comfort food? Creamy mac and cheese is right on the mark. Guests will gobble it up when served as a side with chicken salad.
Love your Instant Pot? Get the recipe for making Instant Pot chicken salad with grapes.
Soup
Soup and sandwich? Yes please. That is a popular pairing for a luncheon. Here are some of the best soups to serve with chicken salad sandwiches.
Tomato soup. A cup of tomato soup perfectly matches a chicken salad sandwich at a luncheon. Creamy, flavorful and bright, make a large pot of soup with fresh tomatoes and carrots.
Potato soup. Pull out those leftover baked potatoes for this dreamy soup. Potatoes, leeks, and carrots. What more could you ask for?
Broccoli cheddar soup. Try a copycat Panera broccoli cheddar soup. Loads of chopped broccoli, shredded carrots, and melty cheese.
Serving store-bought chicken salad for your luncheon? Learn all the tips to make store-bought chicken salad taste better.
Desserts
Strawberry banana pudding. This fantastic strawberry banana pudding recipe is the best dessert for a crowd. Learn how to prep the strawberries for 3 exciting varieties of the recipe. Plus, get pudding in a jar instructions.
Snickerdoodle cookies. Do you want to make the BEST snickerdoodle cookies? Learn the 7 techniques that will take your snickerdoodles from good to absolutely AMAZING! Thick, soft and chewy, and slightly tangy with a crinkly top, the cookies taste of cinnamon and sugar sweetness.
Brownies. Blondies, brownies, peanut butter/chocolate. Any brownie will get scarfed down when served with chicken salad at a luncheon.
Mini cheesecake bites. Easily pick up a package of frozen Cheesecake Factory mini cheesecake bites at Costco. A micro version of 3 flavors will be a popular pick at the luncheon table.
Banana bread. Moist banana bread slices (or banana muffins) are an excellent healthy dessert to serve with chicken salad at a luncheon. Not too heavy and easy to self serve.
You may also be interested in the side dishes for sloppy joes.
---
Did you like this post? Then let's be social. FOLLOW ME on INSTAGRAM and PINTEREST to keep up with the latest tutorials, favorite recipes, and interesting happenings.