Creamy cranberry raspberry jello salad recipe with cream cheese, cranberries, raspberries, marshmallows, and Cool Whip. You won't find pineapple in this salad. Perfect for a crowd, you can double the recipe for potlucks and parties.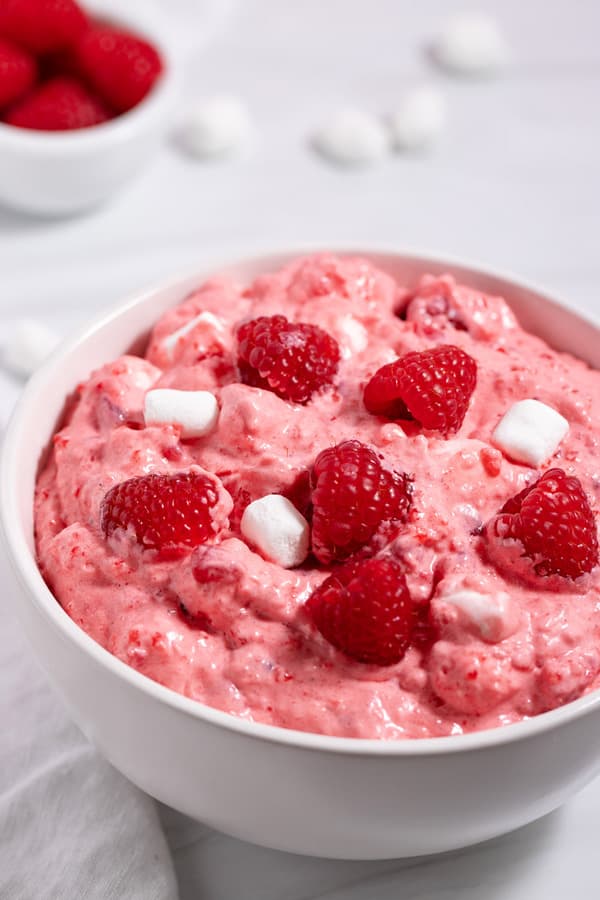 Do you like cranberries? Yes? Then you will love this cranberry raspberry jello salad recipe without pineapple. No pineapple to distract you from the taste of the delicious berries.
You may think that a festive cranberry jello salad can only grace your Thanksgiving dinner table. And true, cranberries are seasonal. Ripe in the fall, fresh cranberries are only available from September to January.
However, one of the best things about this cranberry raspberry jello salad recipe is that it uses canned cranberry sauce – whole or jellied.
That means that you can make this easy recipe for any holiday, potluck, party, or shindig you attend. You can even make it for dinner during the week.
It is so simple to whip up, even your teenager can learn to make it. And isn't it about time he learned some new recipes?
You may also be interested in an old-fashioned mandarin orange jello salad with sherbet. Creamy, tasty, and delicious for any crowd.
3 Types of Jello Salads
There are 3 ways to make a jello salad.
Molded salad: A solid but jiggly jello mold holds its shape and can be sliced to serve. Pour a jello mixture into a bundt pan or 6-cup ring mold dusted with cooking spray and refrigerate until it sets. Release the mold onto a serving platter, garnish, and serve.
Layered salad: Make a layered gelatin salad in a trifle dish or a casserole dish. The salad layers can include a tangy cream cheese bottom, several bright flavors of sweet jello, canned fruit, and a creamy topping.
Tossed salad: A tossed salad is an easy jello salad where the gelatin mixture is partially set and then blended with a cream cheese dressing (or a healthy alternative). Then it is combined with fruit and other add-ins before being presented in a serving bowl.
This raspberry cranberry jello salad recipe follows the tossed salad pattern. It is easy to make for a crowd if you have a big bowl.
This is Why You Will Love this Jello Salad!
Easy recipe to double for a crowd. No special instructions to make a large batch. Just double everything. It will be the most popular dessert salad at the party.
Deliciously unique way to serve cranberry sauce. Forget plain cranberry sauce. This jello salad presents cranberries in a creative salad with the complimentary flavors of raspberries and coconut.
Simple recipe to prepare. It is hard to get this salad wrong. Sure, there is some chilling involved. But really, we all need to chill every once in a while.
It is sweet, but not too sweet. It may be a dessert salad, but you don't want it to be too cloying. The cream cheese and sour cream soften the sweetness to a level that is just right.
Cranberry Raspberry Jello Salad Ingredients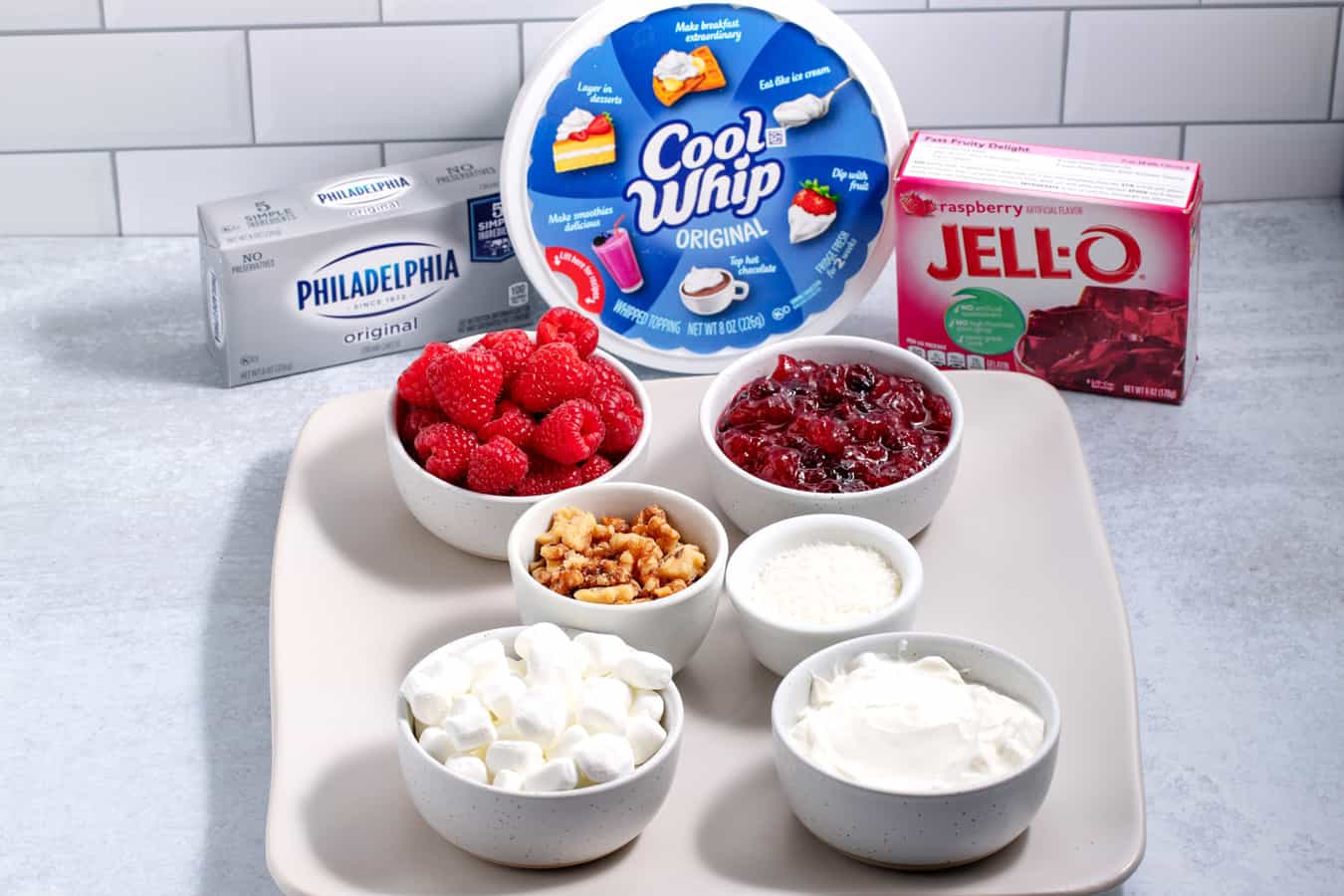 Raspberry jello. Make the raspberry-flavored jello with a bit less water for this salad. When it is partially set, mix it with the cream cheese dressing.
Boiling water. Not just hot water, but boiling water dissolves the gelatin.
Cream cheese. Cream cheese is the base of the creamy dressing. The mild tart taste blends with the sweet raspberry jello perfectly.
Sour cream. Sour cream is the second ingredient in the sweet salad dressing. It will improve the texture and lighten and thin the sauce.
Whole cranberry sauce. Use a can of whole berry cranberry sauce or a can of jellied cranberries. If you want substance in your salad, use whole cranberries.

Refrigerate the canned cranberries while the jello partially sets to speed up the prep time.
Raspberries: Fresh or frozen raspberries work for this recipe. If you will use frozen berries, thaw and drain them before adding them to the salad. This will avoid a watery salad.
Mini marshmallows. The best dessert salads have marshmallows. Use the white ones, not the colored ones.
Chopped walnuts or pecans. Nuts are always optional. However, they give the salad some texture and a bit of crunch. Walnuts and cranberries are a great pair.
Coconut. Use unsweetened or sweetened coconut in this salad. You will like the tiny coconut shreds from Bob's Red Mill. They are unsweetened and the perfect-sized pieces for a jello salad.
Cool Whip OR homemade whipped cream. Use a container of Cool Whip if you want to save time or make the salad more than 24 hours early. The ingredients in Cool Whip stabilize it, so it holds the salad together longer.

Making your own whipped cream is easy too. And you may prefer the taste of homemade whipped cream to Cool Whip.
Directions to make Whipped Cream: Whip 1 cup of cream until soft peaks form. Blend in 2 tablespoons of sugar and whip until stiff peaks form. Use in place of the Cool Whip.
Why No Pineapple in this Cranberry Raspberry Jello Salad Recipe?
You will love the taste of cranberry blended with raspberry flavor without crushed pineapple. Sure, pineapple complements the flavor of the berries. However, this delicious side dish has a smoother texture without the pineapple.
Plus, it is already a sweet dessert salad. It does not need the added sweetness that pineapple brings.
Cranberry Raspberry Jello Salad Recipe Directions
Step 1. Refrigerate the canned cranberries.
Refrigerate the canned cranberries until you are ready to use them. When the cranberries are cold when you mix the salad, you can shorten the salad chill time.
Step 2. Boil the water.
For the gelatin to dissolve, you need boiling water. Not just hot water.
Step 3. Mix the raspberry jello.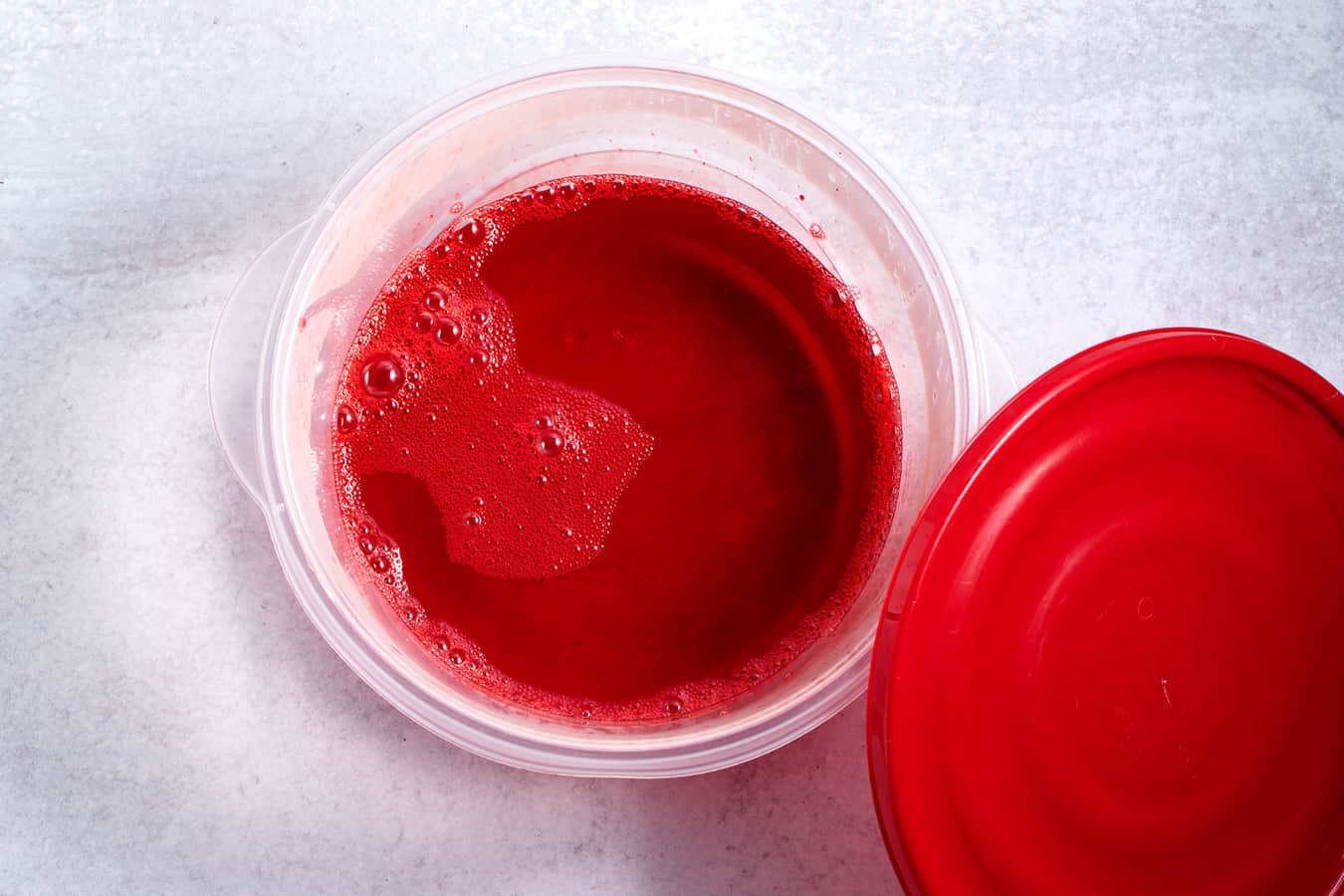 Pour the raspberry jello into a large bowl. Add the boiling water to the gelatin mix. Then stir for about two minutes, or until the mixture dissolves completely.
Step 4. Mix the creamy dressing.
Whip the cream cheese and sour cream until it is a smooth dressing.
Step 5. Mix the jello into the dressing.
Blend the jello into the dressing until smooth. Refrigerate until it begins to get thick (about 30 minutes to an hour).
Step 6. Stir the jello salad together.
Stir the canned cranberries, raspberries, walnuts, coconut, and marshmallows into the jello. Mix well.
Step 7. Fold in the Cool Whip
Use Cool Whip or homemade whipped cream. Gently fold in the Cool Whip until it is mixed throughout the salad.
Step 8. Refrigerate for 1 to 2 hours.
Refrigerating the salad will thicken the salad, blend the flavors, and make the marshmallows gooey and soft.
How Far Ahead Can You Make Cranberry Raspberry Jello Salad?
Jello salads are good for several days. Since none of the ingredients are too perishable, you can make the salad 24 to 48 hours early.
If you are making the salad early, do not add the nuts until you are ready to serve the dish. This keeps the nuts crunchy.
How to Store Leftovers
Scrape the dessert salad remnants into an airtight container with a lid. Keep it chilling in the refrigerator until you are ready for leftovers.
Jello salad stays fresh for about 5 days.
Can You Freeze Cranberry Raspberry Jello Salad?
There is little reason to freeze this cranberry raspberry jello salad recipe. Freezing jello will change the jello texture, although the taste may be unaffected.
---
Did you like this post? Then let's be social. FOLLOW ME on PINTEREST and INSTAGRAM to keep up with the latest tutorials, favorite recipes, and interesting happenings.
---
Yield: 8 cups
Creamy Cranberry Raspberry Jello Salad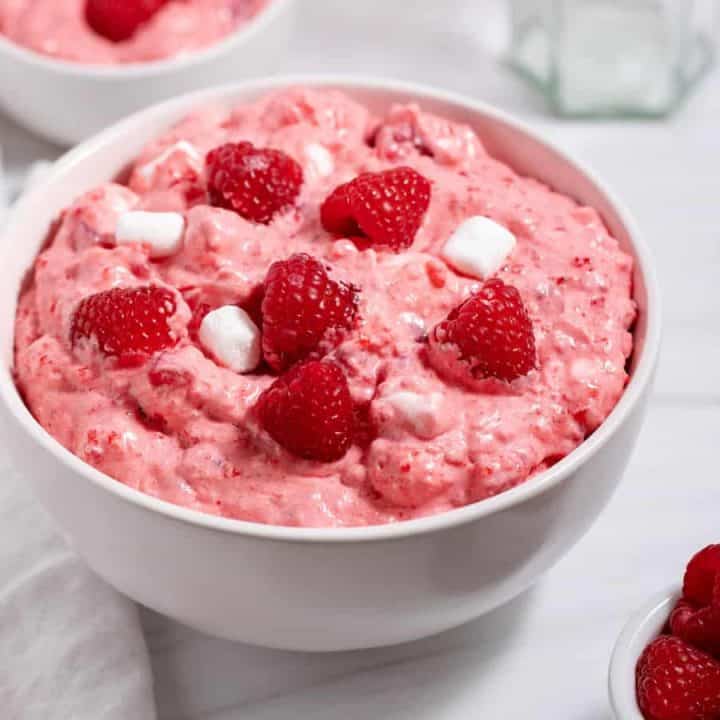 Creamy cranberry raspberry jello salad recipe with cream cheese, cranberries, raspberries, marshmallows, and Cool Whip. You won't find pineapple in this salad. Perfect for a crowd, you can double the recipe for potlucks and parties.
Chill Time
2 hours
30 minutes
Total Time
2 hours
50 minutes
Ingredients
6 oz. package of raspberry jello
2 cups of boiling water
8 oz. cream cheese, softened
½ cup of sour cream
1 (14 oz.) can of whole cranberry sauce
1½ cups mini marshmallows
1½ cups of fresh or frozen raspberries
1 cup of chopped walnuts, toasted (optional)
½ cup dried coconut
1½ cups of Cool Whip
Instructions
REFRIGERATE the canned cranberries. Pull the cream cheese out of the refrigerator to soften.
BOIL the water.
POUR the boiling water into a bowl with the raspberry jello. Stir for about two minutes until the gelatin dissolves.
WHIP the softened cream cheese and the sour cream together until smooth.
BLEND the jello into the cream cheese mixture.
REFRIGERATE until it starts to get thick (about 30 minutes to 1 hour).
CHOP the walnuts, if using.
STIR in the cranberry sauce, mini marshmallows, raspberries, coconut, and walnuts (optional).
FOLD in the Cool Whip.
CHILL for 1 to 2 hours to thicken the salad, blend the flavors, and make the marshmallows soft and gooey.
GARNISH with fresh raspberries.
Notes
All images and content are ©TheTastyTip.com. If you want to use this recipe and techniques, please take your own photos, write your own description, and link back to this page. Thank you.
---
Did you make this recipe? Tag @thetastytip on Instagram and hashtag it #thetastytip.
---
Ready for More Salad Dessert Recipes?
Jello recipes are family favorites that make a perfect side dish for a potluck, barbecue, or holiday dinner. They are just as popular at Christmas dinner as they are for Saturday night dinner.
Make them for a crowd or just for your family. Jello salad is an easy recipe to scale up or down. Try a few of these jello desserts.
Cranberry pineapple jello salad. Mixed crushed pineapple into raspberry gelatin and canned cranberry sauce. Chill to set and then unmold on a serving plate.
Mandarin orange salad recipe with Cool Whip
Cherry fluff recipe without sweetened condensed milk: A cherry fluff salad recipe is the easiest potluck side dish you can make. It blends the flavors of cherry, marshmallow, and Cool Whip to bring out the kid in everyone. Cuz who doesn't need a bit of pink fluff in their life?
Make-ahead banana pudding: Learn how to successfully make banana pudding the day before without ending up with brown bananas and soggy cookies. Get smart tips and techniques to prevent problems before they happen. Plus learn the best cookies for banana pudding.