Next time you have leftover pound cake, cut it into cubes and make easy dessert skewers with fruit and cake pieces. Drizzle the dessert kabobs with melted white chocolate to add some class.
This post may contain affiliate links for your convenience. Thank you for your support.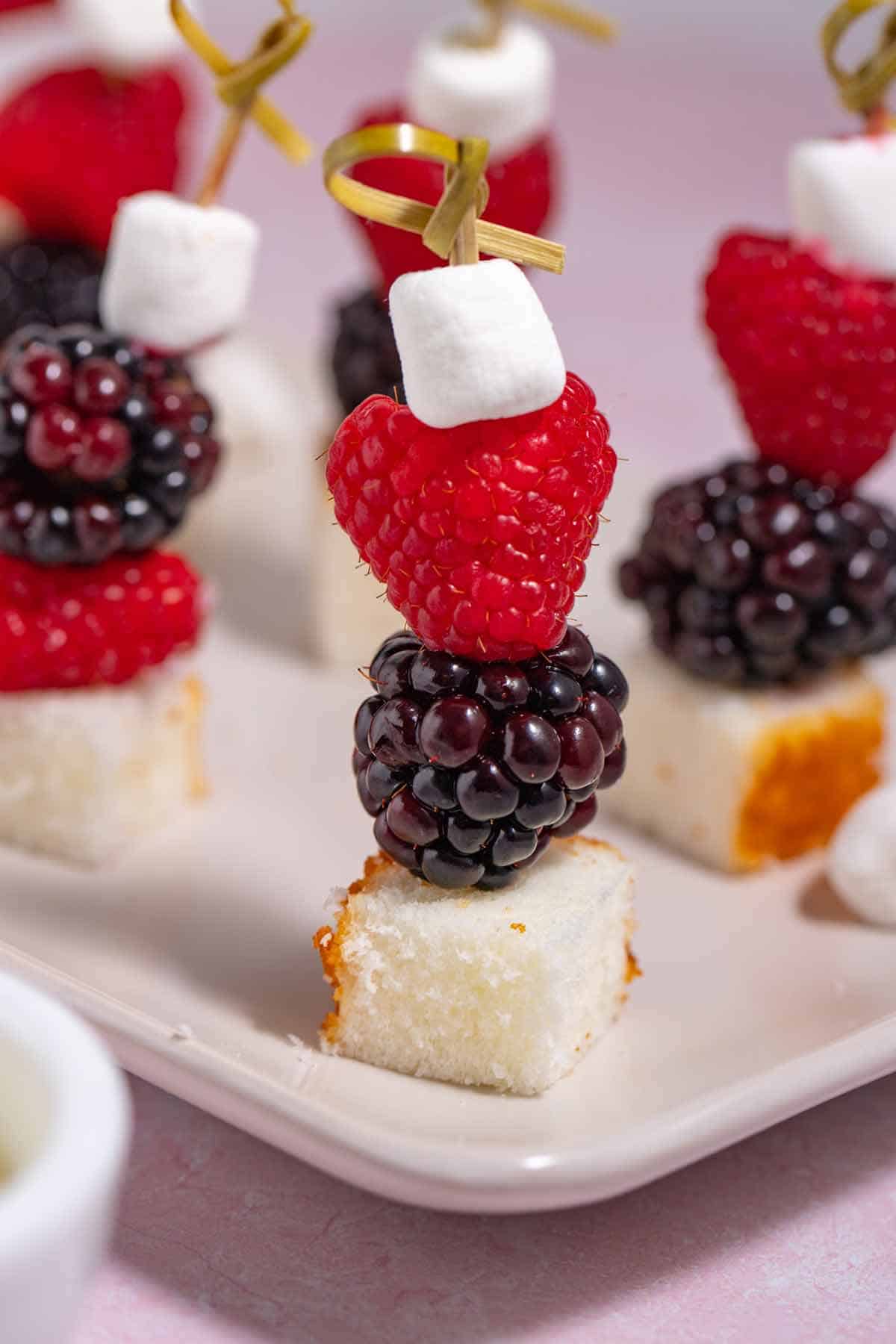 Ready for a super easy dessert recipe? This treat is so simple that your teenager can make it and post a video of herself making it simultaneously.
And what is better than attractive bits of sweetness that even uses up leftovers? Yep. This is another recipe for leftover cake.
You Will Keep Coming Back to This Recipe – Here's Why
It is a great way to use up leftover cake scraps. Or if you are making dessert for a crowd, make a pound cake just for this recipe. Cut the cooled cake into cubes, and you are ready to go.
Effortlessly scale the recipe up or down. Dessert for two? Make it in 5 minutes. Goodies for your family reunion? Buy more fruit and keep threading the skewers until you run out of ingredients.
Make them any size. Use small sticks for mini fruit skewers or long sticks for a real dessert.
Anyone can make them. You can even have your family make their own if you want. Serve bowls of ingredients on the buffet table and have everyone customize their own dessert kabob.
Ingredients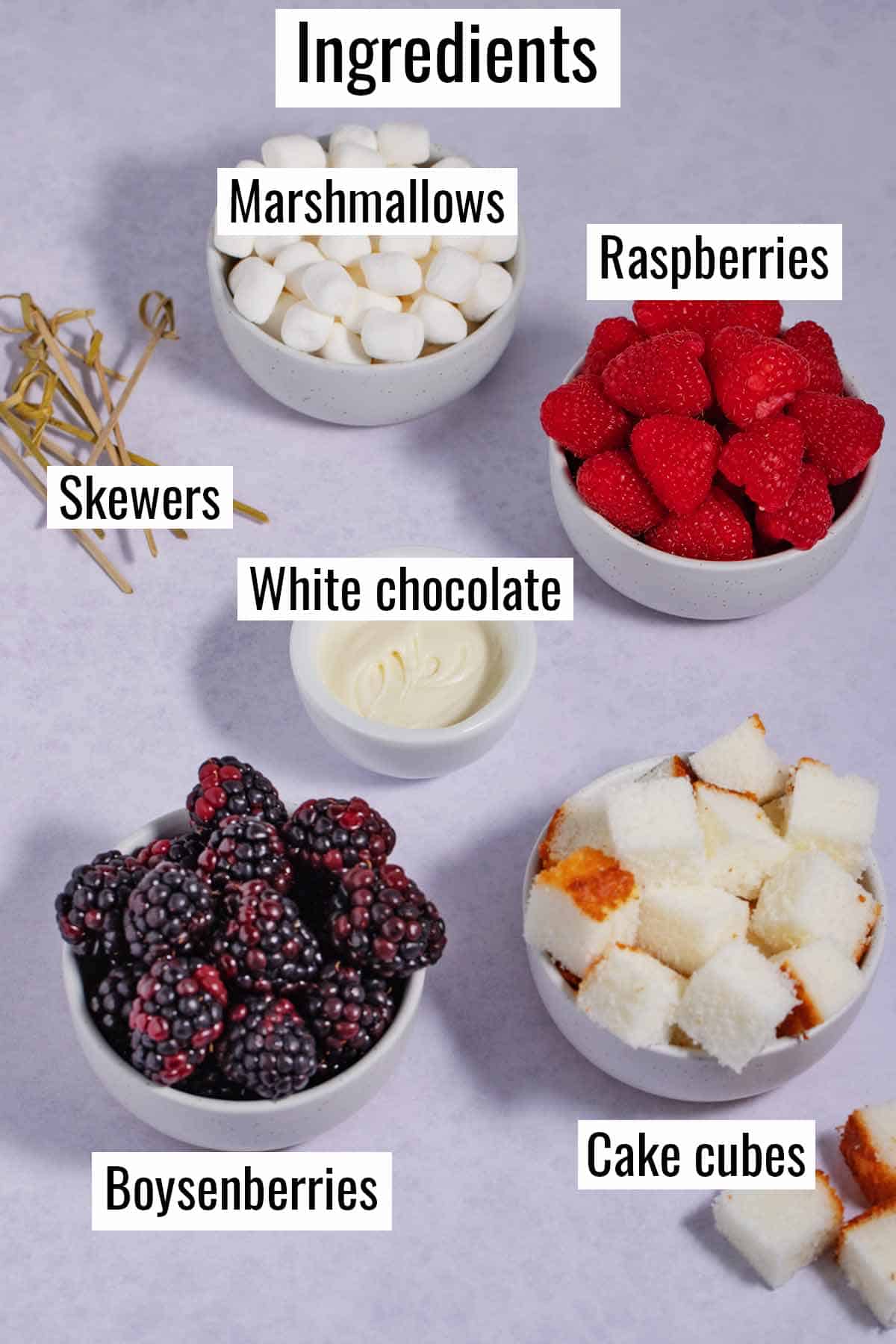 Cake. Angel food or pound cake makes the best cake cubes. And if you are using leftovers, you probably won't have to deal with frosting since it usually isn't used with these kinds of cakes.

However, you can use any leftover cake to make dessert skewers. Just make sure it isn't frosted, and it isn't going stale.

If the leftover cake is getting stale, make it into cake croutons. Then use the croutons on your skewer.
Fruit. Raspberries, boysenberries, blueberries, or strawberries are all good choices. Mix and match whatever berry is in season (or on sale at the grocery store).
Marshmallows. If there is one ingredient that goes on a stick, it is marshmallows. Use mini marshmallows or gigantic ones. They both work.

White mallows are the best. They have a better flavor, and white highlights the colorful fruit.
Melting chocolate. After you have skewered the cake, fruit, and marshmallows, finish the kabob with a drizzle of chocolate. Use white, milk, dark, or ruby chocolate.

It is easy to melt white chocolate chips, but white melting wafers or almond bark might be better than real white chocolate.

The microwave is the easiest way to melt the chocolate, whether you prefer milk or dark.

Ruby chocolate is the newest chocolate around. If you haven't taken it for a spin yet, an easy dessert skewer might be the place to start.
You may also be interested in reading up on almond bark vs. white chocolate (and best uses for each one).

Or check out when to use candy melts vs. white chocolate.
Substitutions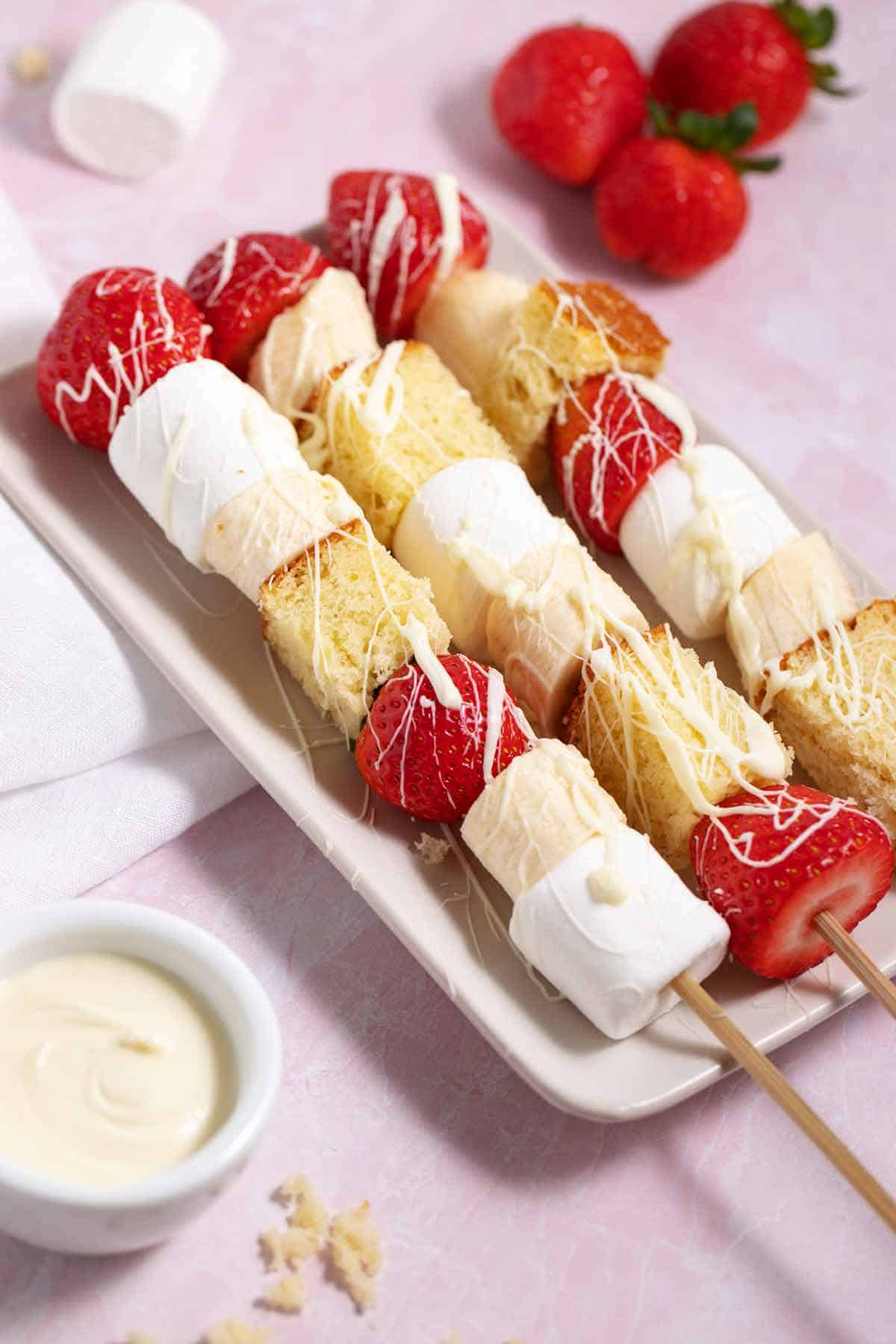 One of the best things about this recipe is that every ingredient can be swapped out for another.
Use any kind of cake. Or brownie bites. Or donut holes. Or … you get the idea. Sweet baked goods of all kinds can replace the cake bites.
Every sweet berry will taste good with skewered cake. But if you want to use other fruits, try bananas and pineapple instead.
Directions
STEP 1: Cut the cake into 1-inch cubes. If you prefer, you can cut off the crust before cutting the cubes.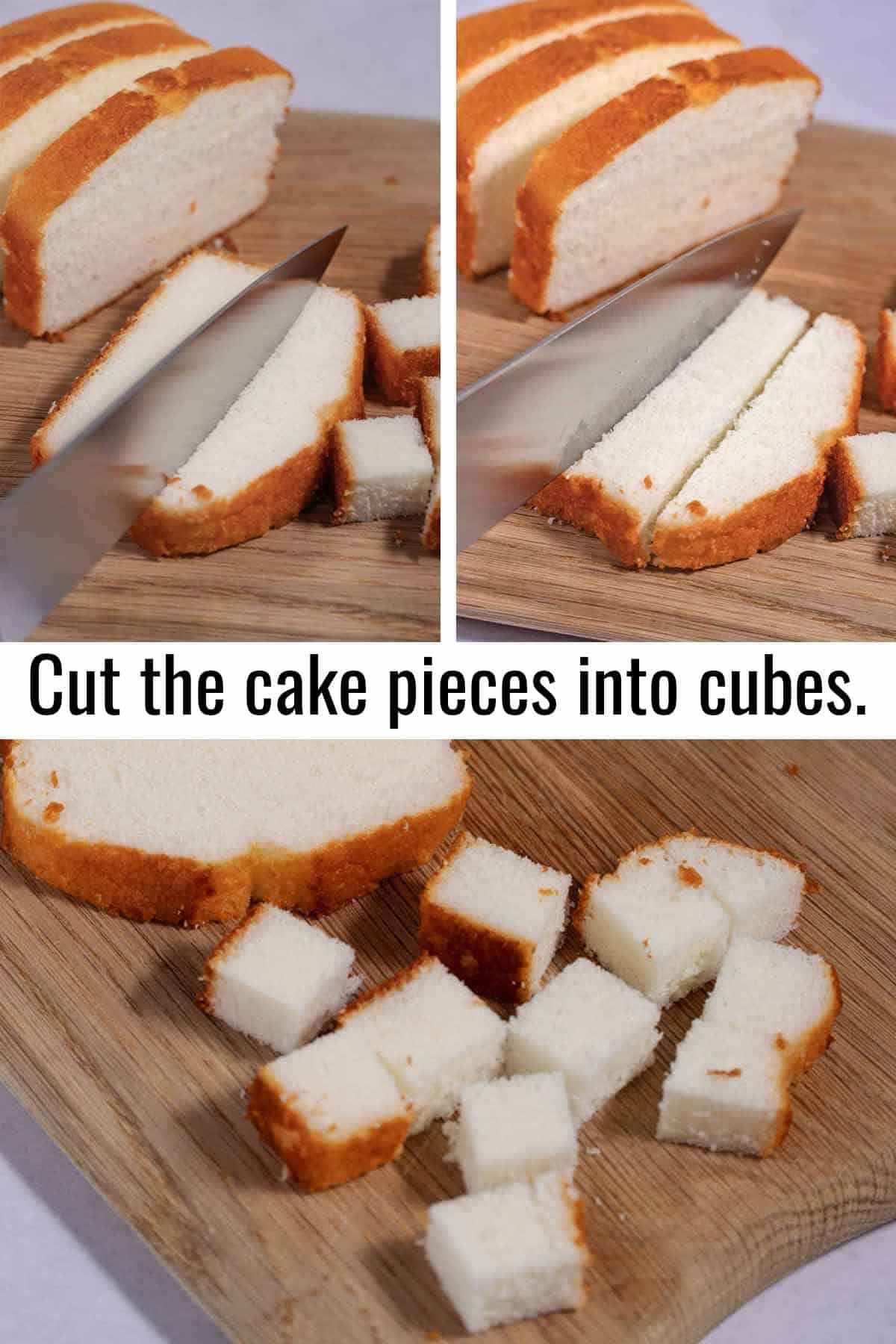 STEP 2: Wash the fruit and then pat it dry.
STEP 3: Set up the ingredients in an assembly line in the order you want them on the skewer. Have a bowl for the cake cubes, marshmallows, and each fruit.
STEP 4: Pierce each ingredient with the skewer and slide it up the stick. For smaller skewers, fill it most of the way. For larger skewers, fill it at least ¾ of the way full.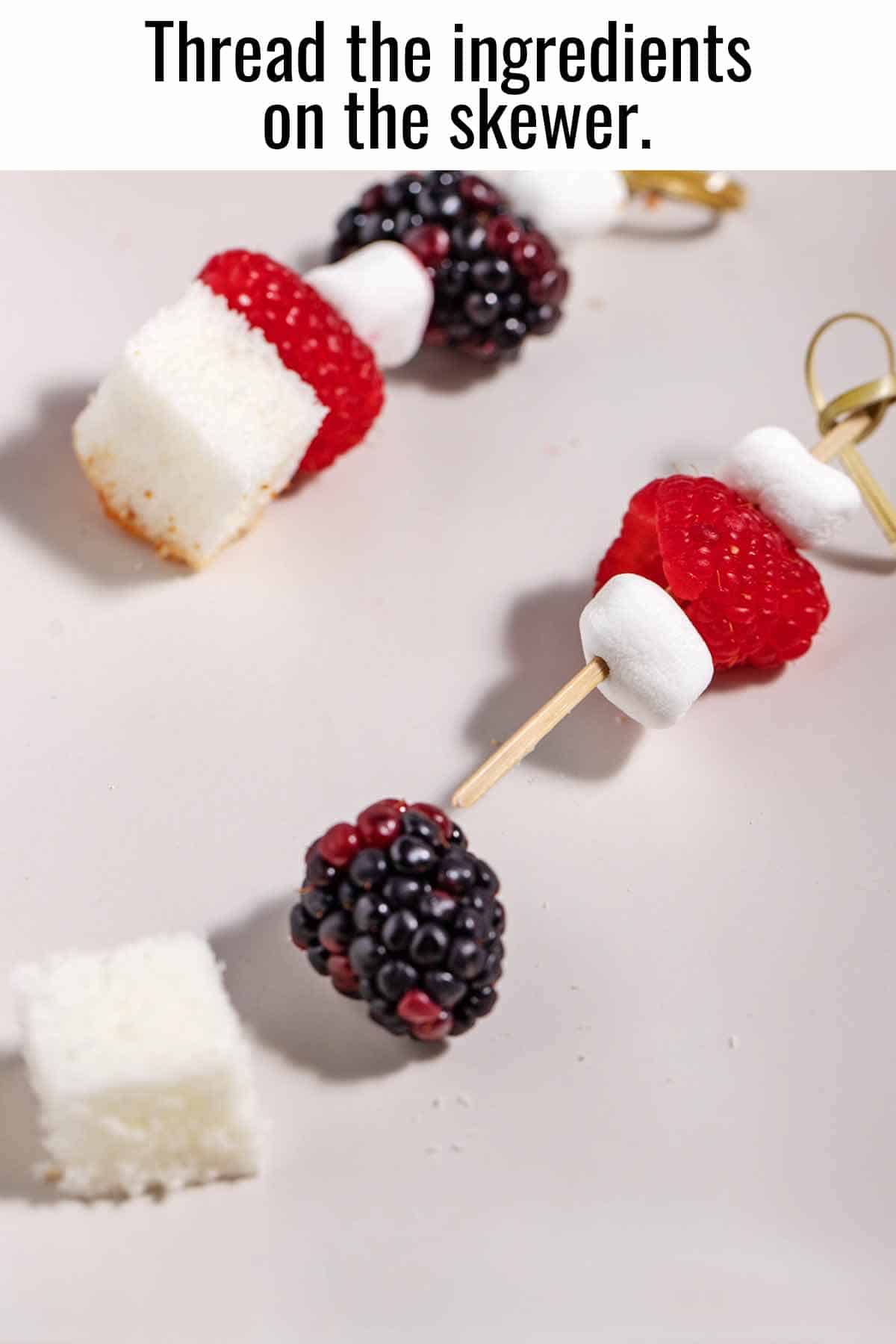 STEP 5: Repeat until all the skewers are made. Line them on a plate in a single layer.
STEP 6: Place the chocolate in a microwave-safe bowl. Heat it in the microwave at 50% power for 30 seconds for white melting wafers. Or microwave at 50% power for 1½ minutes for milk or dark chocolate chips.
Stir the chocolate until it is smooth. If necessary, heat it again at 50% power in the microwave for 10-second intervals until it is smooth. Do not overheat or it will burn.
If you prefer, you can melt the chocolate chips on the stove with these instructions.
Scrape the melted chocolate into a frosting decorating bag or a sandwich bag. Snip the end off one corner and squeeze the chocolate toward the opening.
STEP 7: Drizzle the melted chocolate over the skewers by squeezing the chocolate out of the bag. Go back and forth across the kabobs. This will make thin lines of chocolate randomly up and down the stick.
Work quickly, so the chocolate doesn't harden before you are finished.
Alternately, you can dip the tines of a fork or a spoon in the chocolate and sweep it across the dessert.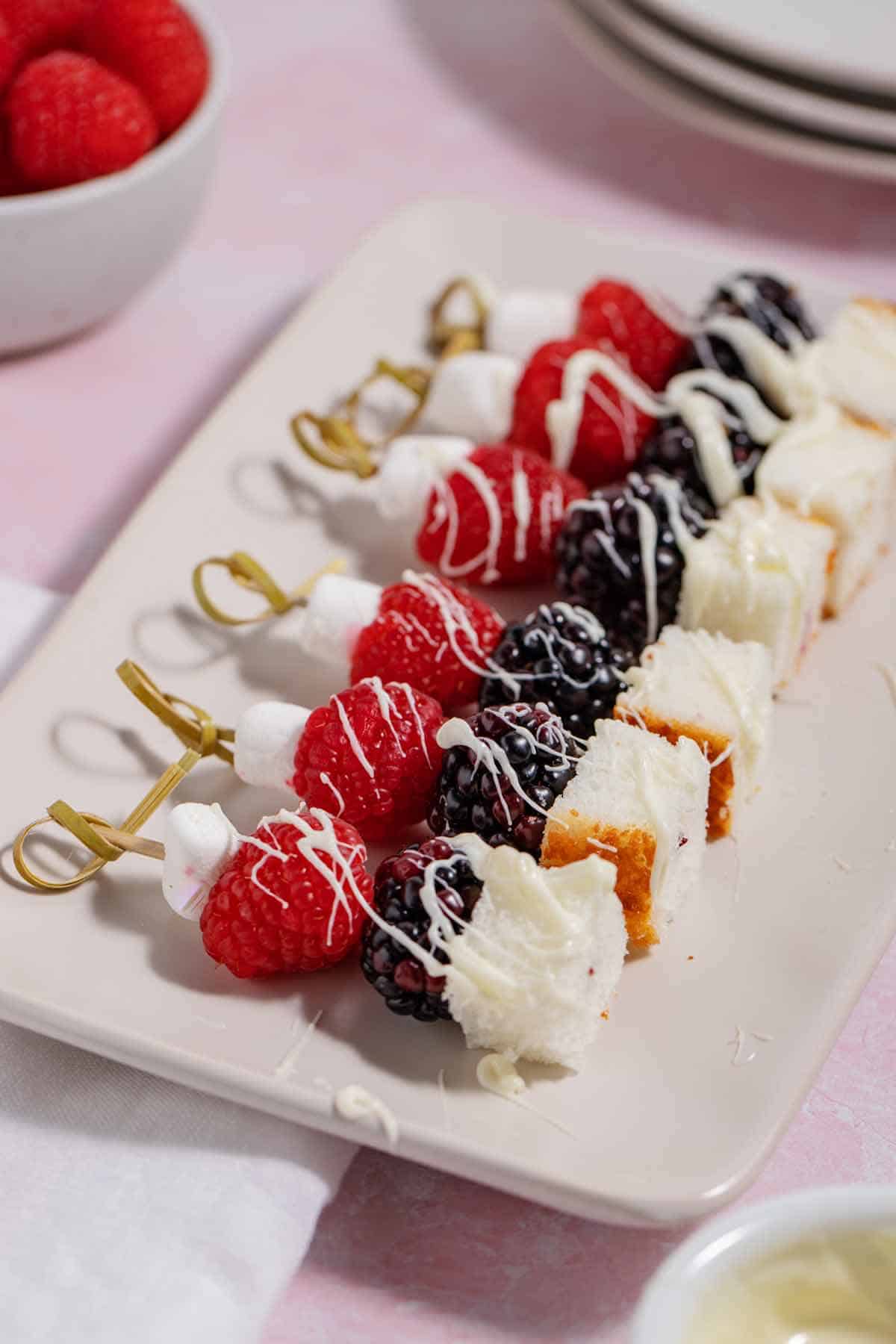 STEP 8: Chill the skewers for about 5 minutes to allow the chocolate to harden.
STEP 9: Serve the dessert immediately with extra melted chocolate for dipping.
Tasty Tips
Use leftover cake that has been in the freezer or use fresh cake. With dessert kabobs, you do not want stale cake cubes.
Use any type of stick for the skewer. Pointed skewers, popsicle sticks, cake pop sticks, or long toothpicks will all work for this dessert. Depending on the fruit you use, some sticks will work better than others.
Pat the berries dry before using them. Use firm, fresh fruit. And beware of juicy fruit leaking on the other ingredients. The treat will still taste good. It just won't be as pretty.
How to Store Dessert Fruit Skewers with Chocolate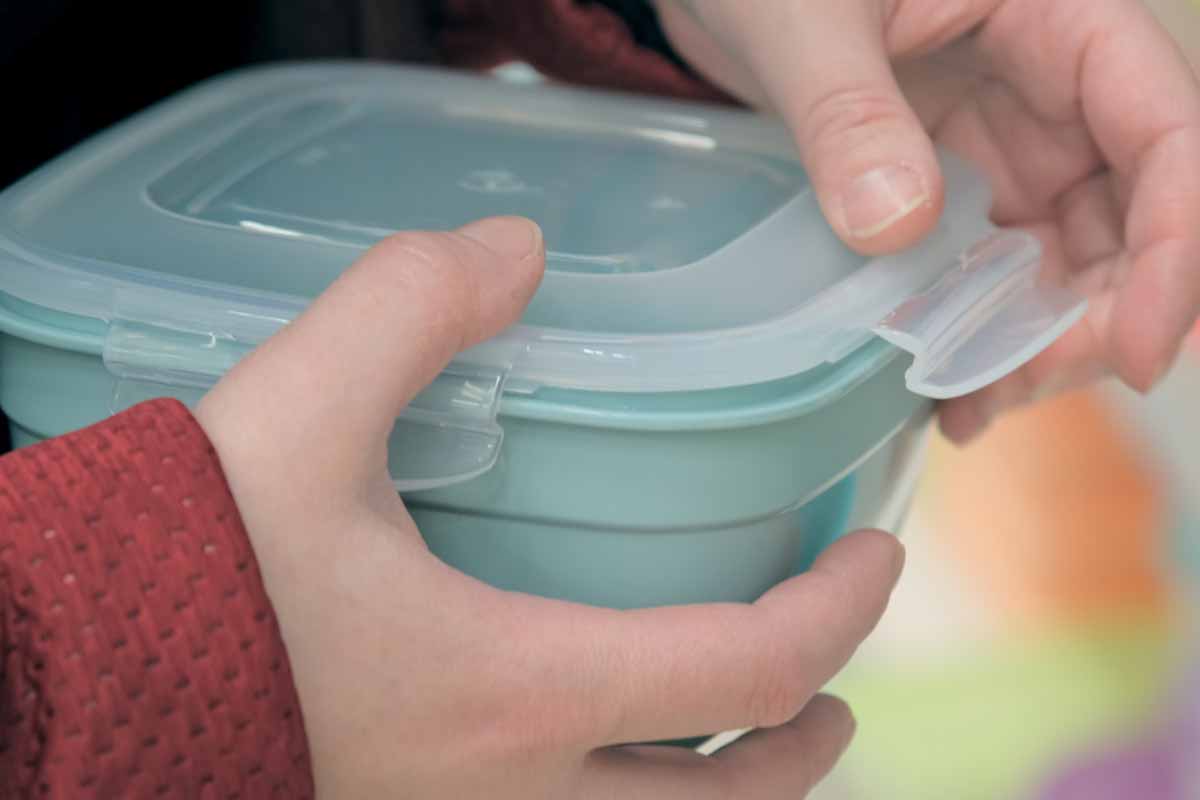 Store leftover dessert fruit skewers in an airtight container in the refrigerator for 24 hours.
Can You Freeze Dessert Skewers?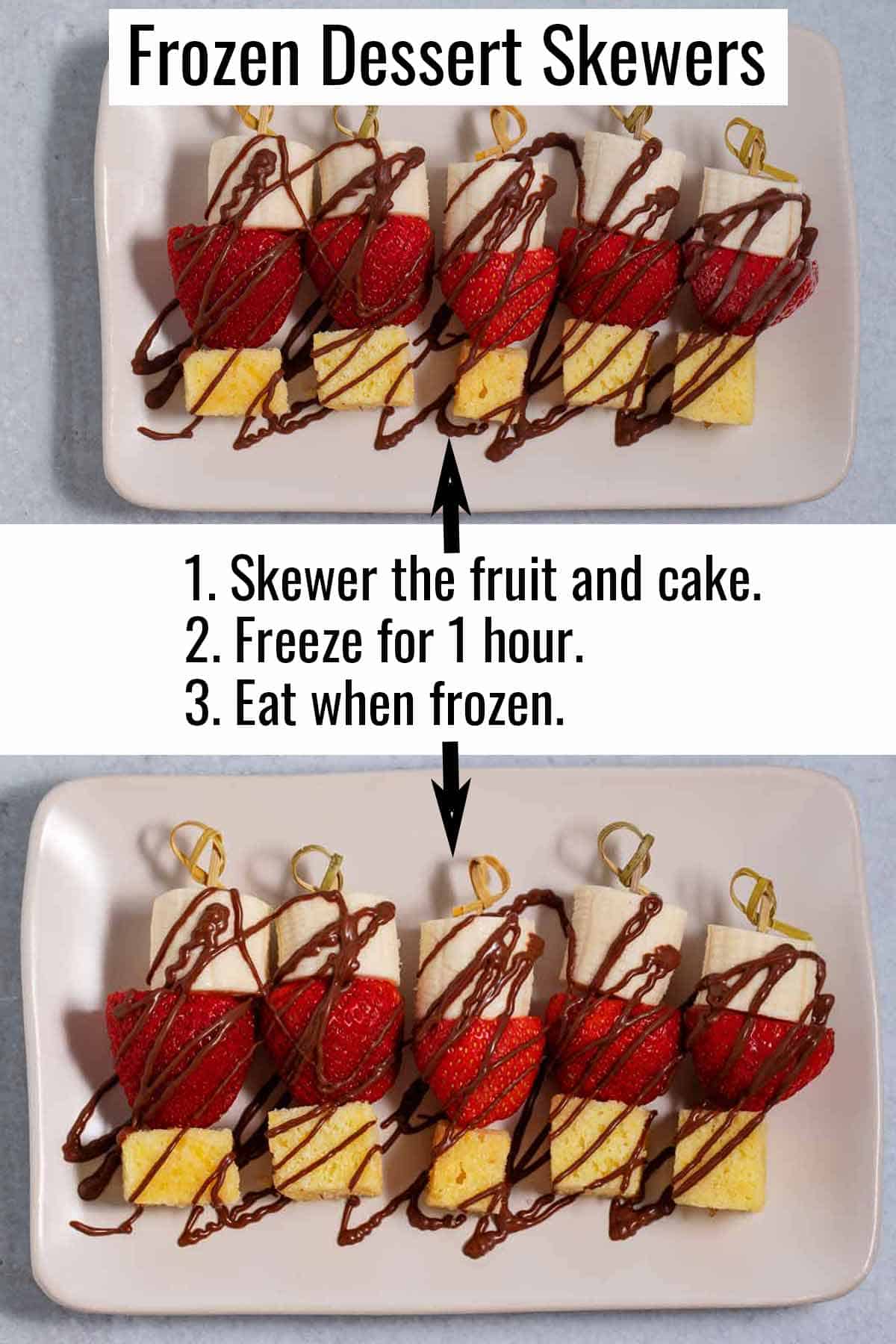 You can freeze dessert skewers with fruit and cake if you have leftovers. Or if you want to transform this goodie into a frozen treat.
Just like chilled dessert kabobs, frozen fruit skewers have a short shelf life. Freeze them for an hour at minimum. But only for 24 hours max or the fruit will not look as pristine.
One more note… if you freeze the fruit skewers, eat the dessert frozen. If you let the fruit thaw, it will not be a pretty sight and will make a mess.
What about the rest of the ingredients? Frozen marshmallows will be cold and harder than at room temperature. And the cake pieces will not be as soft when eaten frozen, but they will still be tasty.
How Long Do Fruit and Cake Dessert Skewers Last?
Fruit and cake dessert skewers will last at least one day when refrigerated. However, be prepared for juicy, stained leftovers.
The berries will be the first food on the stick to go bad. Up until that time, the dessert is safe to eat.
The cake and marshmallows will get soft with the juice from the fruit. This may not bother you, but be aware of the change.
Can You Make Dessert Skewers Ahead?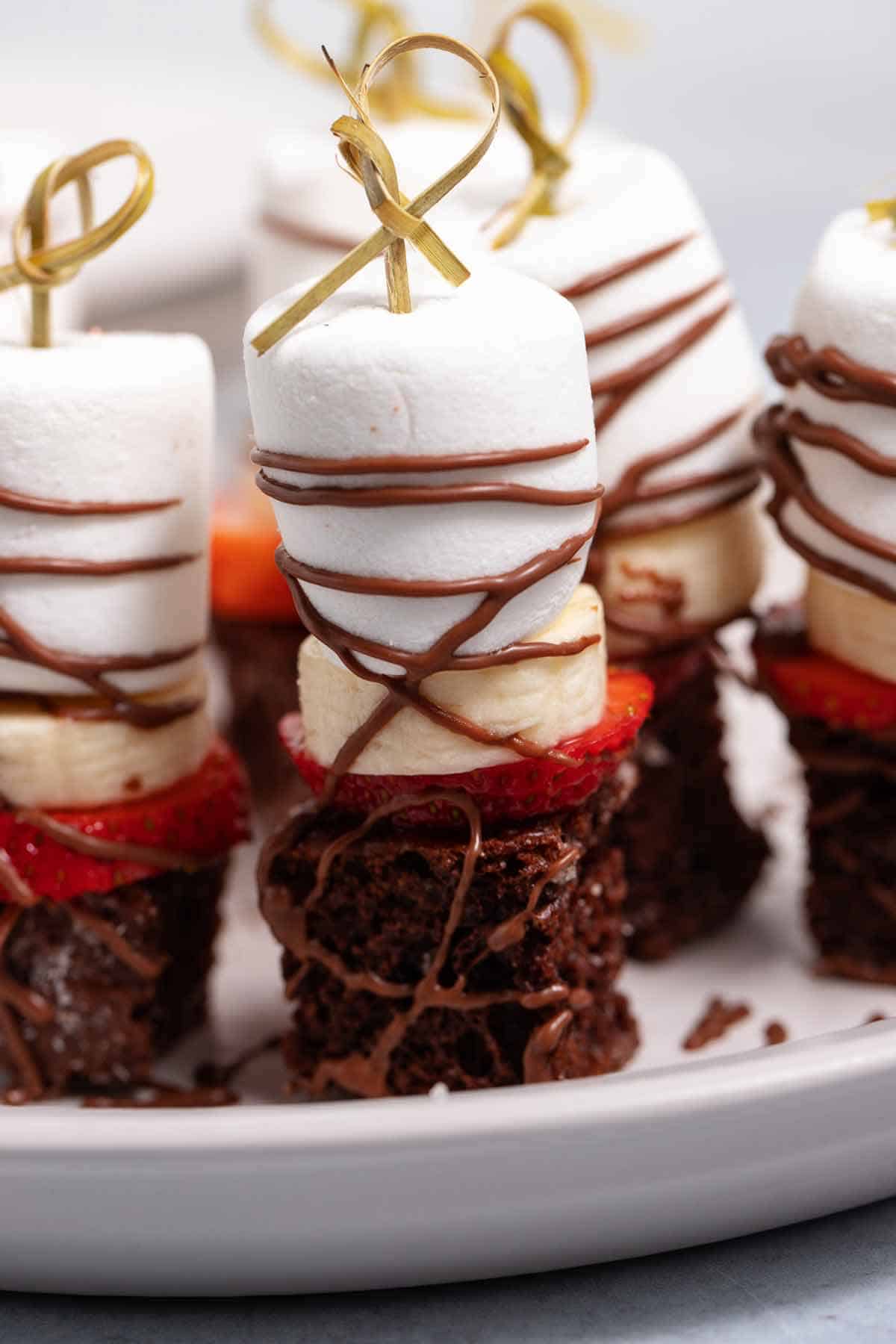 This is an easy recipe. But one downside to skewering berries is how they leak juice on pretty cake pieces or white marshmallows.
Prepping the ingredients can be done early. However, assembly is best left until it's time to chow down.
If you need to make these dessert skewers ahead of time, here are the steps that can be done early:
Wash and dry the fruit and refrigerate them in separate bowls.
Cube the cake and store it in an airtight container.
Steps you should wait for until ready to serve.
Melt the chocolate and drizzle.
Hungry for More Easy Desserts?
Recipe
Easy Dessert Skewers with Fruit and Leftover Cake
You will love how quick and easy it is to make these fruit skewers. Customize with your favorite fruit for variety. Or use leftover cake for a recycled dessert.
This recipe card has affiliate links. Thank you for your support.
Ingredients
2

cups

of 1-inch cake cubes

pound cake is best

1

pint

of raspberries

1

pint

of boysenberries

½

cup

of white mini marshmallows or 24 large marshmallows

½

cup

of white or milk chocolate melting wafers
Instructions
CUT slices of pound cake into 1-inch cubes.

WASH the raspberries and boysenberries. Pat the fruit dry.

SKEWER

a marshmallow, then a raspberry, followed by a boysenberry and end with a pound cake cube. (See notes about the order). Use a

6-inch bamboo skewer stick

or another short skewer.

MELT the white chocolate in a microwave-safe bowl on 50% power for 30 seconds. Stir until the wafers are smooth. Be patient. If you need to heat again, do it in 10-second intervals. Do not overcook.

DRIZZLE the chocolate over the skewers OR serve the melted chocolate as a side for dipping. The easiest way to drizzle the chocolate is in a decorating or sandwich bag with one corner snipped off. Cut the very edge of the bag corner off for thin chocolate drizzles.

REFRIGERATE for 5 minutes or until the chocolate hardens.

ENJOY immediately. If you are making the dessert skewers ahead, wait to melt the chocolate until you are ready to serve dessert.
Notes
If you want your dessert skewer to stand upright, the heaviest items must be at the bottom. The pound cake has a flat surface and is the best choice for the bottom. The heaviest fruit should be on top of the cake cube.

If the skewers will be lying flat on the serving tray, skewer the ingredients in any order.
All images and content are ©TheTastyTip.com. If you want to use this recipe and techniques, please take your own photos, write your own description, and link back to this page. Thank you.
Nutrition
Serving:
1
skewer
Calories:
105
kcal
Carbohydrates:
17
g
Protein:
1
g
Fat:
4
g
Saturated Fat:
1
g
Polyunsaturated Fat:
3
g
Cholesterol:
14
mg
Sodium:
65
mg
Fiber:
2
g
Sugar:
11
g
Did you like this post? Then let's be social. FOLLOW ME on INSTAGRAM and PINTEREST to keep up with the latest happenings.