What are the best crackers to serve with chicken salad? You will love this list of crispy, crunchy, delicious cracker choices. Decisions, decisions!
This post has affiliate links for your convenience.
Croissants and Hawaiian rolls have been done to death with chicken salad. When you want a party appetizer, think of crackers instead.
But what are the best crackers to serve with chicken salad? Serve firm crackers that won't break under the weight of the filling. And make sure the crackers are large enough to be held without getting chicken salad on your fingers.
Other than those two guidelines, you are free to choose crackers you love. Here are some suggestions for the best crackers to serve with chicken salad.
Did I miss your favorite? Comment below and let me know.
Looking for bread ideas? Check out the post on the best bread for chicken salad sandwiches.
Chicken in a Biskit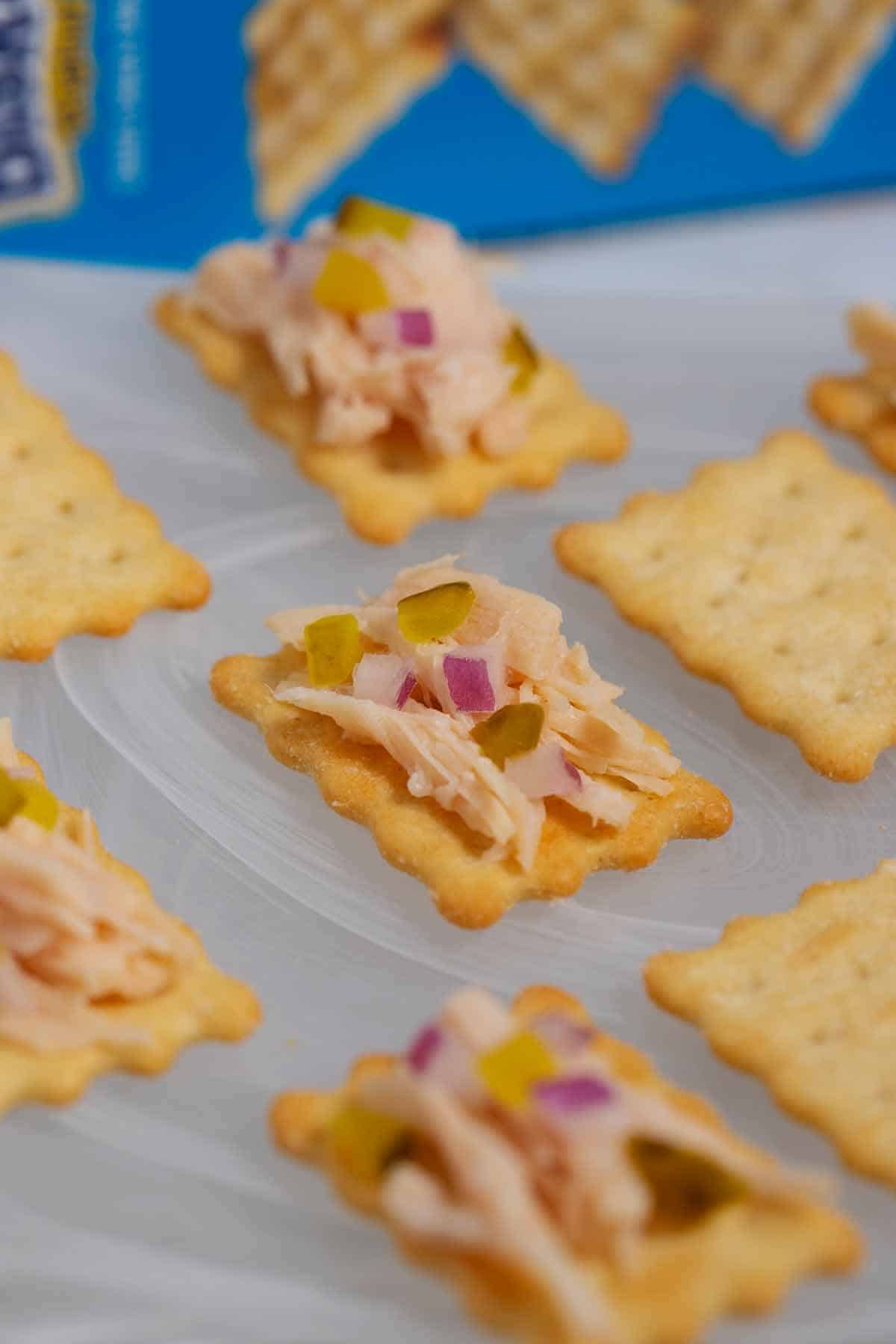 If you love chicken, you will love spreading chicken salad on Nabsico's Chicken in a Biskit crackers. The crackers are flat, rectangular, and just the right size for appetizers.
The baked crackers have a slight crunch and are flavored with real dehydrated chicken and other complementary seasonings. They have a distinct flavor instead of a neutral taste like other crackers. Still, the crackers and chicken salad taste good together.
Give them a try. Buy them here.
Need some interesting party ideas? Find out all the creative ways to serve chicken salad at a party. Leave your guests impressed.
Flipsides Crackers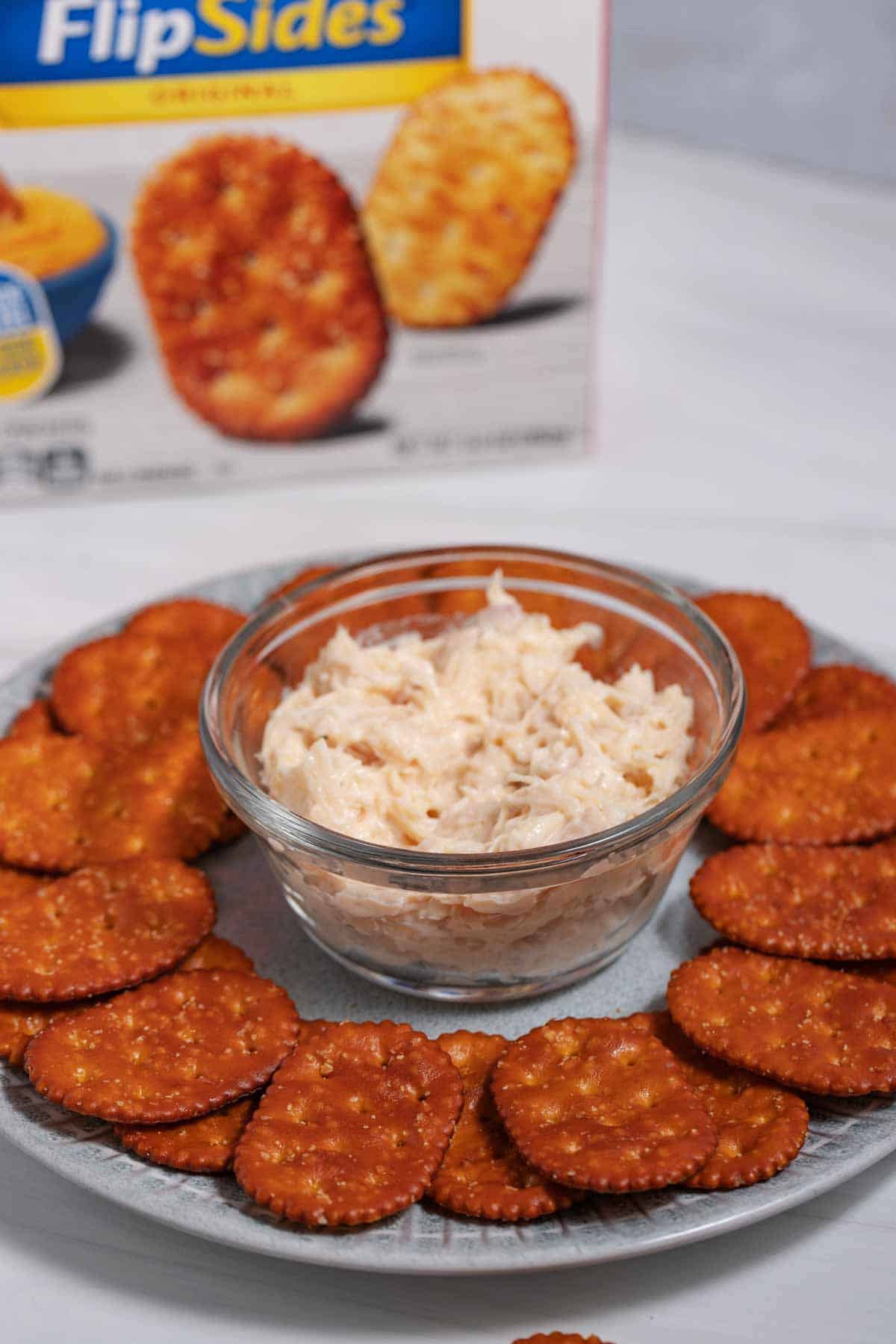 Kellogg's Town House Flipsides are pretzel crackers. Pretzel on one side and cracker on the other. The best of both worlds. They are thin, crispy, crunchy, and sooo addicting.
The pretzel part of the cracker makes them a little sturdier than regular crackers. This means they can hold chicken salad as an appetizer or be dipped into the salad without breaking. You will love to scoop up the chicken salad with them.
Need some toppings? Read up on the best chicken salad sandwich toppings.
Ritz Crackers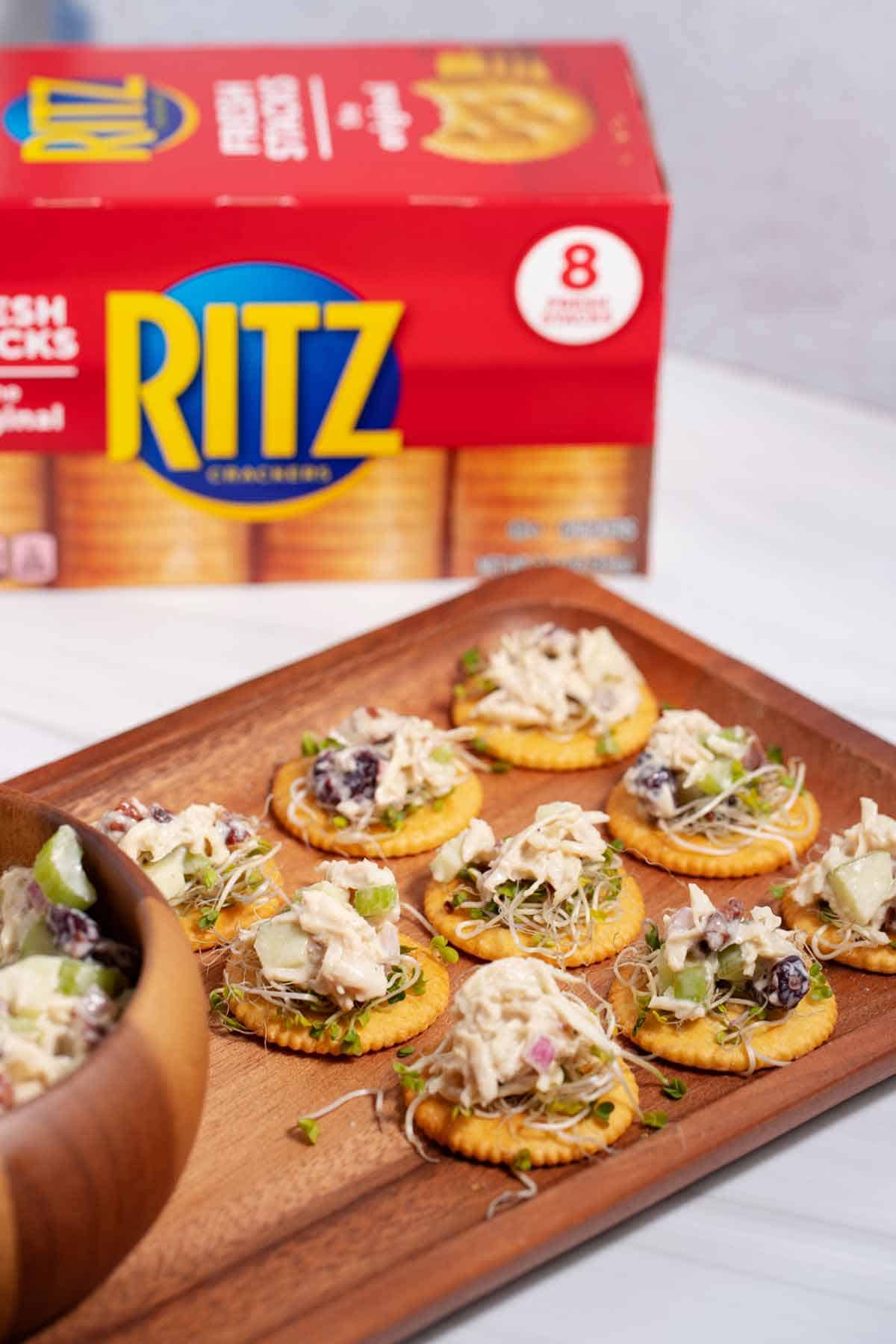 Nabisco's Ritz crackers are round crumbly crackers with a light buttery flavor. Because they crumble, they may fall apart if you try to dip them in the chicken spread. But they can't be beaten as an appetizer.
They are the ideal size for a scoop of chicken salad on top. This easy game-day appetizer will disappear as quickly as you set them out.
Go beyond the original cracker flavor. Try Ritz roasted vegetables, garlic butter, honey wheat, or everything (onion, poppy seeds, garlic, salt) crackers.
Or try Crisp & Thins, baked chips made with potato flour. They come in tons of flavors, like cream cheese & onion, salt & vinegar, barbecue, cheddar, or tabasco. Any one of these flavors would pair well with chicken.
Get fantastic ideas for side dishes to serve with chicken salad.
Blue Diamond Nut Thins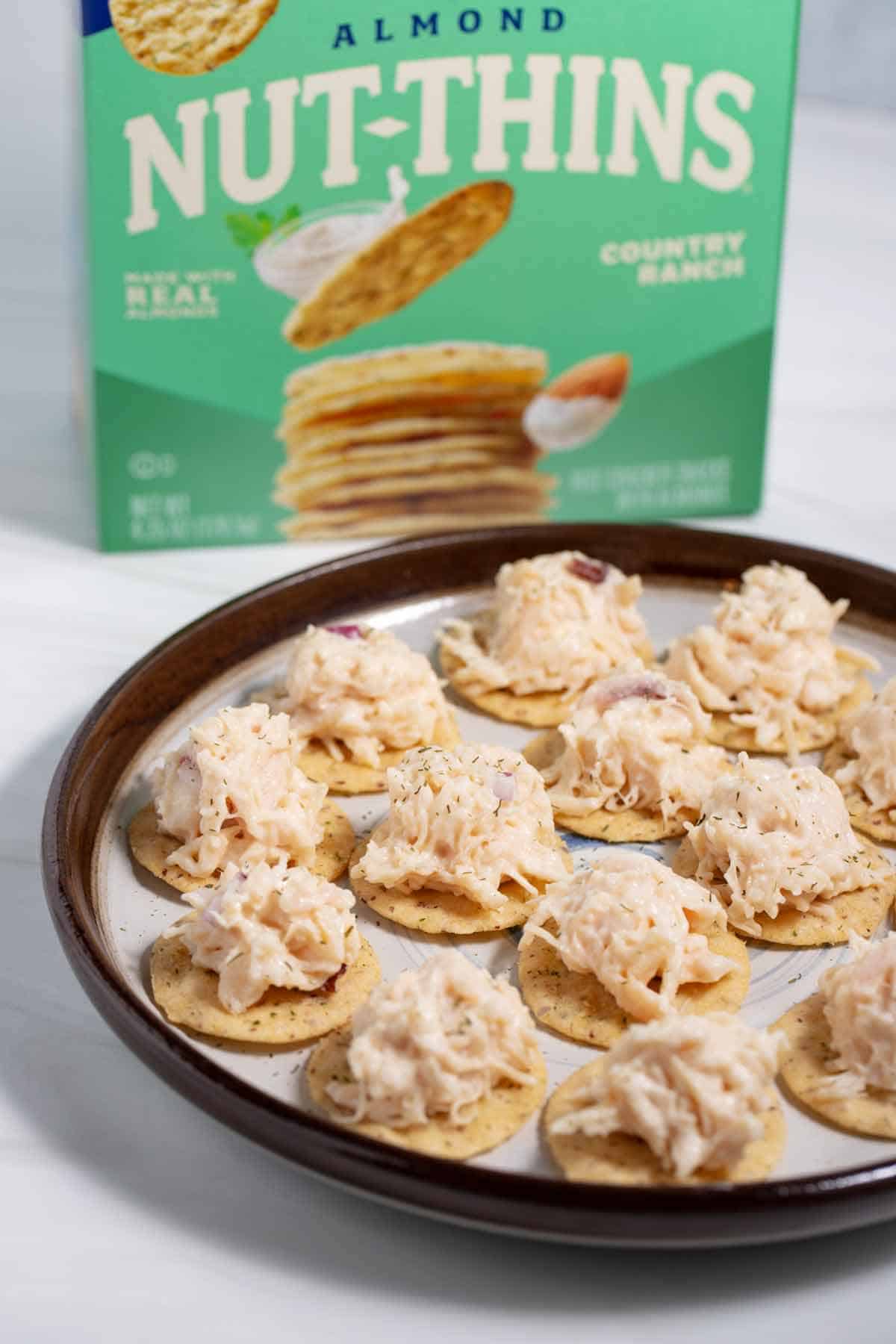 Made with almonds and rice, Blue Diamond Nut Thins are thin and crispy goodness with a crunch that satisfies. This brand was our family's first experience with nut crackers, and we were not disappointed. My teenage son may or may not have eaten the whole box on the first hour of a road trip last summer.
They are thin but hefty enough to dip in chicken salad. And with all the flavor varieties, you are sure to find one you love. Dip with country ranch, sriracha, or cheddar cheese.
You can also try these almond cracker brands:
Need some variety with your salad? Find out the best things to eat with chicken salad besides bread. Lots of options in addition to crackers.
Wheat Thins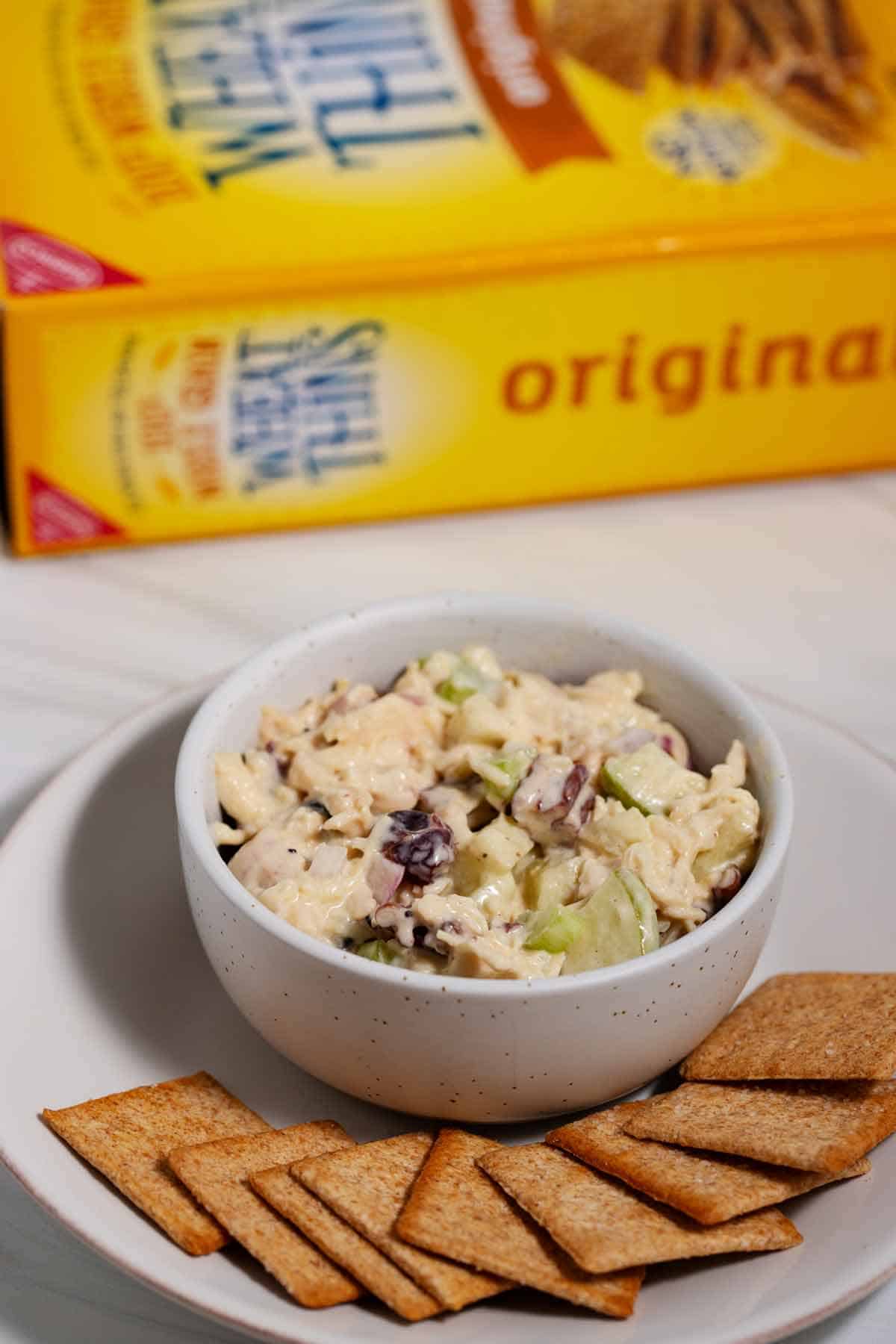 Wheat Thins by Nabisco are 100% whole grain crackers with no artificial flavors or colors. The small squares are firm enough to dip into chicken salad but can also be topped with the salad.
Hearty, mildly sweet, and lightly salty, Wheat Thins taste great with chicken. The crackers crunch and break rather than crumble, which is nice when using them as a scoop.
You can find Wheat Thins seasoned with ranch, cracked pepper, or sun-dried tomato. They also come in a bigger cracker size, which may be better if you use them to make an appetizer.
Alternative brands to try:
Back to Nature Crispy Wheat Crackers. Similar look, feel, and taste to Wheat Thins. (Buy them here.)
Milton Craft Bakers Original Multigrain Crackers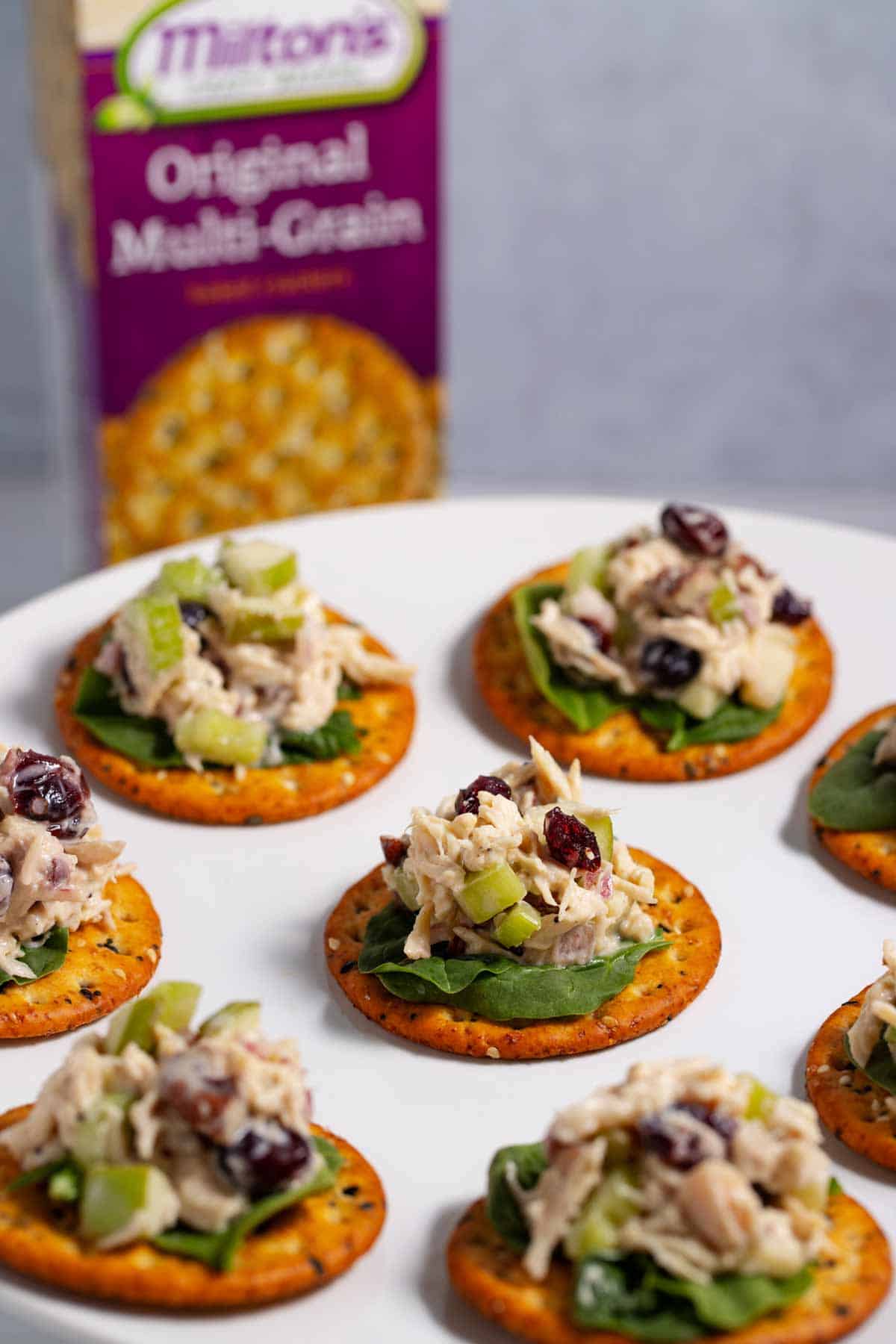 Milton's large multigrain gourmet crackers are baked with whole grains, seeds, herbs, and spices.
These round crackers were the largest variety I tested. You will prefer using them for chicken salad appetizers. You can really pack the chicken filling on the cracker without fear of it breaking.
Milton Craft Bakers also produces gluten-free crackers in several flavors, such as fire-roasted vegetable, multigrain, and olive oil and sea salt. The crackers are made with gluten-free grains.
Can you make chicken salad early? Find out all you need to know about making chicken salad early.
Gluten-Free Corn Crackers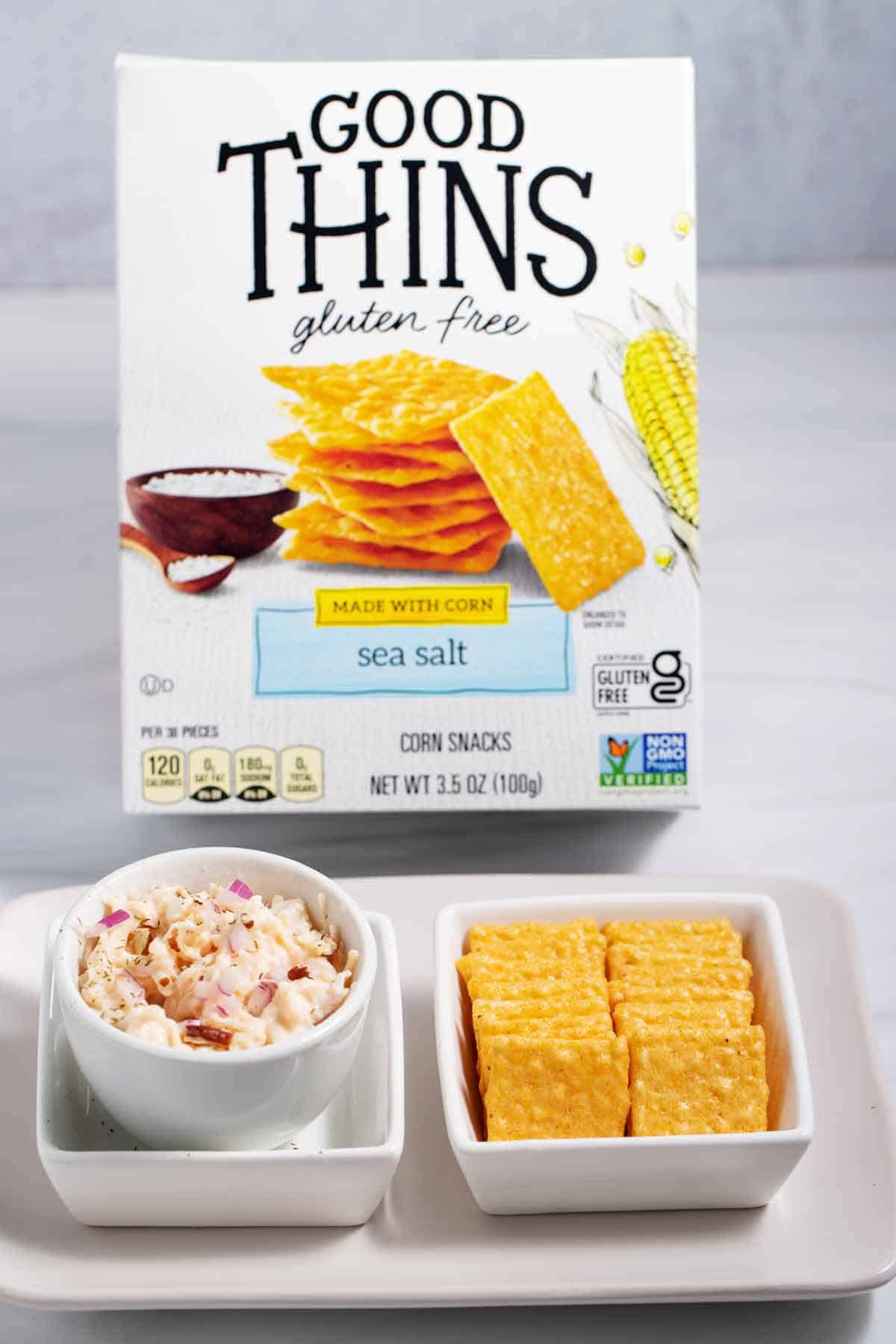 Good Thins corn crackers offer another gluten-free option. The square corn snacks are light and crunchy brittle. They may not be sturdy enough to dip without breaking. But you can certainly top them with chicken salad for an appetizer or snack.
Good Thins makes a variety of gluten-free crackers. In addition to corn, they make crackers with rice and sweet potatoes. The cracker flavors include jalapeno, barbecue, garlic-parmesan, and three cheese.
Any one of those varieties would taste good with chicken salad.
Avocado Toast Crackers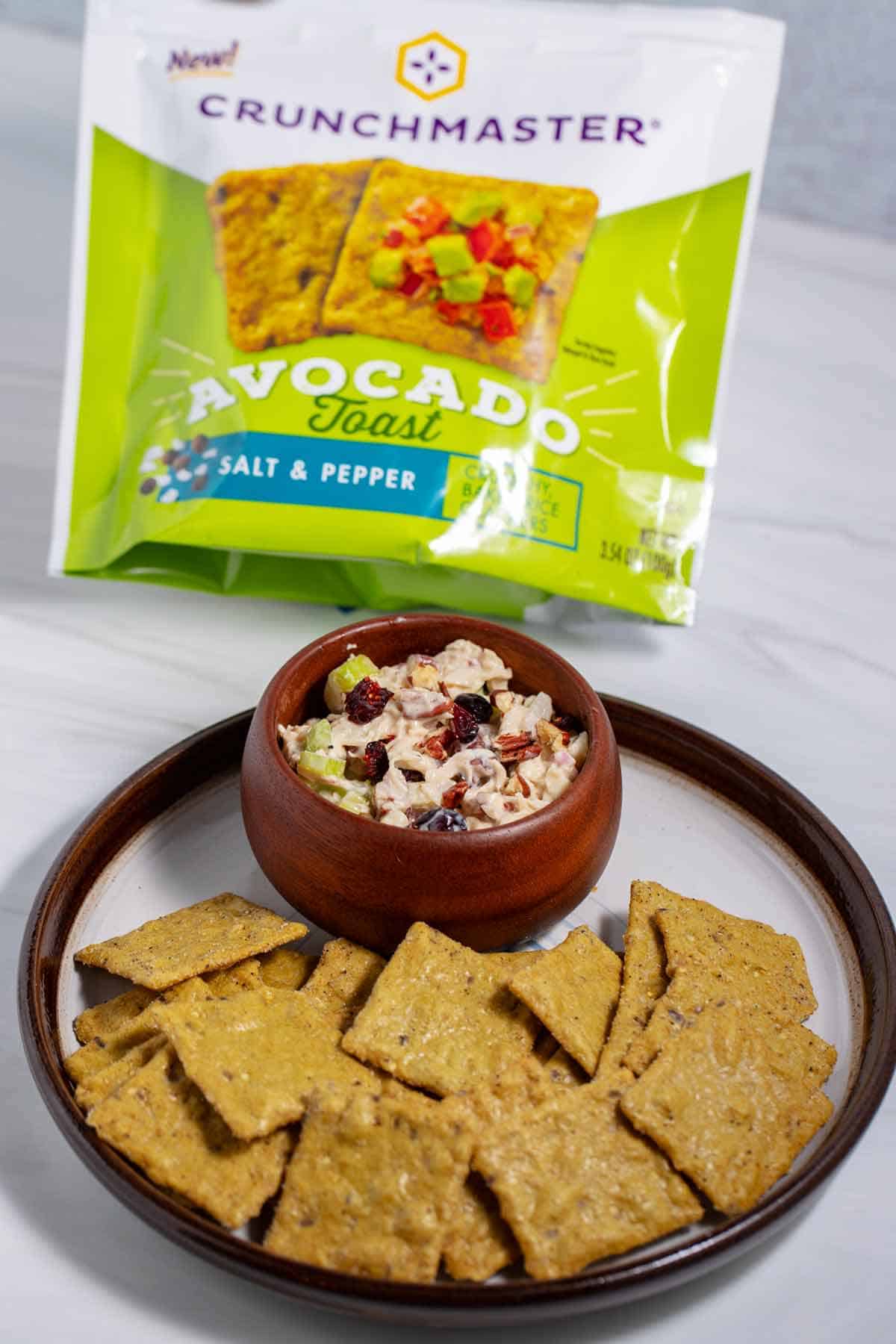 Avocado Toast is a crunchy baked rice cracker made by Crunchmaster. These healthy crackers are gluten-free, egg-free, non-GMO, and Kosher.
The sturdy, square crackers are hearty enough to be topped with chicken salad. They are seasoned with spices and natural flavors that compliment the taste of the chicken filling.
Try these avocado crackers if you want to eat gluten-free. Or check Crunchmaster's other multi-grain or multi-seed flavored crackers (like aged white cheddar, roasted garlic, or rosemary olive oil).
Did you know you can jazz up deli chicken salad? Get lots of suggestions on how to make store-bought chicken salad better.
Trader Joe's Cracker Assortment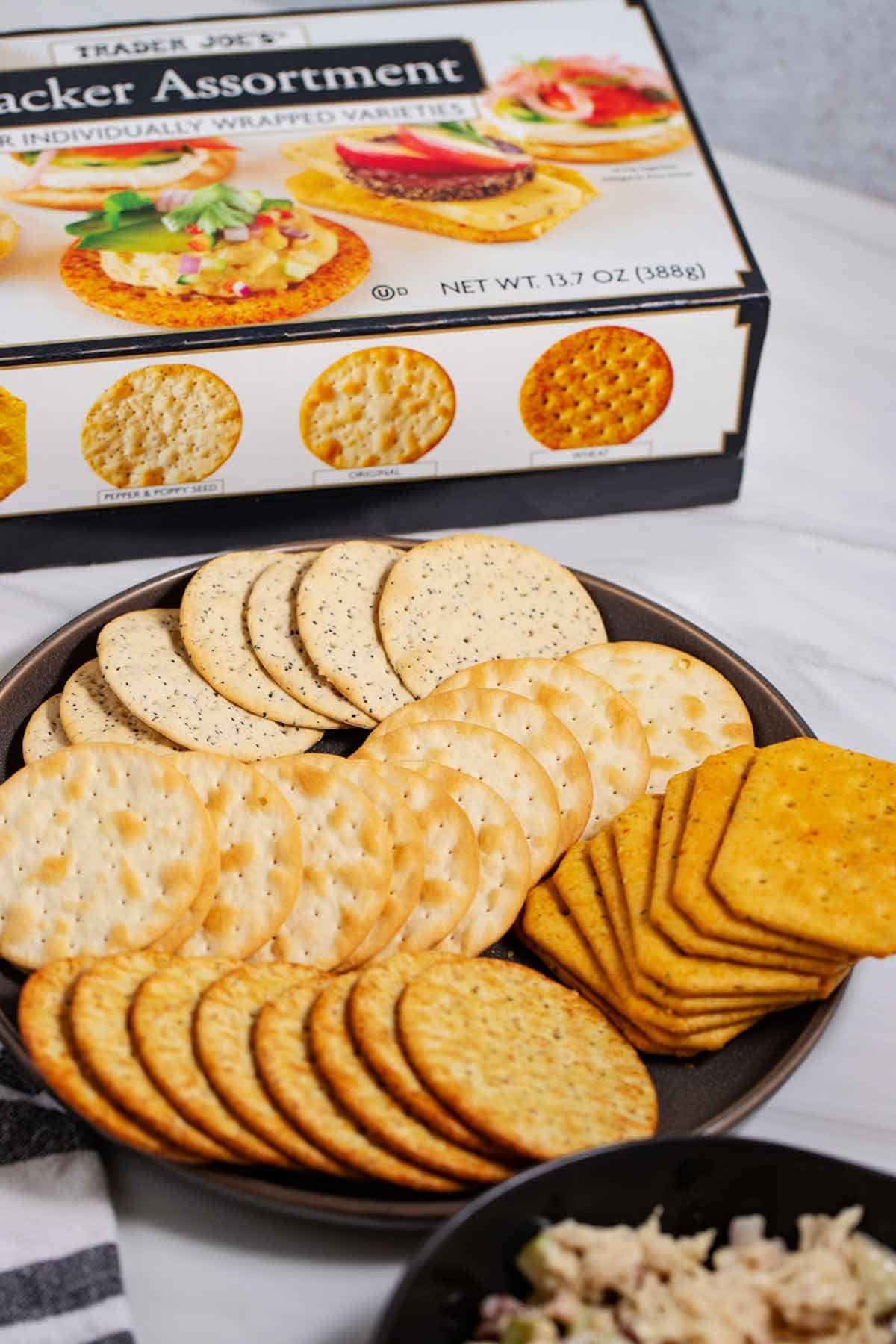 You will like Trader Joe's variety cracker pack. They are affordable and great for serving as appetizers.
The four flavors are original (plain), vegetable, wheat, and pepper/poppy seed. The crackers are sturdy enough to hold a spoonful of chicken salad on top. And the vegetable and wheat crackers are strong enough to swipe dip with.
The pepper and poppy seed crackers break more easily than the other crackers. Unfortunately, they are often already broken when I open the box.
However, this flavor is especially good with chicken salad. Eat it for lunch instead of serving it at a party.
Kellogg's Toasteds Party Pack Crackers
You will like Kellogg's party pack of crackers. The assortment comes in toasted sesame, harvest wheat, and buttercrisp.
They are round, sturdy, and crunchy crackers. Spread chicken salad filling on the center of the cracker and serve it at your next party.
Got leftovers? Can you freeze chicken salad? Usually not, but find out when you can and can't throw the salad in the freezer.
Trader Joe's Naan Crackers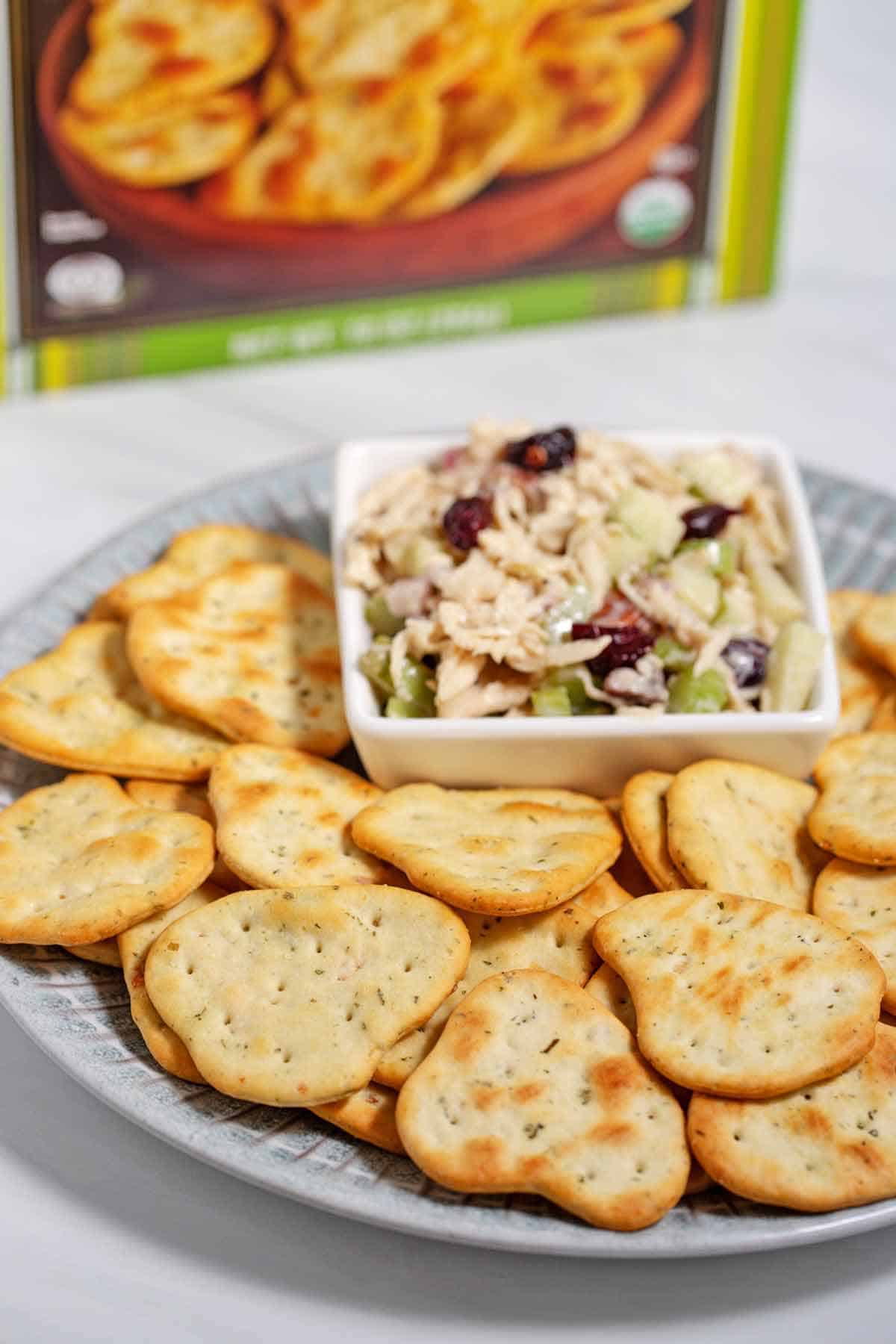 Consider Trader Joe's Naan crackers if you want a different feel. They are the perfect fusion of flatbread and snack cracker.
The flavors and function of naan inspired these naan crackers. They are thicker crackers, lightly seasoned with garlic, parsley, and other herbs.
Their sturdiness and roundish free-form shape make them ideal for dipping into chicken salad filling.
Triscuits
Triscuit crackers are baked with whole grains. Their distinctive shredded wheat weave design makes them easily identifiable.
They are hefty crackers that can be loaded with chicken salad or dipped into it. Make a plate of these crackers for your kid's after-school snack.
With over 10 flavor varieties like roasted garlic, four cheese, and cracked pepper, you will surely find your favorite flavor to pair with chicken filling.
Alternate brands to try:
Back to Nature Stoneground Crackers: Same look and feel as Triscuits with a similar taste. They have a couple of flavors to choose from. (Buy them here.)
Club Crackers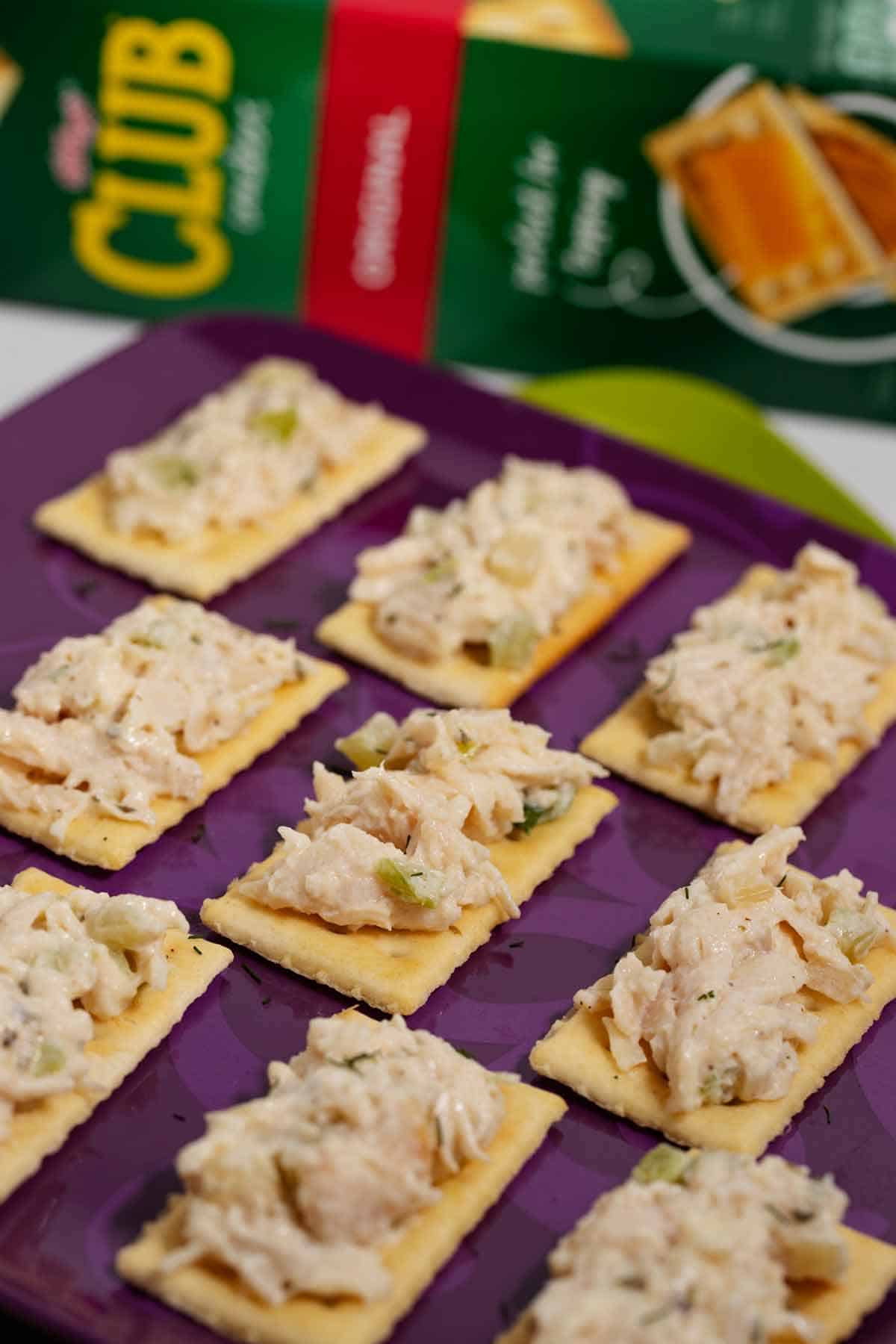 Kellogg's Club Crackers are light, flaky, and buttery. These rectangular crackers can hold a spot of chicken salad, but they can crumble when you dip them into the filling.
Still, they are a great size to fill up an appetizer tray for a get-together.
Although they have limited flavors, Kellogg's has introduced Club Crisps that leave you wondering if you just ate a cracker or a chip. They have the same buttery flavor but are thinner than regular club crackers.
Both club crackers and crisps are excellent choices to serve with chicken salad. Buy them here.
Are you staring at leftovers, wondering if they are still good? Discover how long chicken salad lasts and how to tell when it has gone bad.
Super Seed Crackers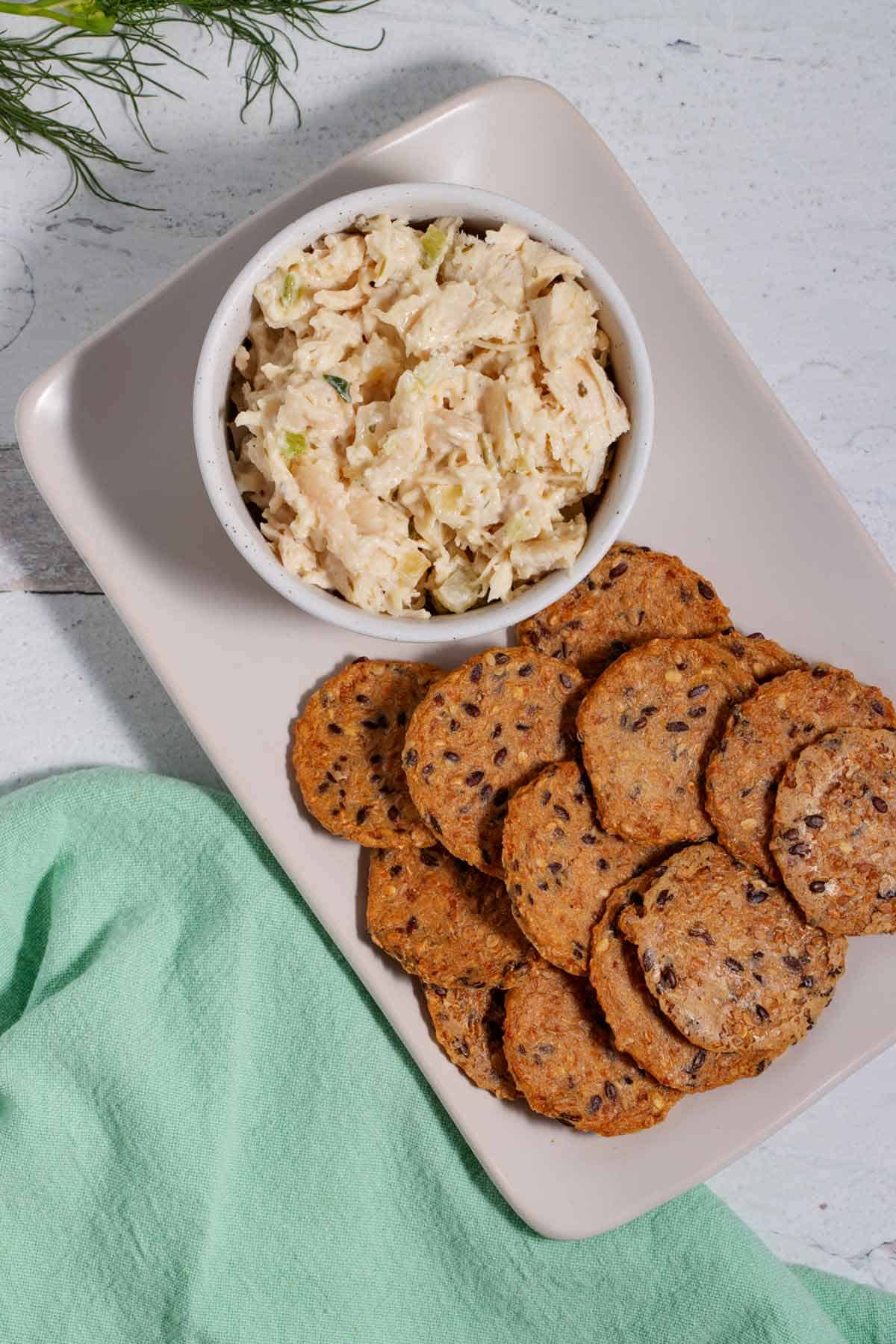 Another gluten-free, plant-based cracker brand to consider is Mary's Gone Crackers. Over there at Mary's, they are obsessed with crispy, crunchy snacks.
The round crackers are thinner and heartier than butter crackers. And you can actually see the seeds baked into the cracker. This might scare some kiddos, but the fitness-conscious adults will love them.
The crackers taste healthy, with the distinct hint of flax seed. They are sturdy enough to be topped with chicken salad or dipped into the salad without breaking.
Carr's Entertainment Crackers
Carr's crackers have been invited to the party for over a century. You can buy table water crackers by the box if you prefer. But their best product is their Entertainment Cracker Collection, with 9 cracker varieties.
Round, square, and rectangular, these crackers are good for dipping or spreading chicken salad filling on top.
The cracker variety pack includes an English wafer, choice grain, small digestive, small wheat, oblong water, table water, Carlton selects, oyster cracker, and cream cracker.
From the Ground Up Cauliflower Crackers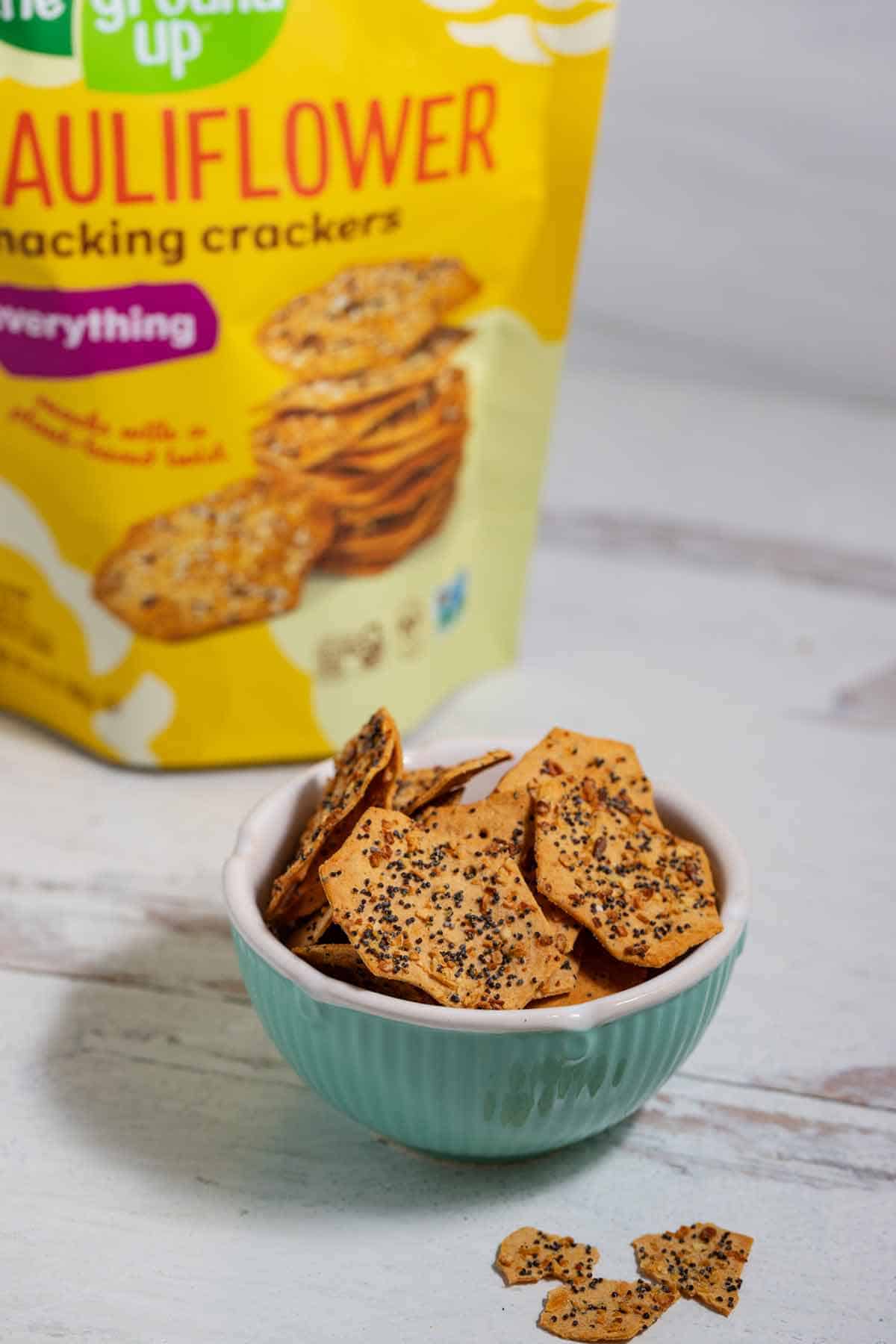 Gluten-free crackers have never been so tasty. Cauliflower snacking crackers are flavorful with a light crunch. The crackers are made with actual cauliflower (plus other vegetable extracts), which makes them one of the healthiest crackers you'll find.
The snacking crackers are not huge but big enough to plop a dollop of chicken salad on top. But it would be hard to dip with these.
Another tasty way to eat them with chicken salad is to crush them on top of the salad. Then eat the snack with a fork.
If you are ready to go beyond cauliflower, try their ranch purple carrot or Parmesan butternut squash crackers. Buy them here.
Oat Crackers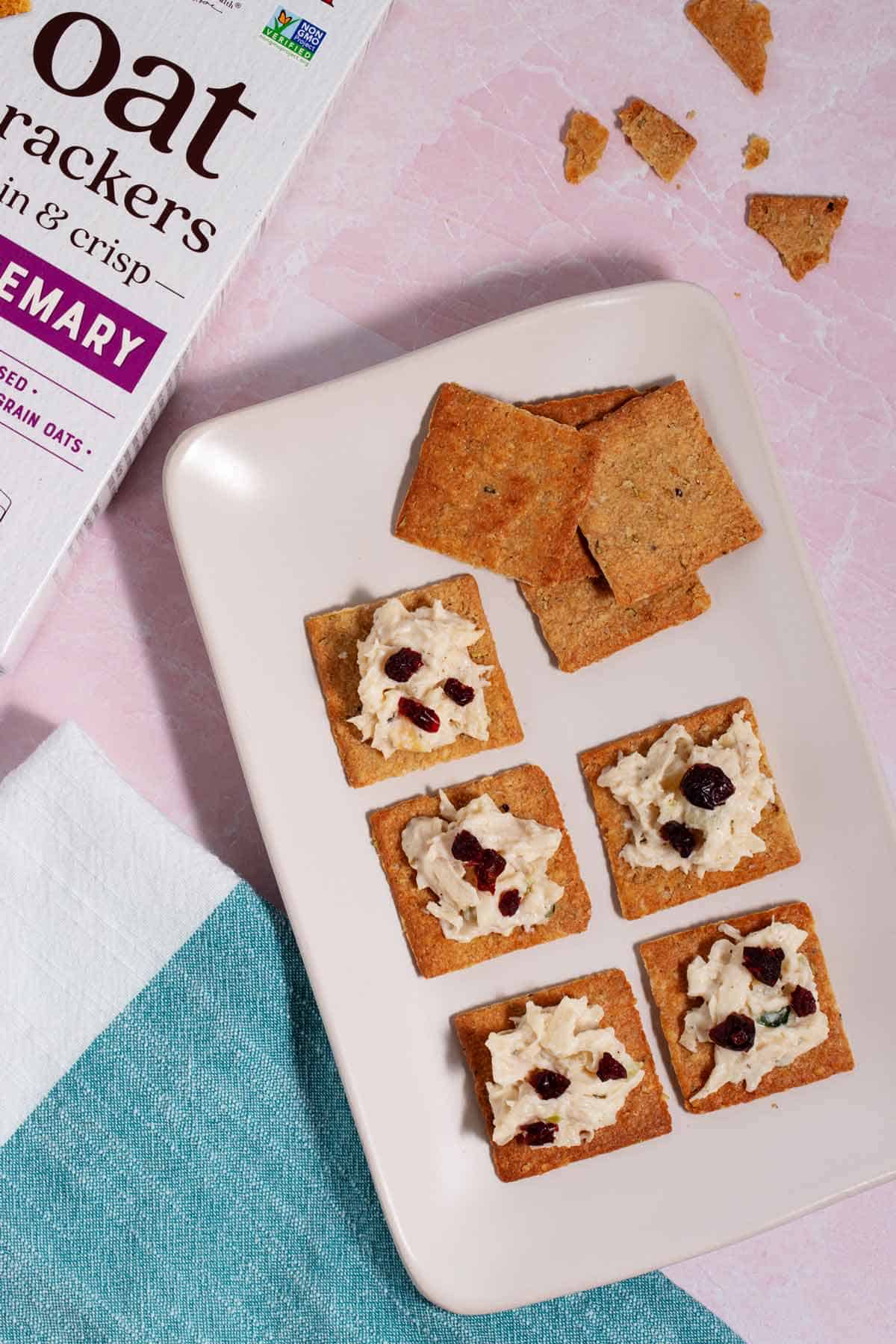 Bob's Red Mill makes a thin and crisp oat cracker. I tried the rosemary flavor with chicken salad, and it was delish!
The crackers are firm, thin, and sturdy like Wheat Thins. They have a distinct sweetness paired with hearty rosemary.
They are a larger square than Wheat Thins and a bit firmer when broken.
In addition to rosemary, try jalapeno, sesame, and plain crackers. Any one of those varieties would be ideal for serving with chicken salad. Buy them here.
Pepperidge Farm Cracker Trio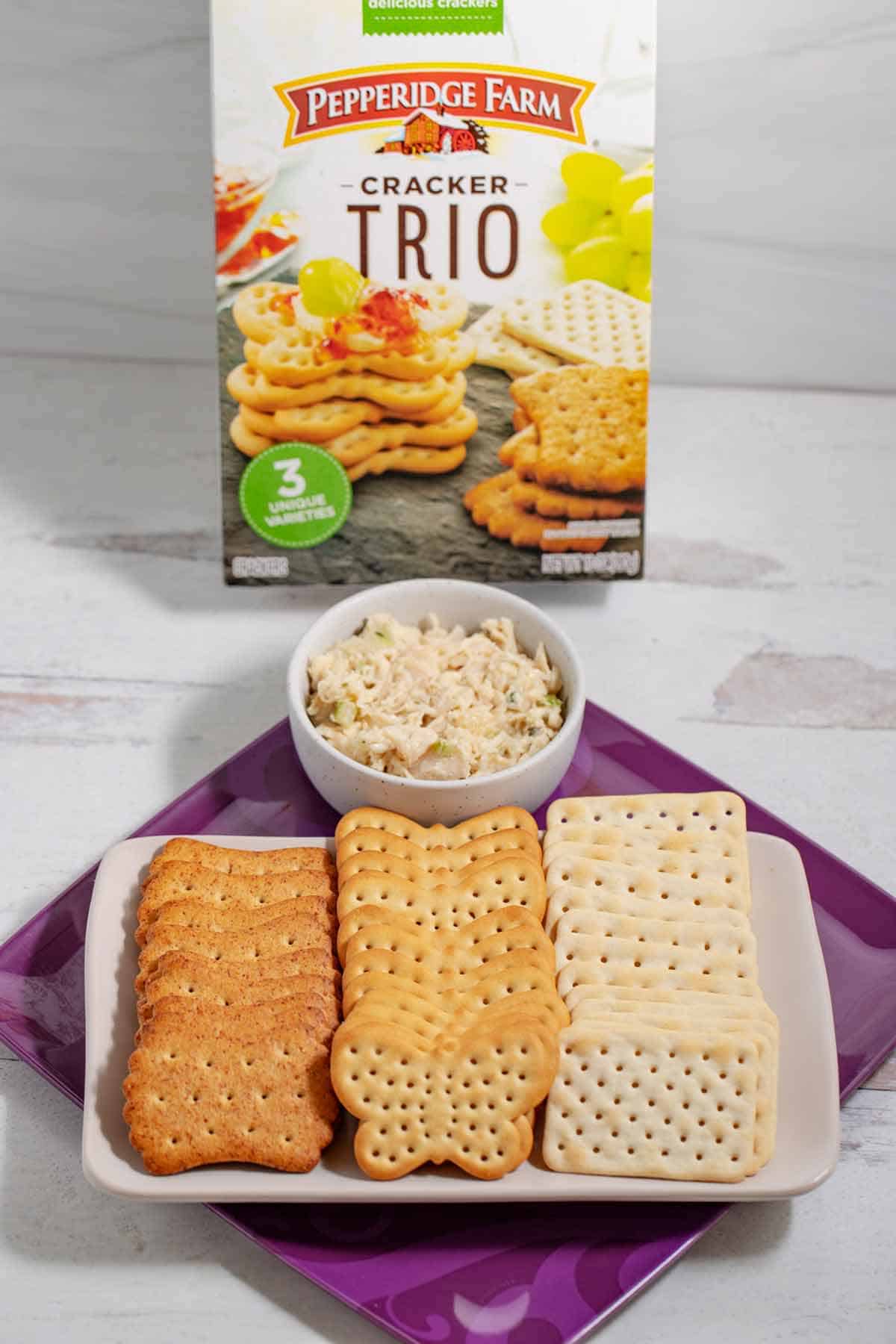 These distinctively delicious crackers come in three unique varieties – golden butter, harvest wheat, and classic water.
Each kind of cracker has its own shape. Golden butter is butterfly-shaped. Harvest wheat's shape reminds me of a bow tie. And classic water is rectangular.
They are thicker than other crackers, and the harvest wheat is sturdier. Their size is ideal for topping with chicken salad and eating as a snack. Buy them here.
Pita Chip Crackers
If you prefer to dip, try Town House pita crackers. Their triangular tip is perfect for dipping into any spread.
They are also sturdy enough to hold a dollop of chicken salad if you want to prepare an appetizer tray for a barbecue.
They come in sea salt, Mediterranean herb, and Parmesan cheese and basil. Buy them here.
Other brands to try:
Good & Gather Sea Salt Pita Crackers
Town House Original Crackers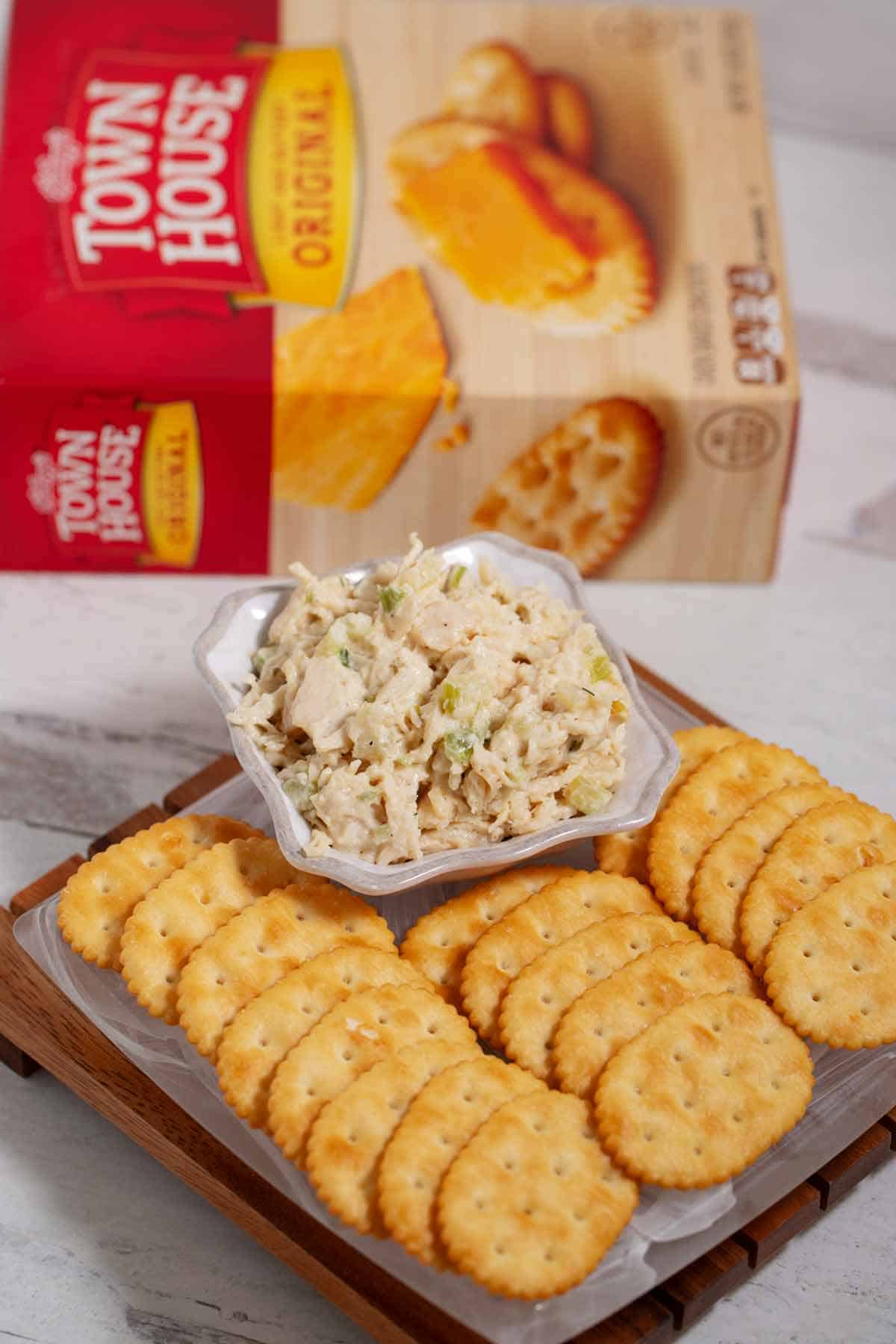 Kellogg's original light and buttery Town House crackers are a classic appetizer choice. They are crumbly, so make them into appetizers rather than plunging them into a dip.
Or try Town House Dippers, which are perfectly shaped and sturdy enough to dip. You can also find flavored Flatbread Crisps. No shortage of Town House cracker options. Buy them here.
Which Cracker Will You Try?
Now that you are familiar with all these crackers, which one will you try with chicken salad. Crunchy or crispy, gluten-free or not? The choice is yours. Comment below and let me know which cracker is your favorite to eat with chicken salad.
Chicken Salad Recipes
With all your cracker choices, you're gonna want some chicken salad recipe variations too. Check these out.
---
Did you like this post? Then let's be social. FOLLOW ME on INSTAGRAM and PINTEREST to keep up with the latest tutorials, favorite recipes, and interesting happenings.