Stuck on how to serve banana pudding? Discover fun and creative ways to serve many varieties of banana pudding. Great for parties and crowds!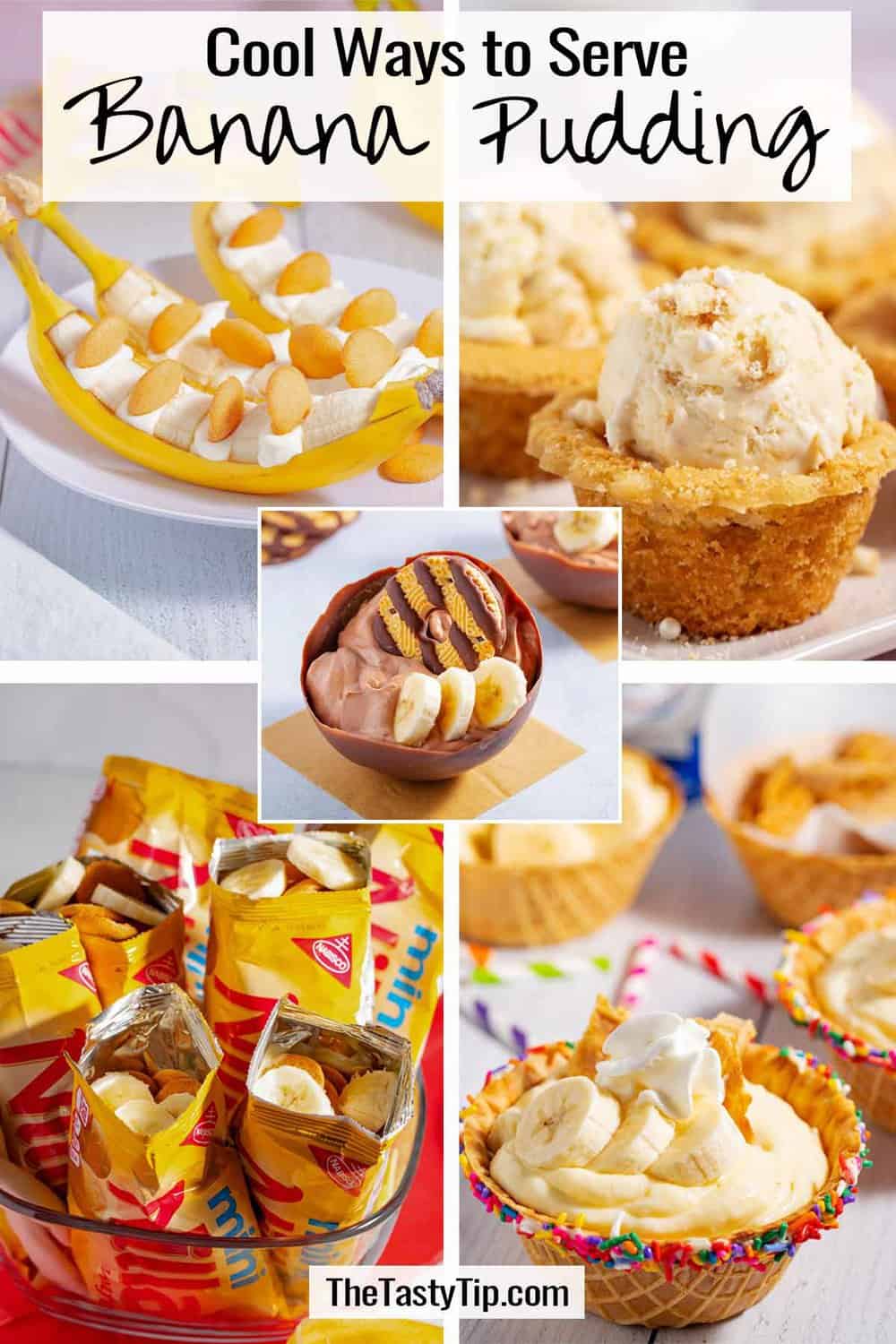 I used to only serve banana pudding in a glass casserole dish. Boring.
Determined to be creative, I started wondering how to serve banana pudding in a memorable way. I wanted amazing. Unforgettable. Totally cool!
Here is an extraordinary list of the absolute coolest ways to serve banana pudding this year. The best ways to serve banana pudding are in containers that show off the beauty of the dessert. Or in containers that allow you to add unique garnishes.
Not all of these serving dishes work for every flavor of banana pudding. Some require prep work. Most make individual servings. All of them are attention-grabbing.
You may also be interested in my post on the best cookies for banana pudding and the post on how far ahead you can make banana pudding.
With that out of the way, let's get into all the different ways to serve this classic Southern dessert.
Serve in Chocolate Bowls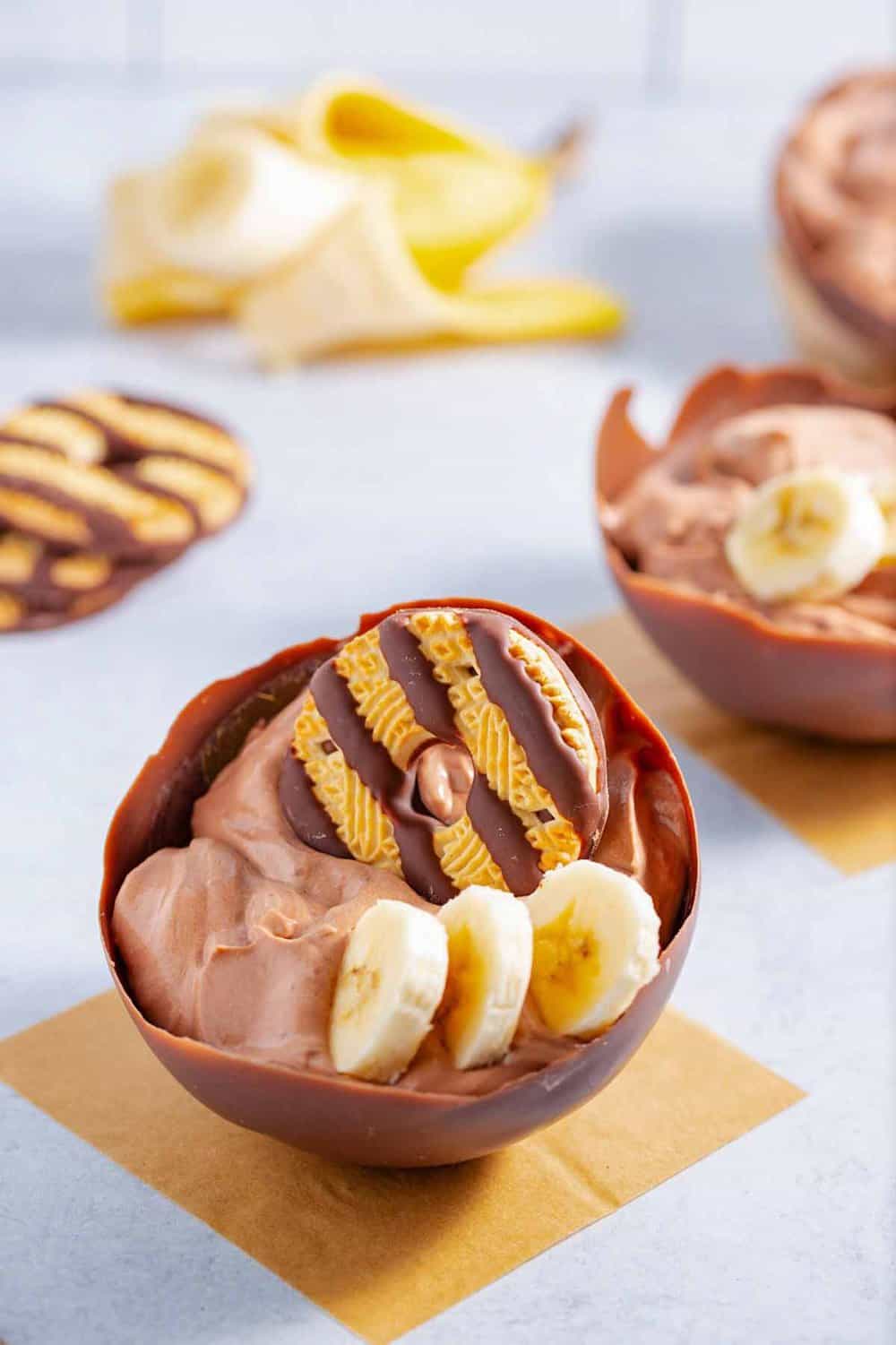 The best banana pudding comes in an edible bowl. Serve chocolate banana pudding in an elegant bowl made from chocolate. Watch your guest's eyes widen when they see their very own chocolate bowl.
Next time, make it even better by topping the pudding with homemade whipped cream.
Serve Banana Pudding in the Banana Peel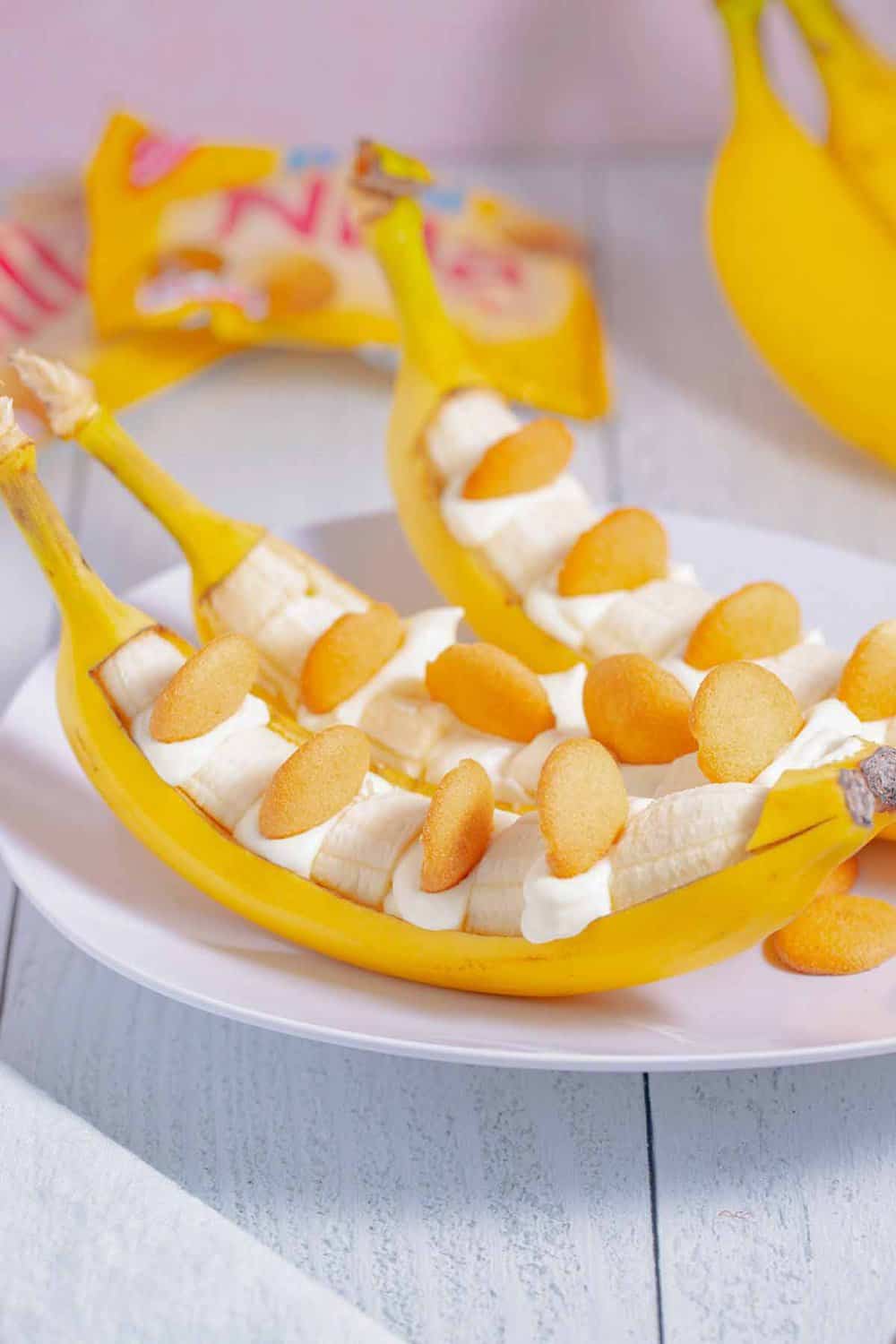 No need to grab a large bowl when you serve banana pudding right in the banana peel. Simple ingredients, classy dessert.
Carefully slice through the top of the banana peel.
Remove the long rectangular front of the peeling.
Slice the banana (in the peel) and remove every other slice.
Fill in the empty space with vanilla pudding.
Stick a mini 'Nilla wafer into the pudding.
More variations:
Insert a slice of strawberry into the pudding with the banana slice. Or alternate strawberry and banana.
Banana Pudding Pie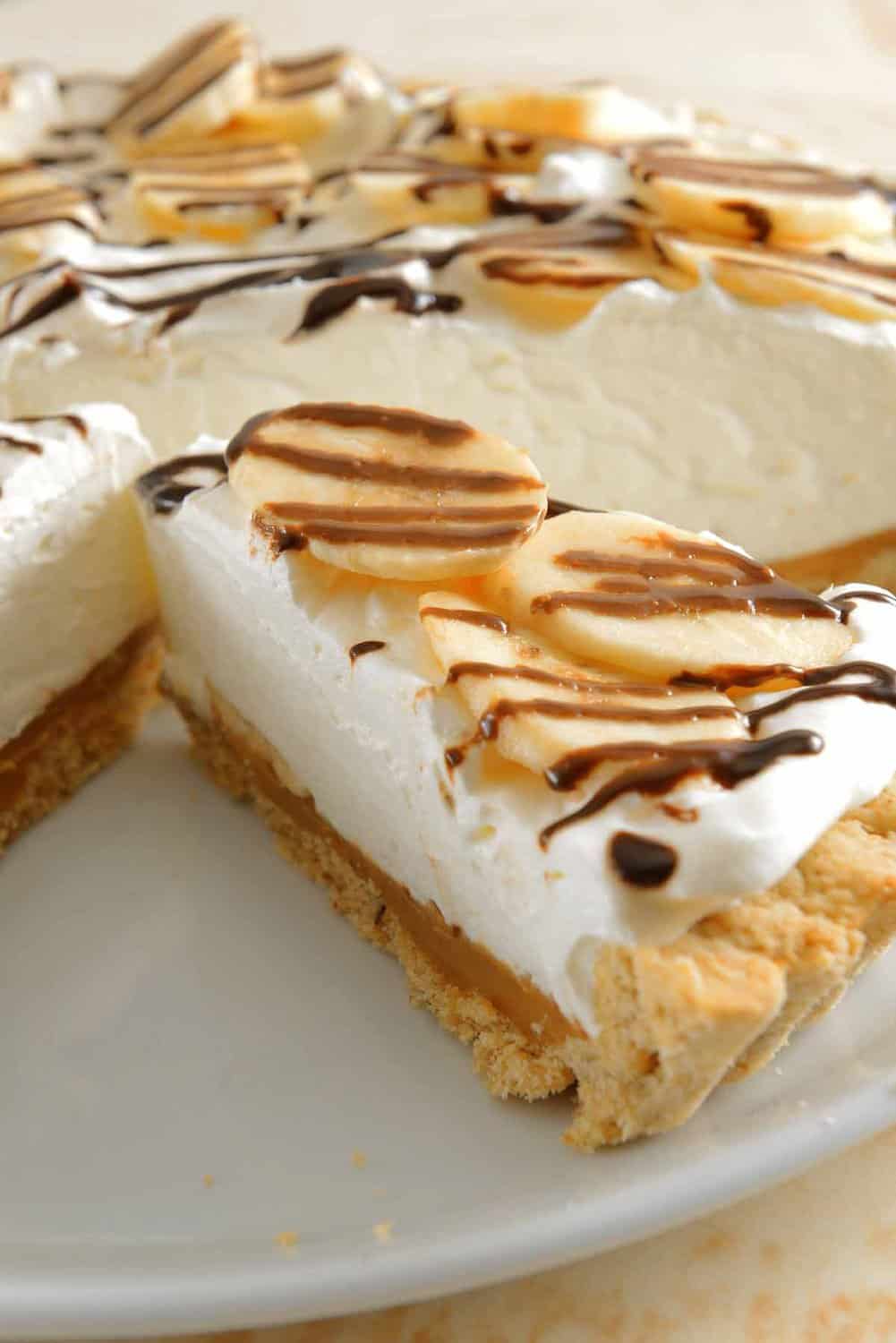 Forget the traditional way of serving banana pudding. Make it into a pie. Banana pudding pie is a no-bake dessert served in a prebaked graham cracker crust. The cream cheese in the filling helps it hold its shape.
Looking for a healthy cream cheese alternative if you want to go lighter. There are plenty to check out.
Use a Waffle Cone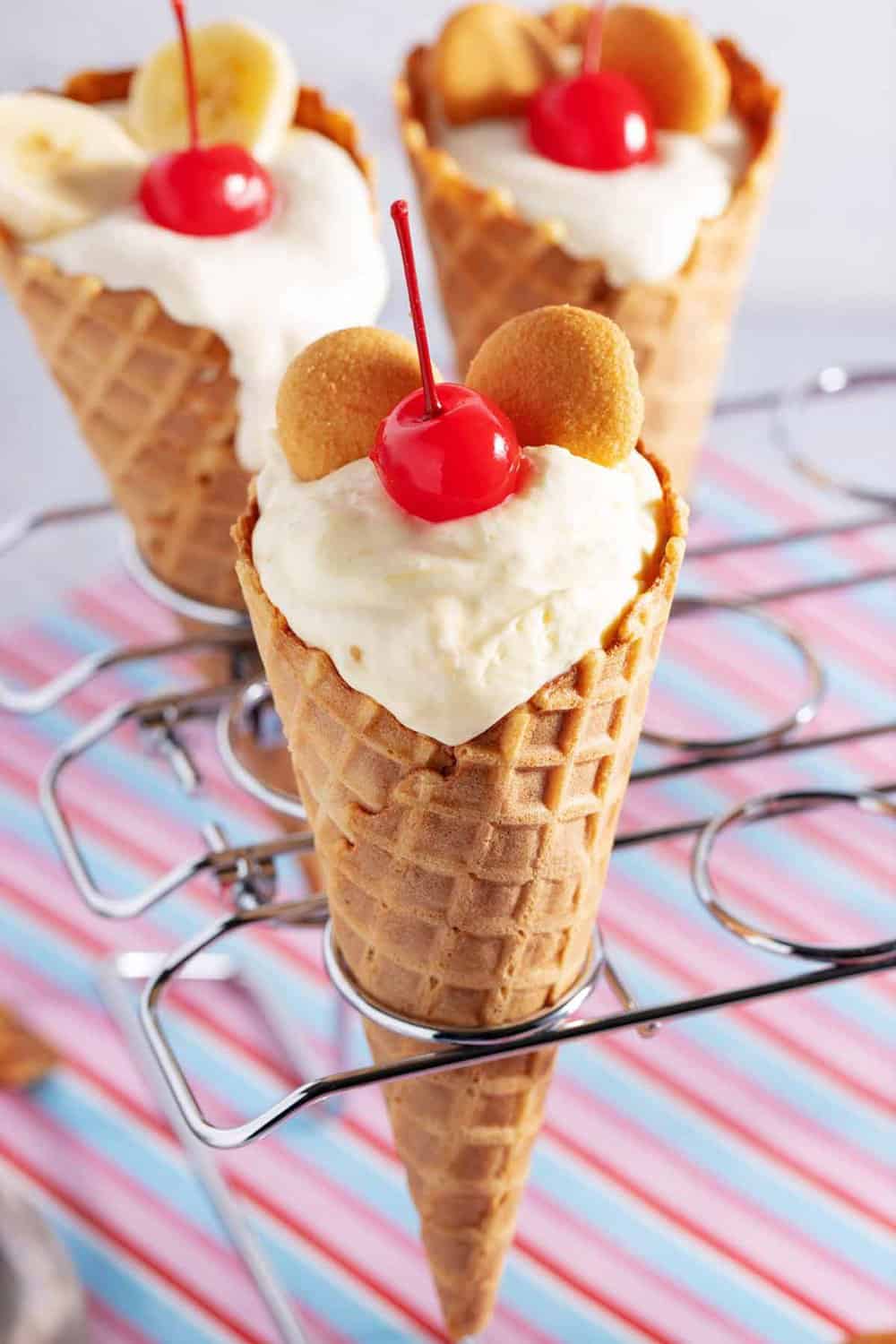 You don't need ice cream to use a waffle cone. Cones are the perfect size and shape to hold any homemade banana pudding recipe. No extra serving dish required.
Pour a layer of crushed cookies into the bottom of the cone to prevent leaks.
Spoon in the pudding mixture and top with sliced bananas and vanilla wafers.
More variations:
Use vanilla ice cream in the waffle cone and garnish with crushed cookies and sliced bananas.
Give Out Banana Pudding in a Mason Jar
Serving banana pudding in a mason jar gives you the feel of being in the country. Use a small mason jar with a handle. The handle makes it easy to carry the classic recipe around while mingling with friends.
Layer the cookies, sliced ripe bananas, and then a layer of pudding in the mason jar.
Garnish with a couple cookies.
Another variation:
Crush the cookies for the cookie layer or use strawberry crunch.
Show Off Banana Pudding in a Trifle Serving Bowl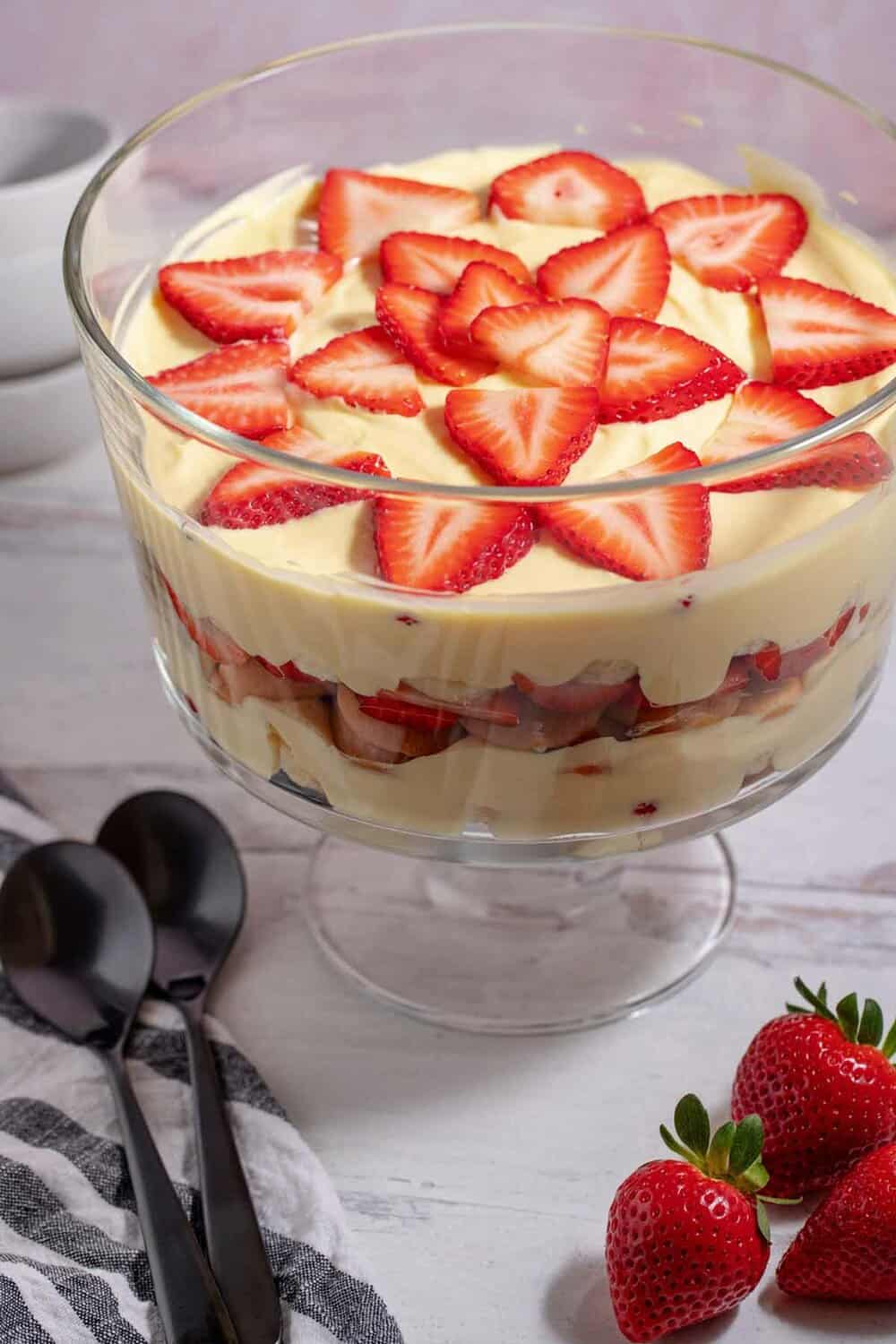 A trifle bowl was made to show off your desserts. Better yet, a trifle dish is big enough to hold enough classic banana pudding for a large gathering. So, invite all your friends.
Plan your layers carefully because everything will show. This is a great way to serve strawberry banana pudding.
Pro tip: Make a double layer of cookies, so they don't get lost in the dessert.
Banana Pudding Brownies
Serve banana pudding brownie-style.
Mix a box of brownies and layer it in a baking pan. Make banana pudding with cream cheese. (Mix in diced bananas if you want.)
Swirl the pudding in the brownie batter. Bake banana pudding, cool, and enjoy.
Individual Plastic Party Cups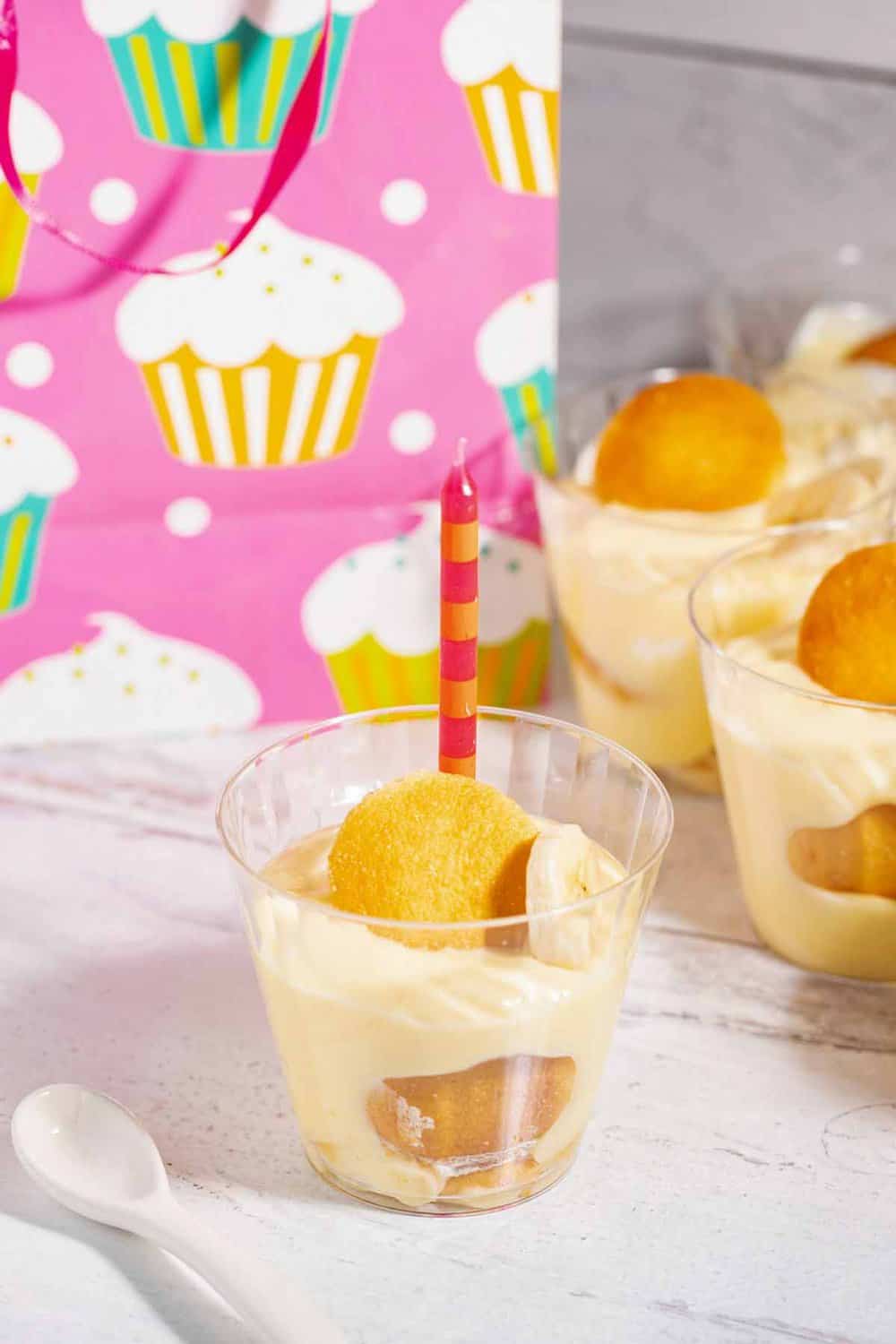 Looking for a convenient way to serve banana pudding at a party? Use instant pudding mix and then serve it in individual plastic party cups.
There are a lot of good reasons to serve it this way. It is quick and does not take a long time to clean up afterward.
That makes it perfect for birthday parties with kids of all ages. You can even stick a birthday candle in the homemade pudding. Make it a tall candle, though.
Walking Banana Pudding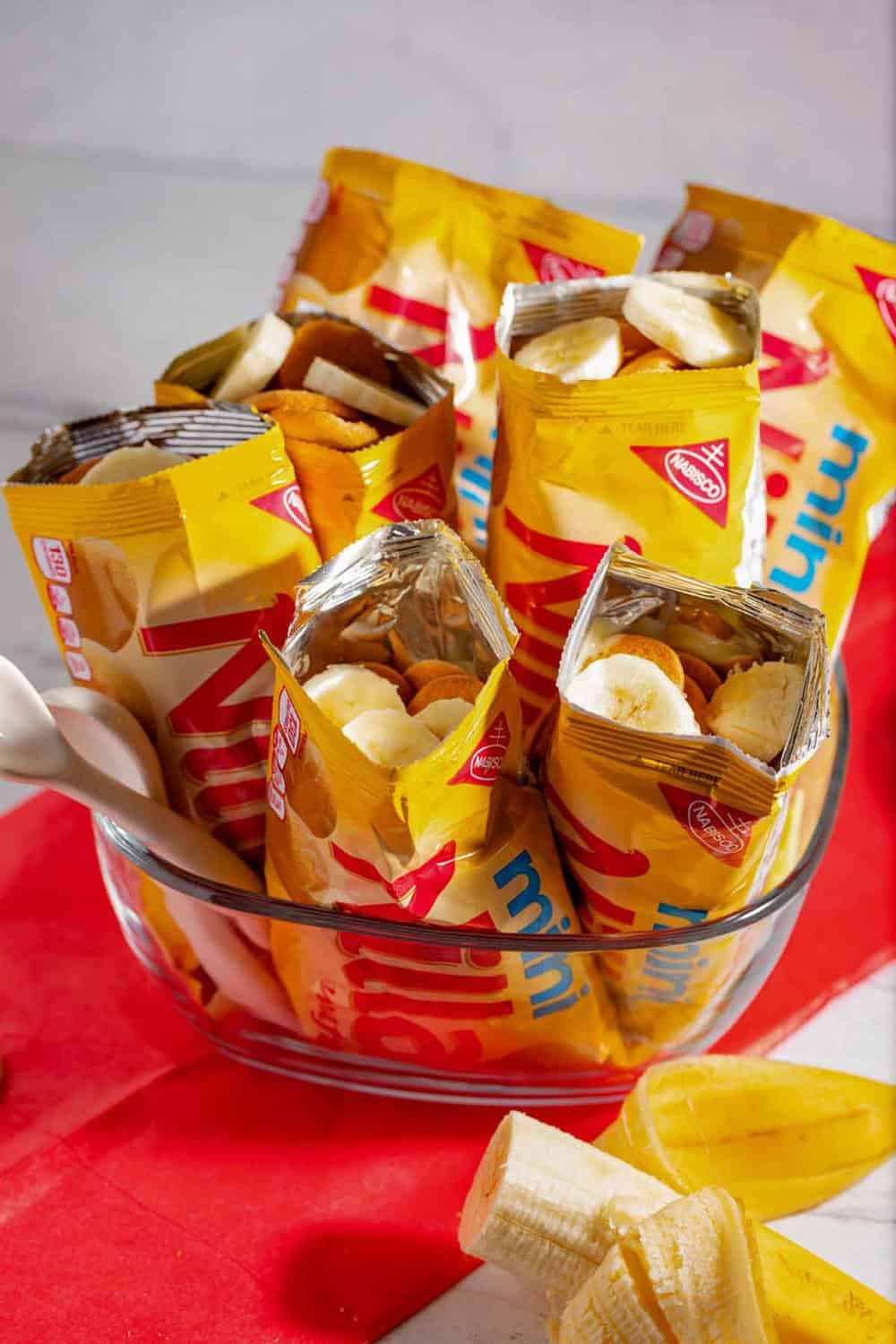 Are your guests on the go? Then serve banana pudding in individual mini 'nilla wafer bags. This is another easy banana pudding recipe for a crowd.
Let people grab a cookie bag, a scoop of pudding, and a few banana slices. Don't forget to keep the spoons in sight. Now everyone can walk, talk, and chow down on pudding.
Dish Up Banana Pudding in a Waffle Bowl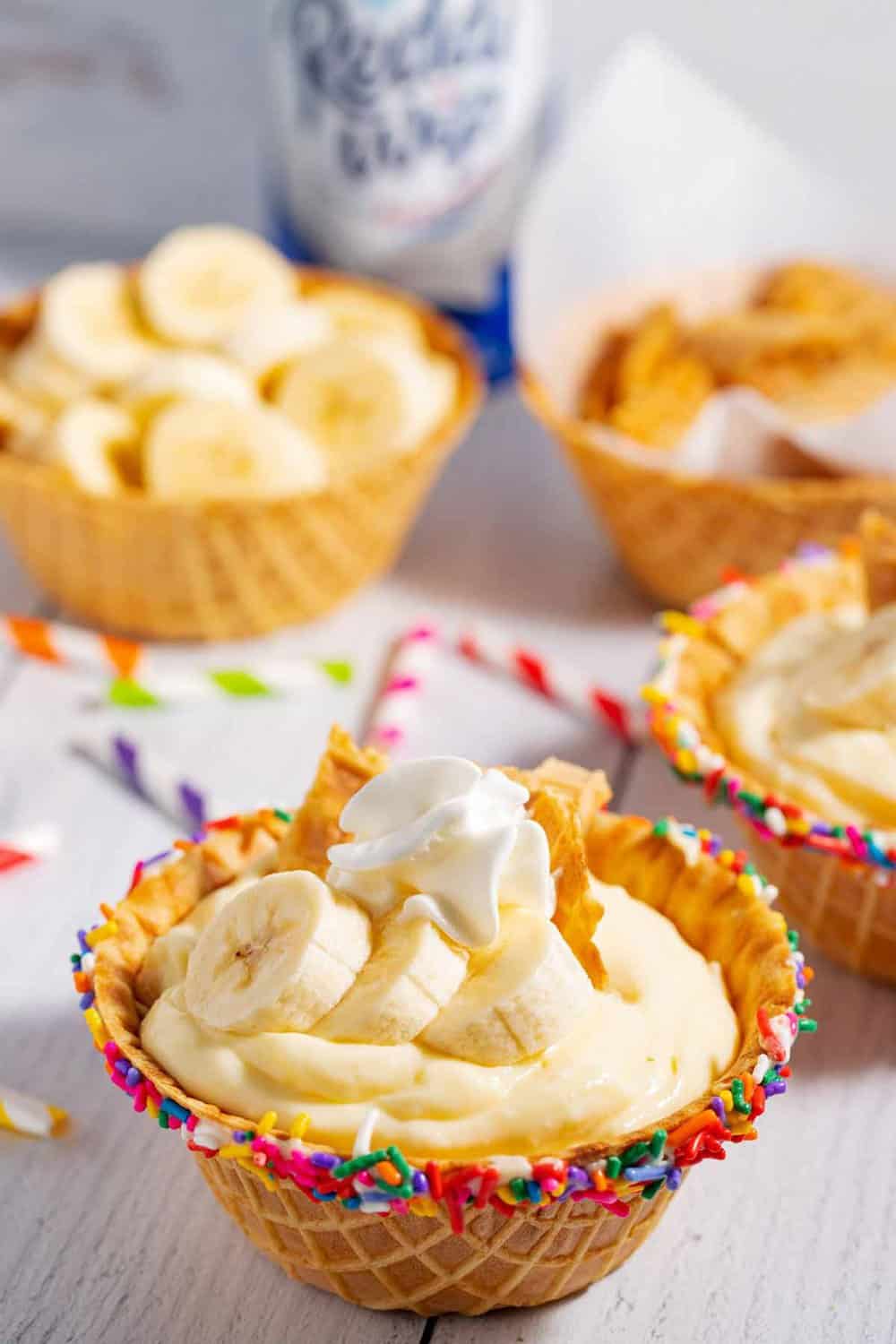 You are going to get some grins when you serve banana pudding in a waffle bowl. Set out some garnishes and let people get wild. They will be talking about your famous banana pudding for the next week.
Banana Pudding Jelly Roll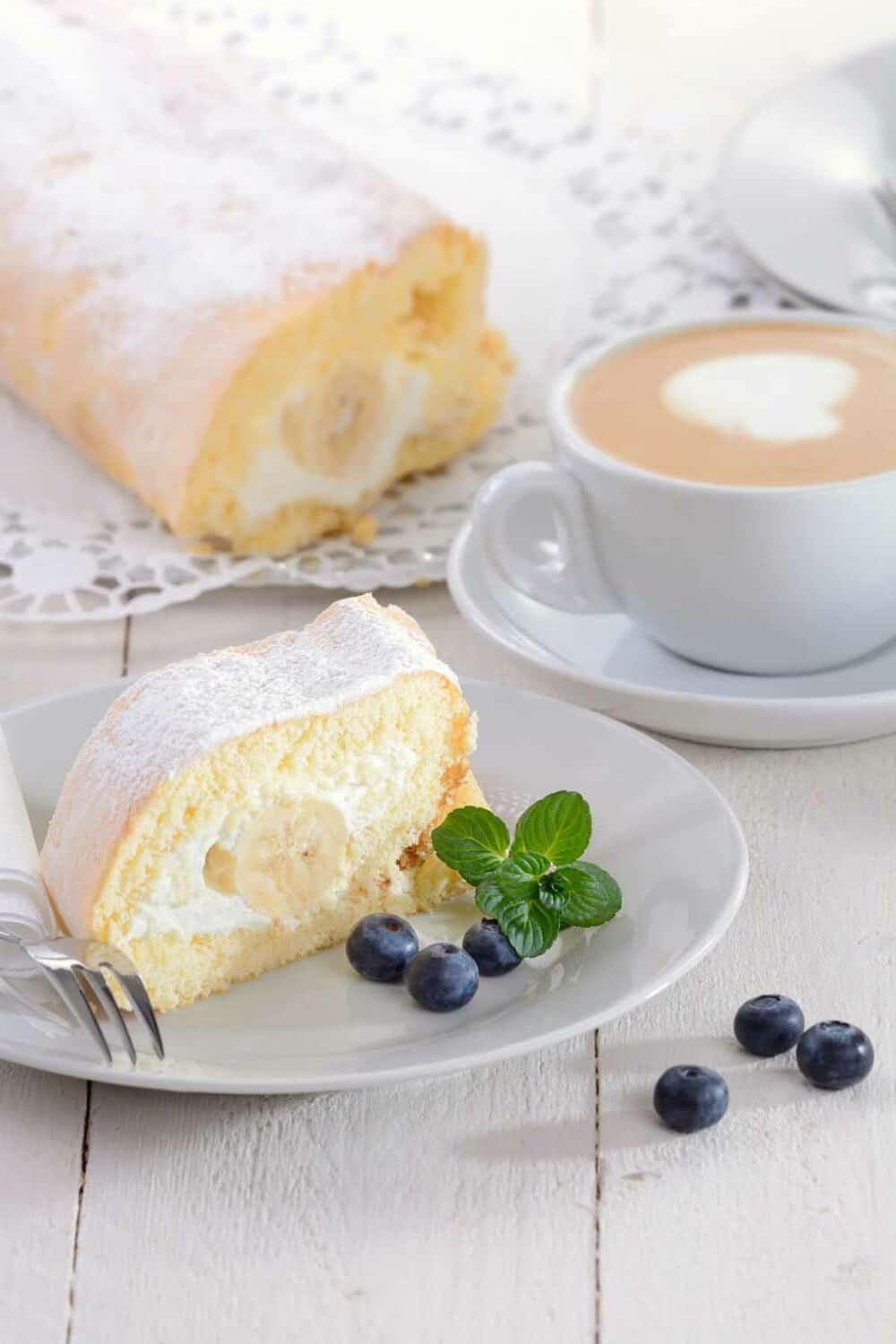 Serving a thick cream cheese banana pudding in a jelly roll is festive and fun. Keep it chilled until you are ready to serve it, so it is easy to slice.
Prepare the banana pudding. You will need banana pudding with a cream cheese mixture so it will hold its shape.
Slice the bananas and sprinkle with fruit fresh or lemon juice.
Spread the banana pudding and bananas on the jelly roll.
Roll into a log and refrigerate.
Try a Wine Glass for Elegance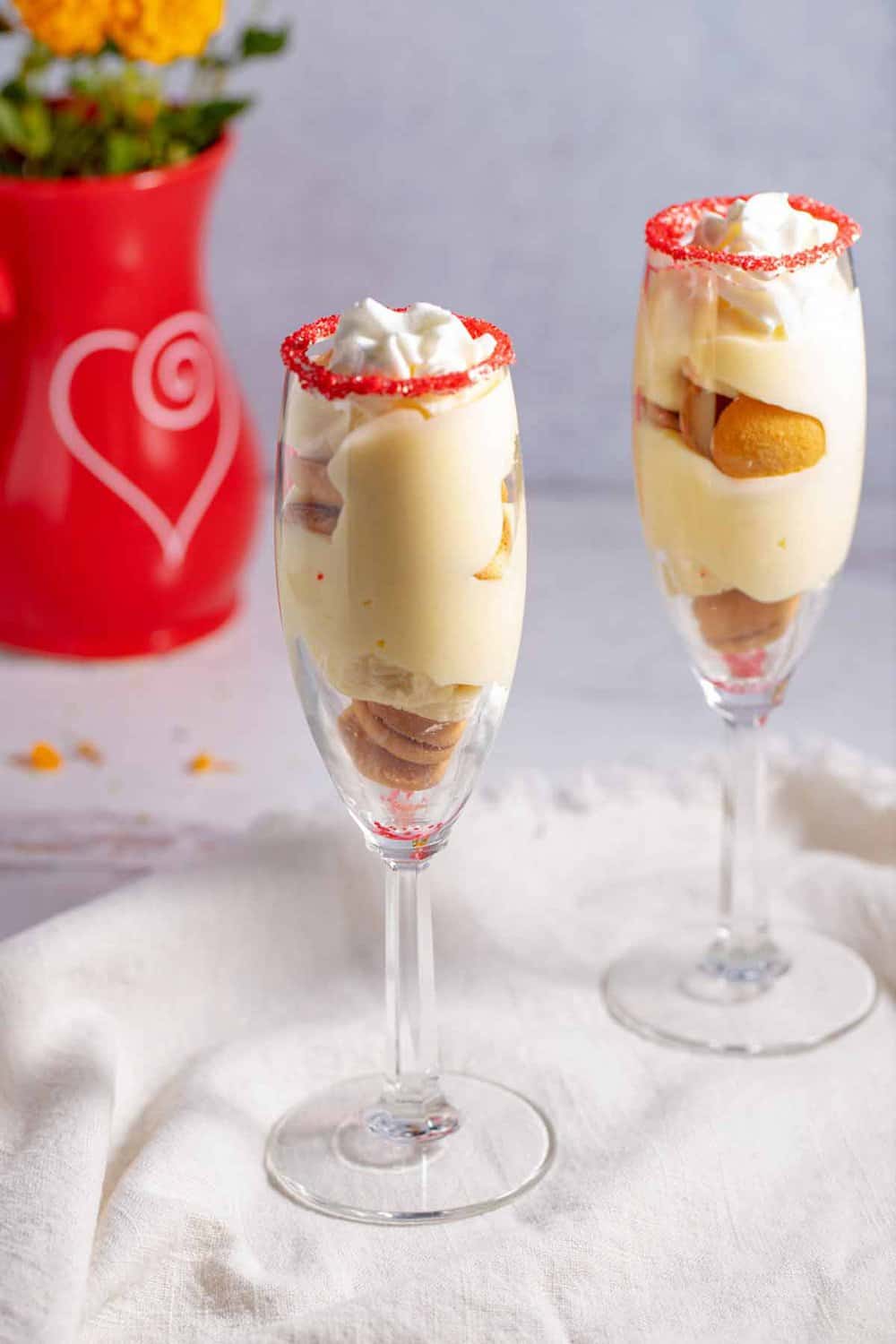 Planning a romantic evening with your sweetie? Serve the banana pudding in a long-stemmed wine glass to set the mood.
Fill the wine glass starting with the layer of vanilla wafers, followed by a layer of banana slices. Finally, top with the pudding.
Right before serving, garnish with slices of banana. Use a small heart-shaped cookie cutter to cut the banana if you can find one.
Roll Up the Banana Pudding in Crepes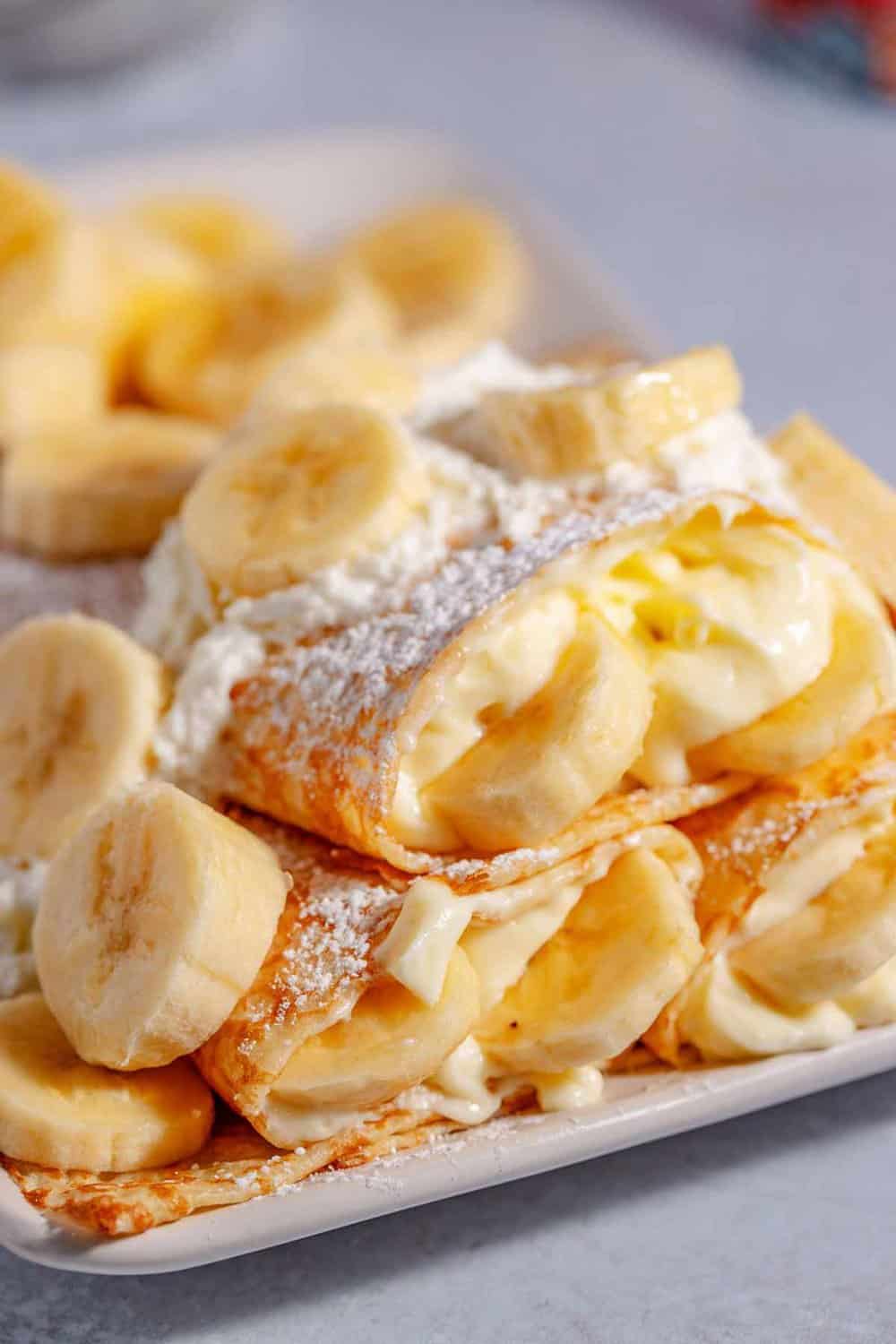 Crepes are the perfect way to make a banana pudding meal… dessert meal, that is. Crepes are the ideal container to hold vanilla or chocolate pudding. Along with sliced bananas or strawberries. Don't forget that dusting of powdered sugar.
Make and chill the banana pudding mix.
Slice the bananas and/or strawberries. Sprinkle the additional banana slices with fruit fresh or lemon juice to keep them from browning.
Spread the pudding and fruit on the crepes. Fold them over or roll them up.
Sprinkle with powdered sugar and garnish with the fresh fruit.
Cinnamon Sugar Tortilla Boat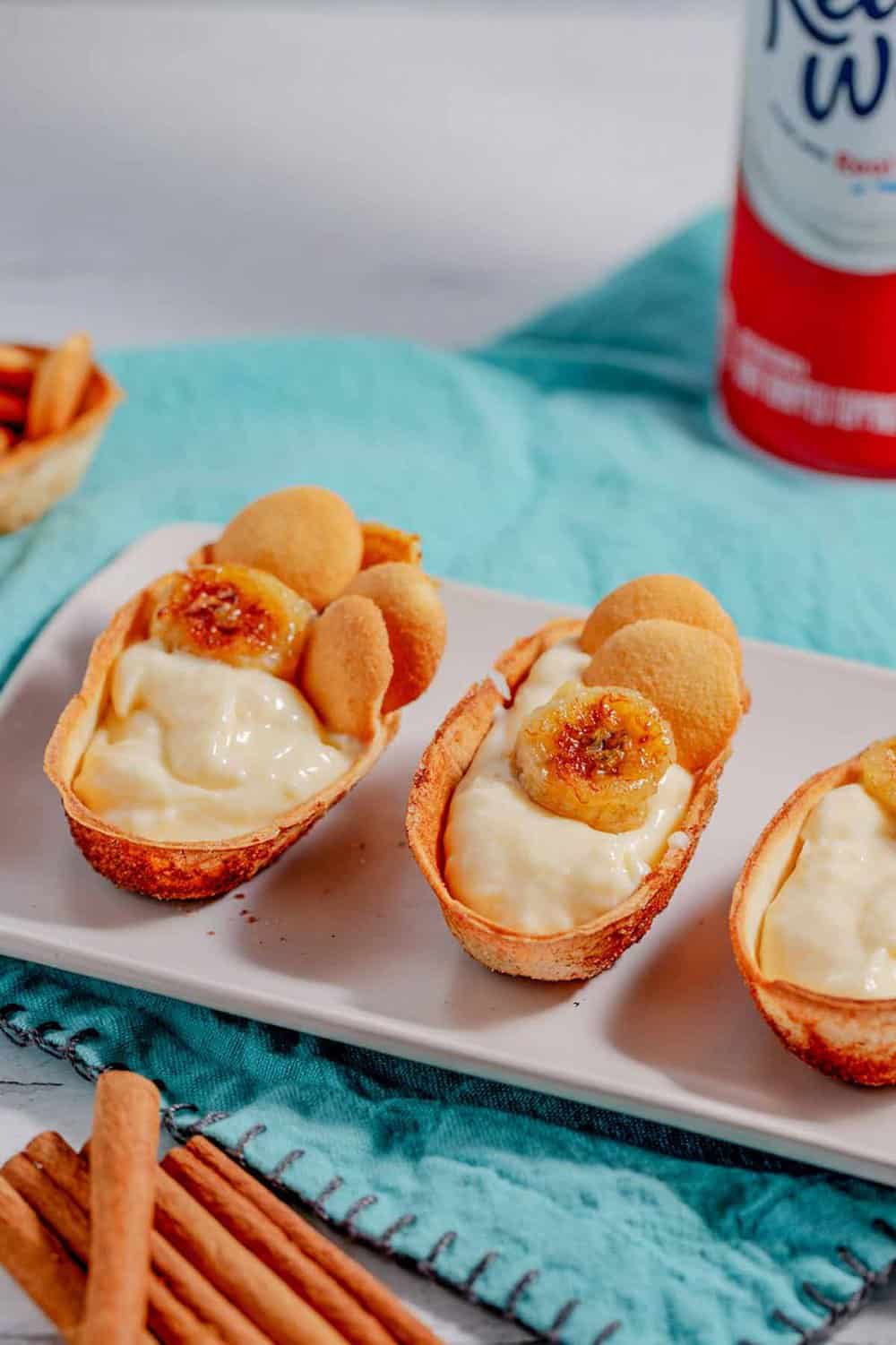 Wondering how to serve warm banana pudding? A cinnamon-sugar tortilla boat is your answer.
Turn the oven onto broil but keep the oven rack in the middle.
Stir 3 tablespoons of sugar and 3 teaspoons of cinnamon together.
Melt butter and brush it inside and outside of a tortilla boat.
Sprinkle the cinnamon and sugar inside and outside the tortilla boat.
Broil the tortilla boat for up to 5 minutes. Keep an eye on it and flip it over once halfway through.
Make homemade vanilla pudding or cook and serve boxed pudding.
Sauté them in butter and a sprinkle of cinnamon.
Pour the warm vanilla pudding into the tortilla boats and top with roasted bananas.
Edible Sprinkle Bowls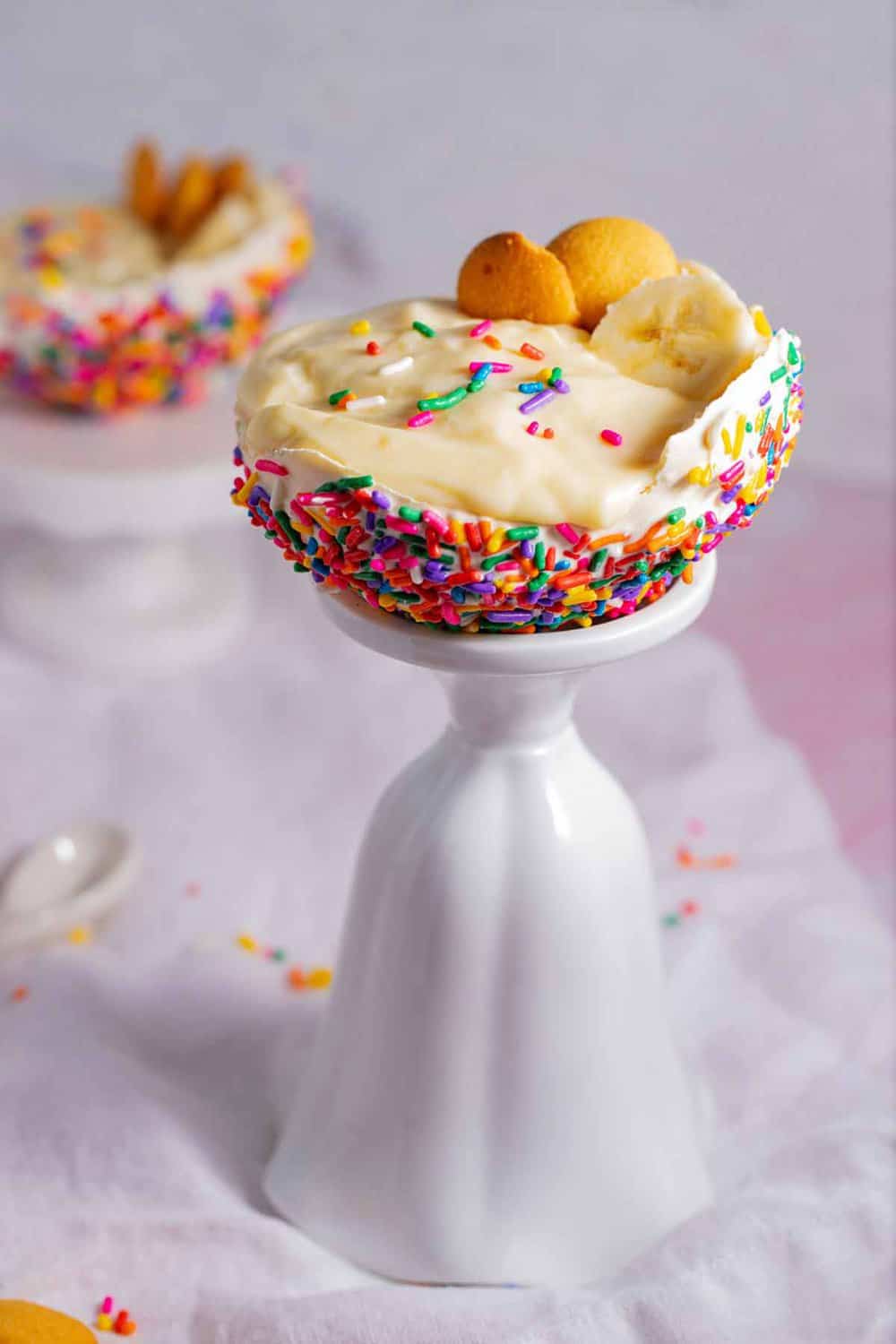 Edible sprinkle bowls are the best way to serve banana pudding when you need a little sparkle.
Make chocolate bowls with white chocolate and dip them in sprinkles before the chocolate dries.
When the bowl is dry, add the vanilla pudding, cookies, and layer of bananas. And a few more sprinkles, of course.
Read up on how to melt white chocolate in the microwave or all the ways you can melt white chocolate chips.
However, these sprinkle bowls might be better if made with almond bark or candy melts. Same idea, but easier execution.
Banana Pudding Bar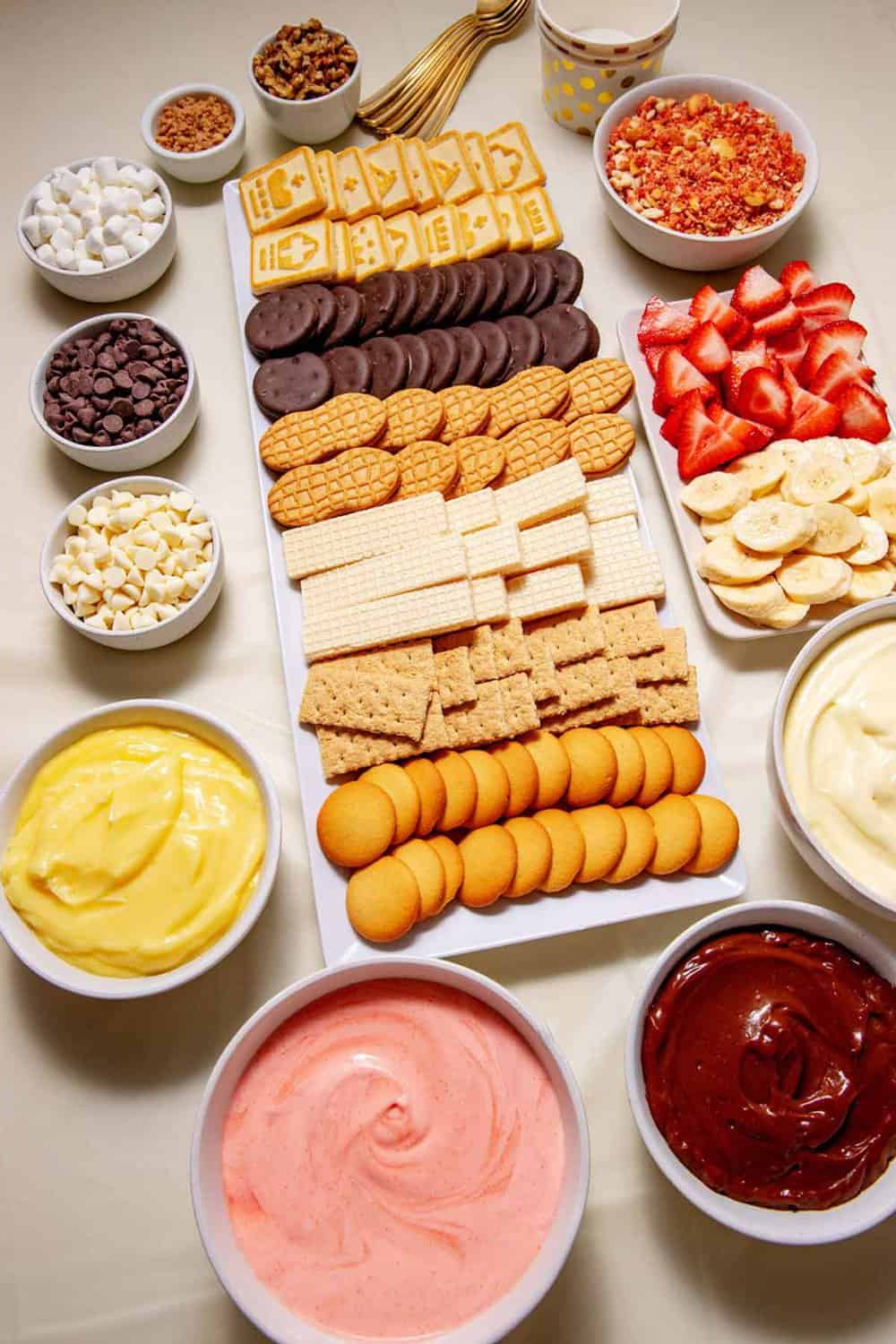 Who says you have to be the one to put the banana pudding together? The best banana pudding recipe is a DIY one.
Let your partygoers make their own. Set up a banana pudding bar with tons of fixings and watch the crowd go wild.
Here are some of the best foods to have on the party table.
Sliced bananas. Don't forget to sprinkle them with fruit-fresh to keep them from browning. Use fresh bananas without brown spots on the peel.
Sliced strawberries. Or strawberry topping.
Strawberry crunch (made with crushed 'nilla wafers and powdered strawberry jello)
Creamy pudding. Try vanilla, banana, chocolate, and strawberry pudding.
Cookies. Not just vanilla wafers. There are lots of other cookies to serve with banana pudding. Like shortbread cookies, butter cookies, Chessmen cookies, and graham crackers.
Chopped nuts. Toasted pecans, walnuts, peanuts, macadamia nuts, etc.
Whipped cream. Make your own whipped cream, Reddi-Wip, or Cool Whip.
Sprinkles. Every dessert bar needs sprinkles, right?
Candies. Chocolate chips, peanut butter chips, white chocolate chips, toffee bits, etc. Give each candy type their own small bowl.
Make a Chess Board with Banana Pudding Servings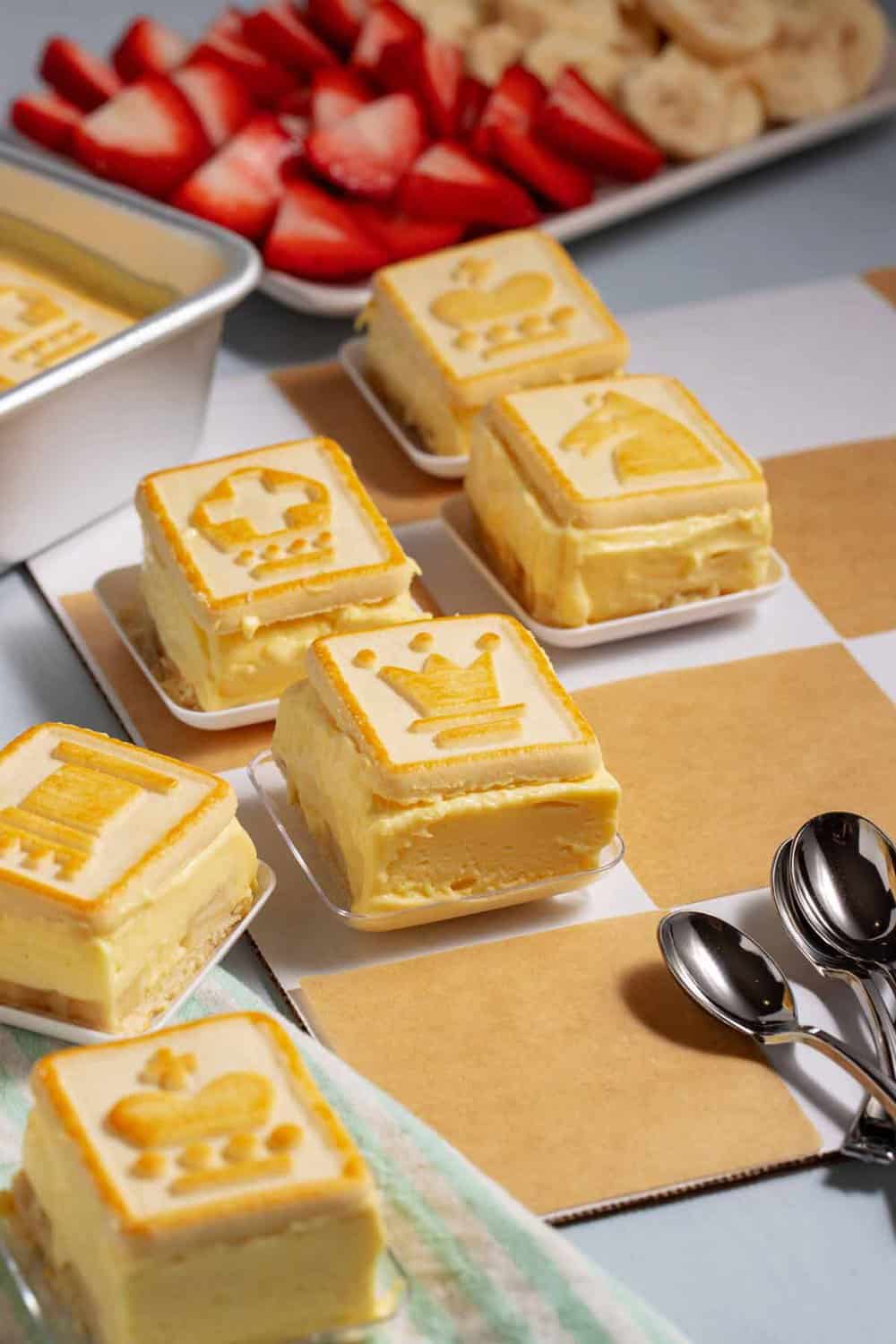 If you make cream cheese banana pudding with Chessmen cookies, serve it on a Chess board. Your Chess-loving family will adore the set-up you made.
For best results, wait until the pudding has chilled before cutting, serving, and topping it with the Chessmen cookie.
Banana Pudding Overnight Oatmeal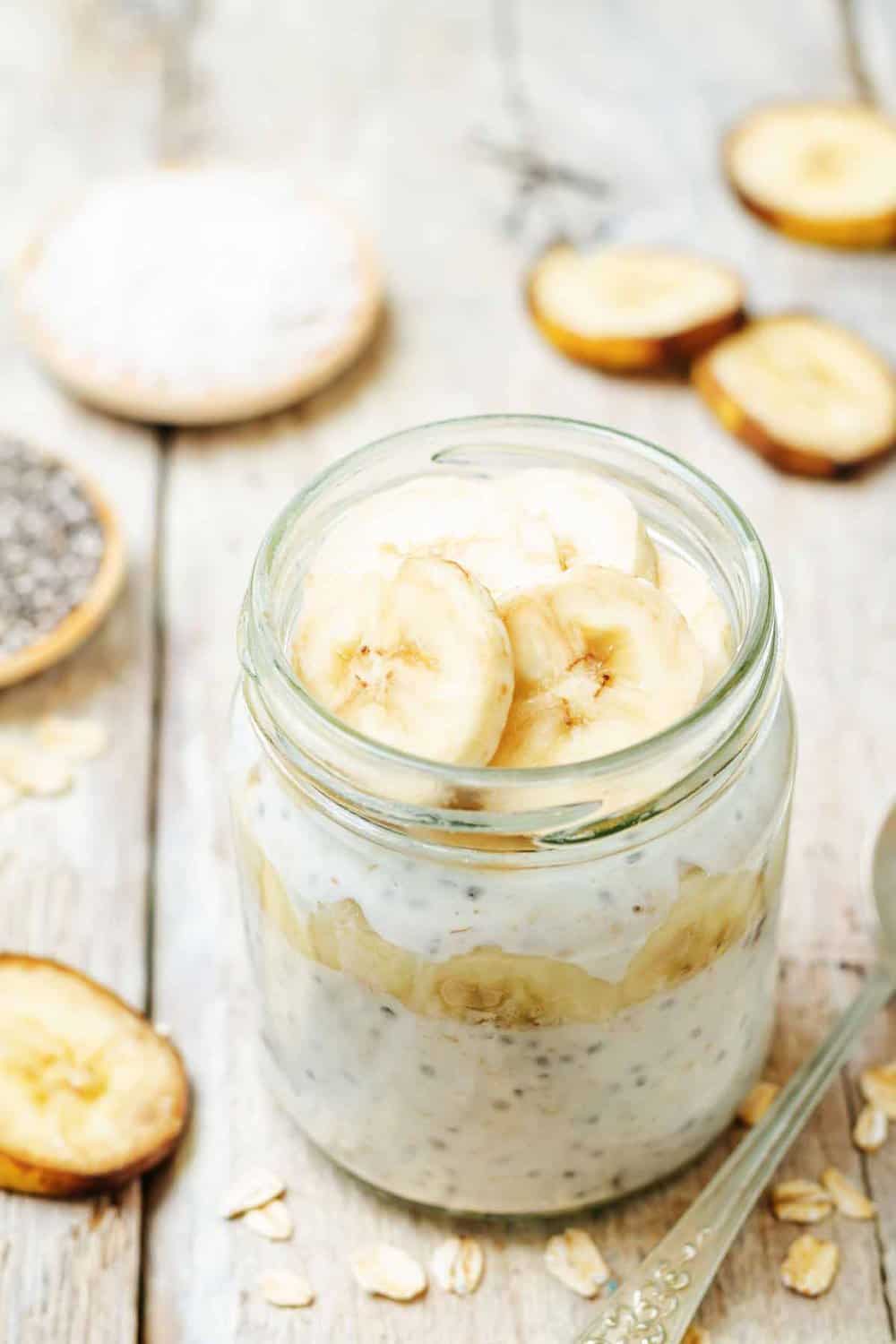 Do you need your banana pudding fix first thing in the morning? Then make an overnight breakfast. Chia seeds and oatmeal make a thick pudding. Top with bananas and a squirt of whipped cream.
Cookie Cup Banana Pudding Bites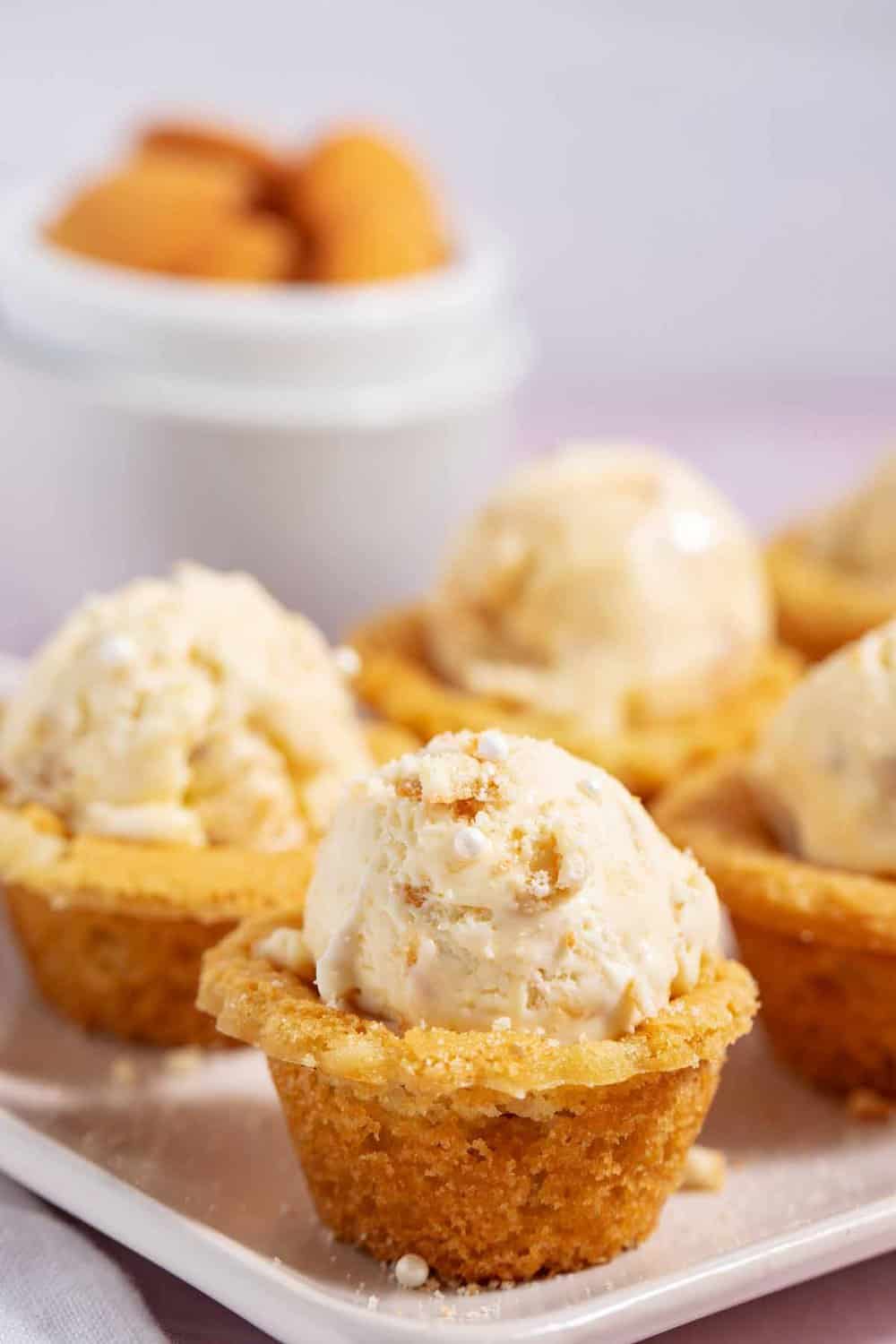 A cookie cup is another edible dish to serve banana pudding in. A sugar cookie cup has the best flavor to pair with banana pudding. And you can eat the whole thing, bowl and all.
Banana Pudding Ice Cream Sandwiches
Nothing better than no churn banana pudding ice cream for ice cream cookie sandwiches. Use snickerdoodles or oatmeal cookies.
Make the cookies and cool them.
Make the banana pudding ice cream.
Freeze it to harden for at least 5 hours.
Take the ice cream out of the freezer. If it needs to soften to scoop, give it a few minutes. Otherwise…
Scoop ice cream onto the bottom of the cookie. Spread it as evenly as possible. Put a second cookie on top, making a sandwich.
Freeze for an hour or two before serving.
Banana Pudding Cake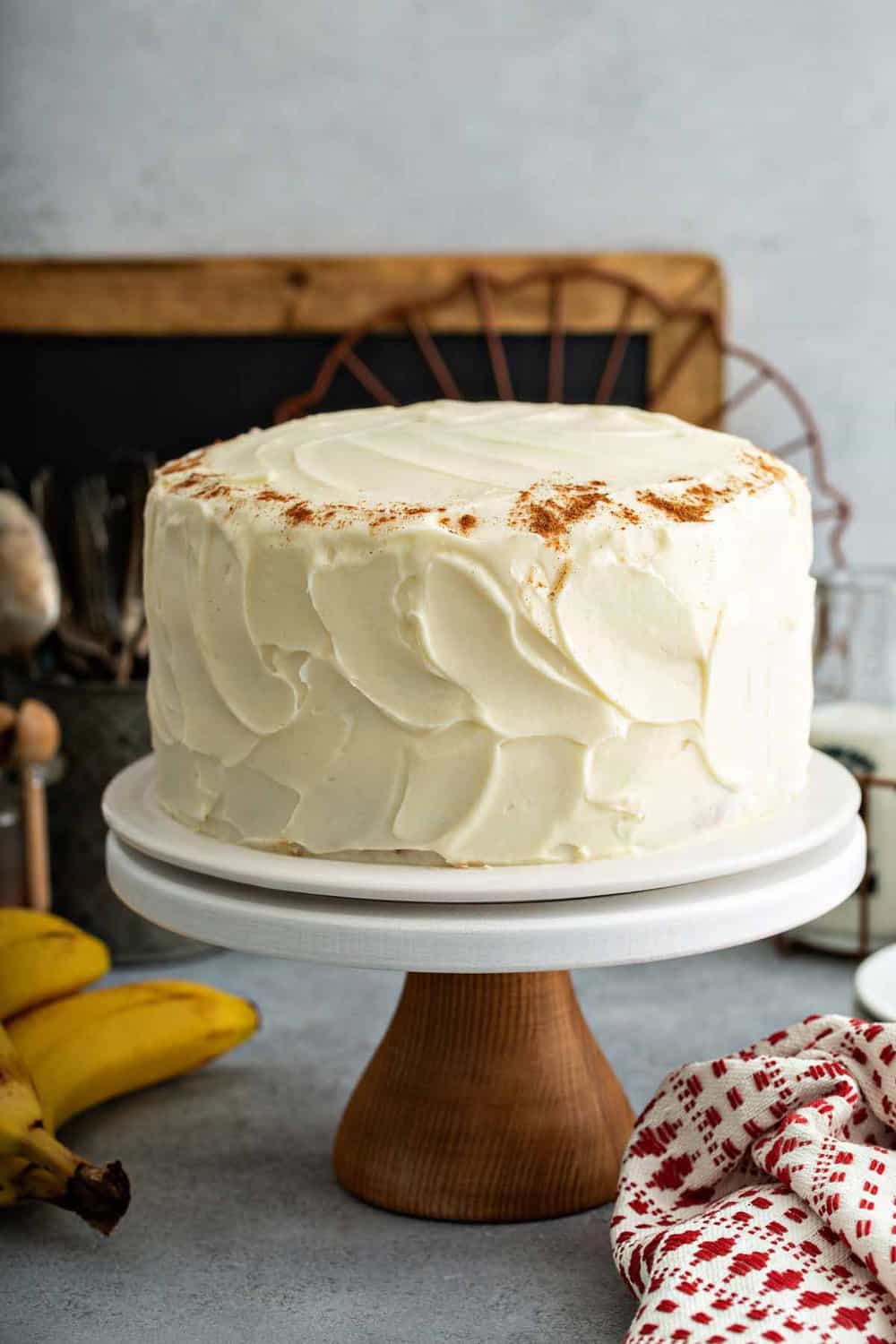 Some people need a cake flavor for everything. Banana pudding cake is a great example. Serve banana pudding cake-style.
Make a vanilla cake. In between the cake layers, smooth a thick layer of old-fashioned banana pudding and layers of fresh bananas.
Frost the cake with vanilla buttercream frosting and coat the outside of the cake with crushed vanilla wafers if you want.
Frozen Push-Up or Banana Pudding Popsicles
As a kid, I loved going to the corner store and buying frozen push-ups. They were yogurt back then. But now you can serve banana pudding ice cream in them.
If the push-up containers are hard to find, just make banana pudding ice cream popsicles. They are a cool treat in the summer.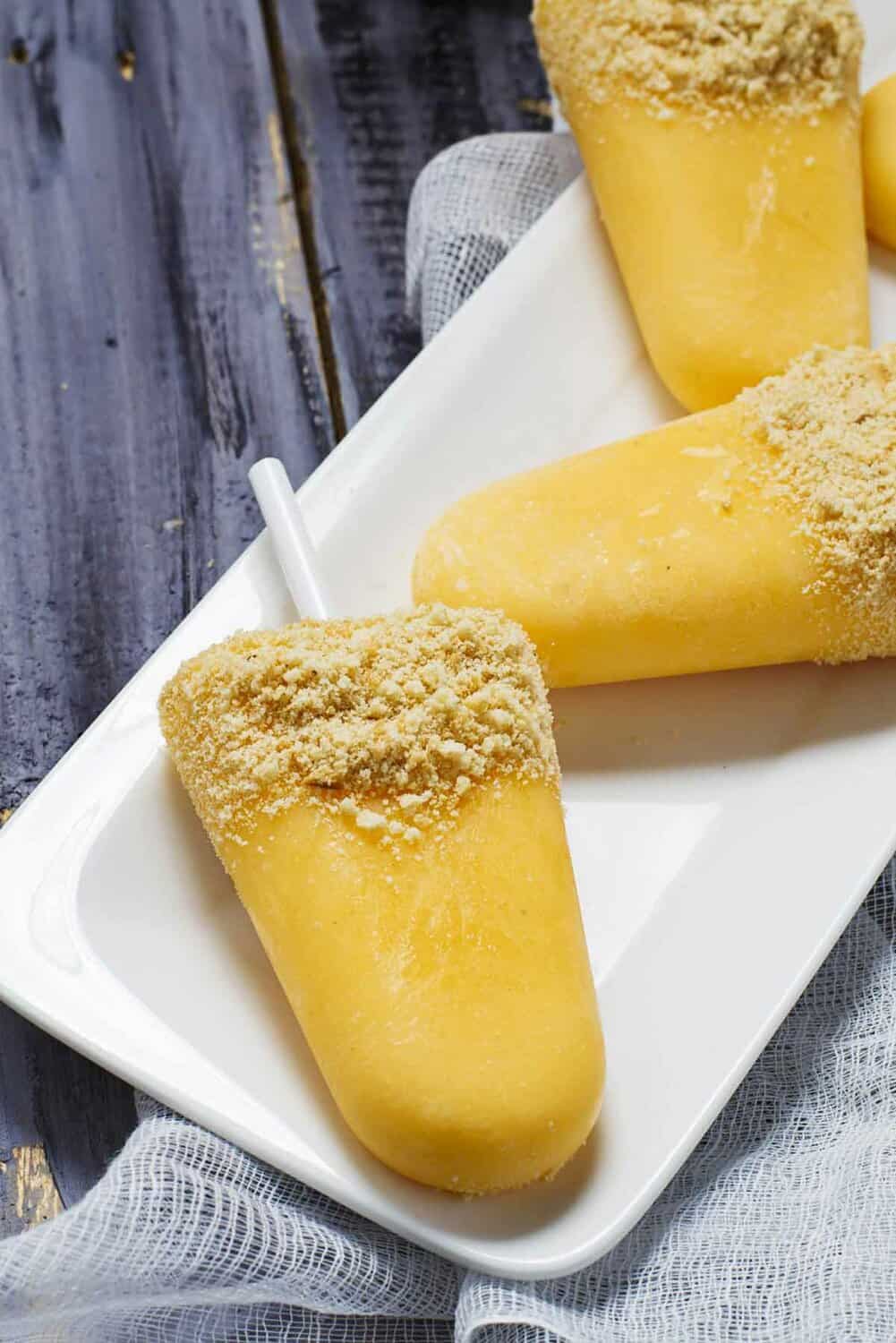 Serve Banana Pudding in a Small Canning Jar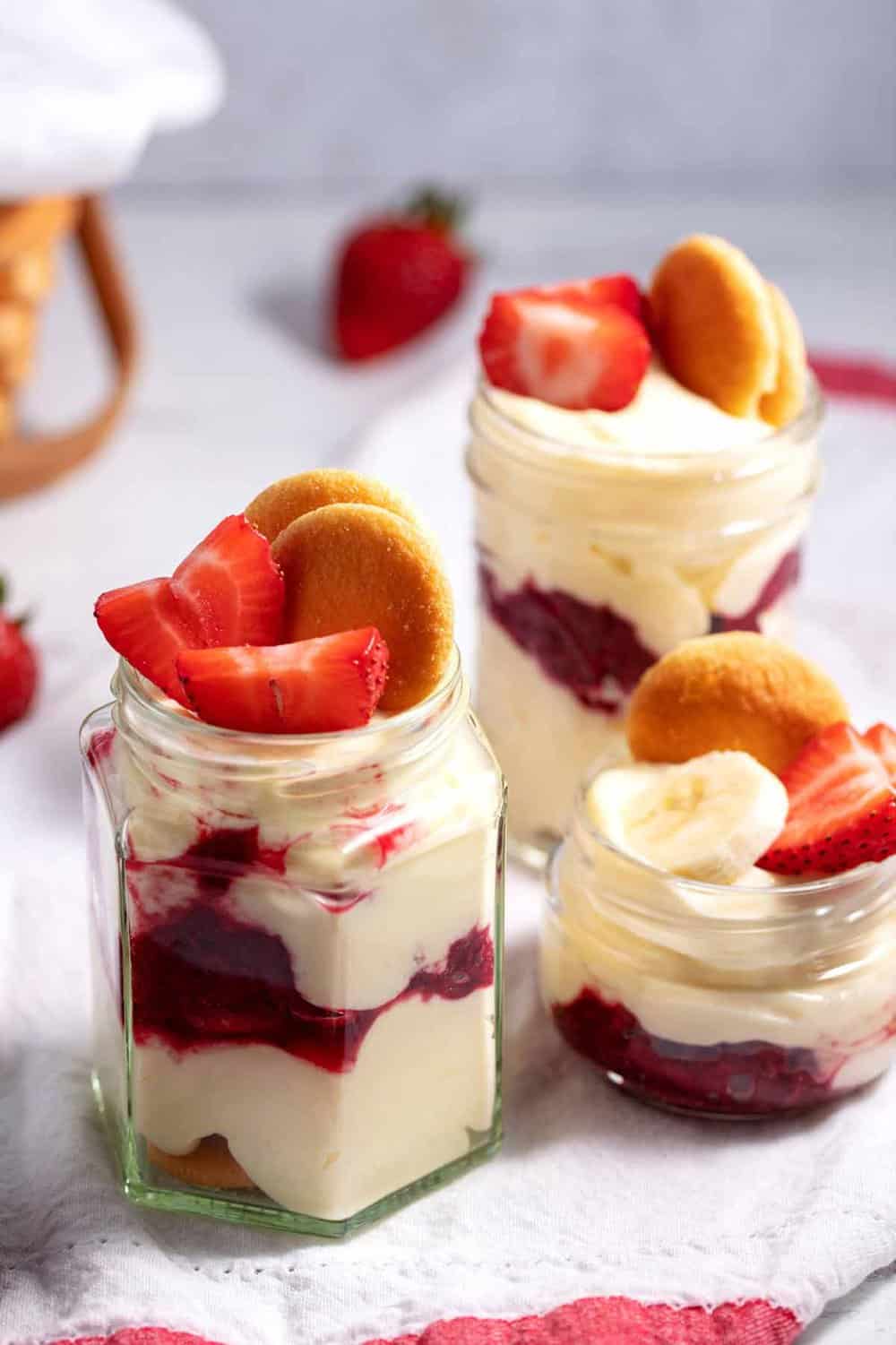 Having a family picnic? Nothing feels more farm-fresh than serving banana pudding in small canning jars. No need to match them. Odds and ends will do.
Gather enough glass jars for everyone.
Start with a layer of wafers, bananas, strawberries, and pudding in the containers. Repeat layers until you reach the top.
Banana Pudding with Waffles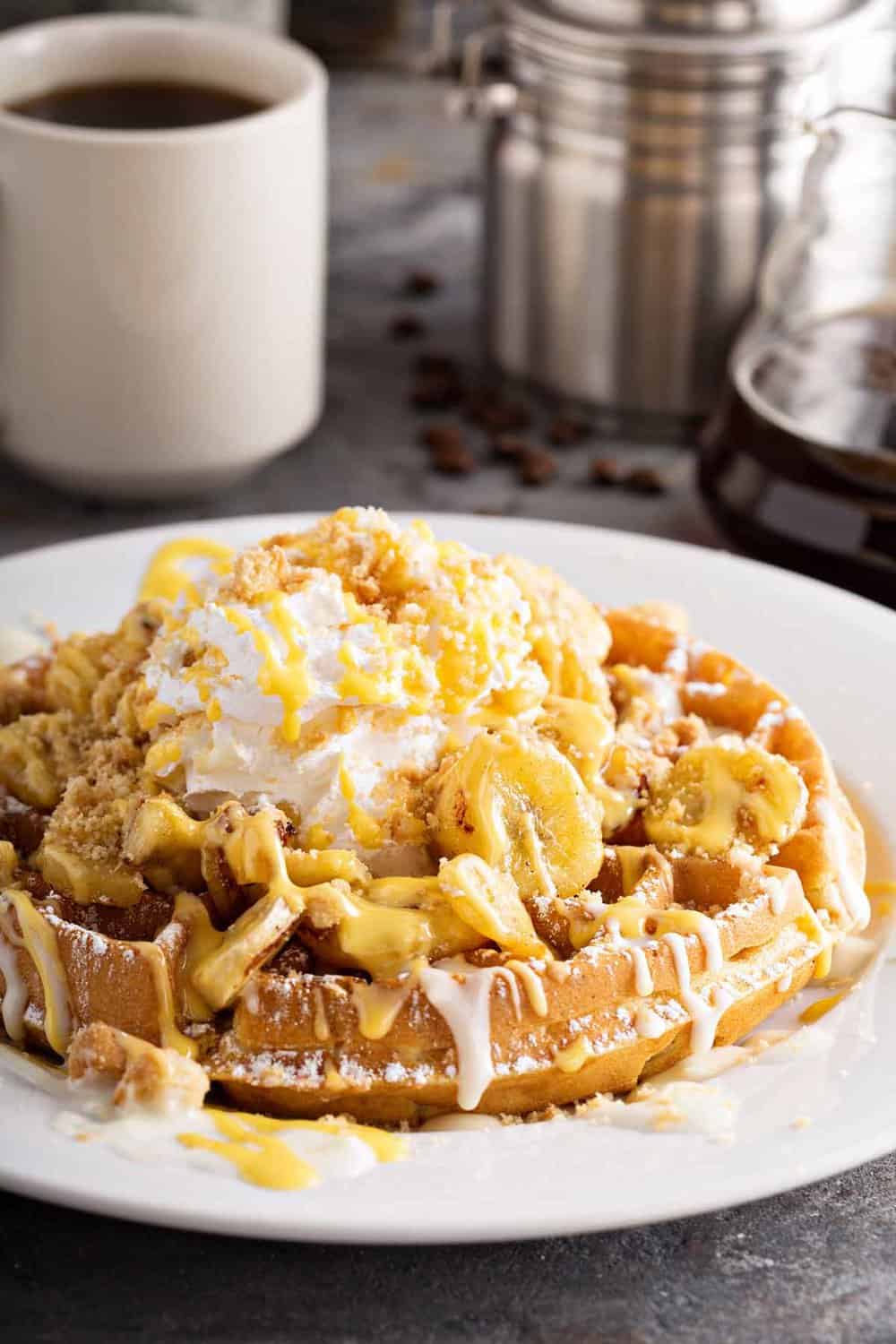 Waffles and banana pudding aren't just a dessert. Make them for a quick Sunday lunch or a breakfast for dinner night.
Make and chill the banana pudding.
Layer the pudding and bananas on top of the waffles. Garnish with whipped cream.
Banana Pudding Cheesecake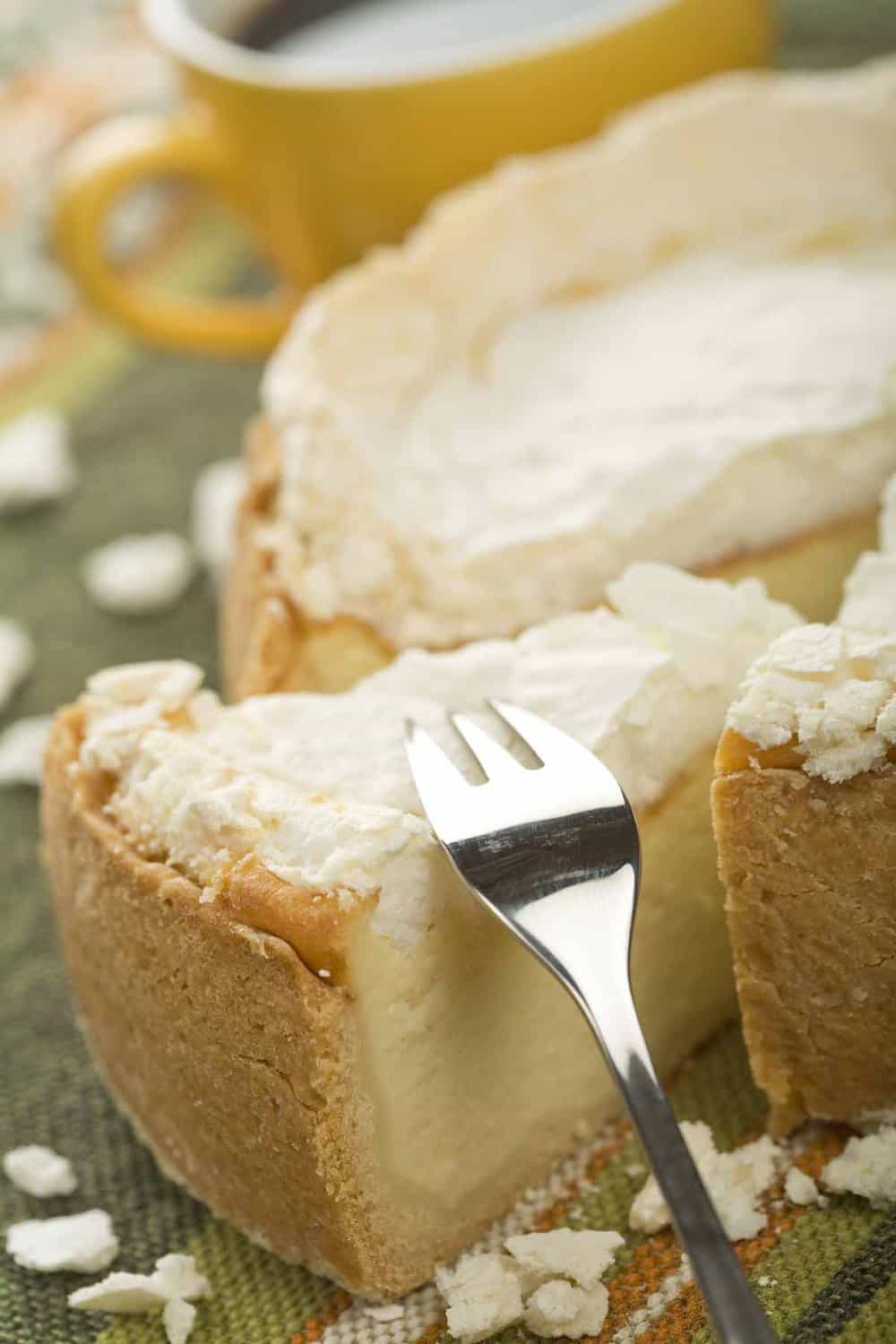 The cheesecake base is made with crushed vanilla wafers. Next comes the vanilla cheesecake. Whipped cream and sliced bananas garnish the top.
Sprinkle cookie crumbs on top of the bananas. It is an elegant way to serve banana pudding for the holidays.
Pro tip: Make your own whipped cream by whipping heavy cream with ⅛ cup sugar and 1 teaspoon vanilla extract. Use a hand-held electric mixer with the wire whip attachment and whip until stiff peaks form.
Now that your creative juices are flowing, pull out the bananas, and let's get going.
Hungry for More Favorite Desserts?
Check out these tasty treats.
Banana bread or muffins. Discover the secrets that lead to the ultimate banana muffin recipe. Bake a muffin with an intense banana flavor, a moist, light, tender crumb, and slightly crunchy top.
Snickerdoodle cookies. Do you want to make the BEST snickerdoodle cookies? Learn the 7 techniques that will take your snickerdoodles from good to absolutely AMAZING! Thick, soft and chewy, and slightly tangy with a crinkly top, the cookies taste of cinnamon and sugar sweetness.
---
Did you like this post? Then let's be social. FOLLOW ME on PINTEREST and INSTAGRAM to keep up with the latest tutorials, favorite recipes, and interesting happenings.
---