Toast and grind whole spices and crush dried herbs to create a peppery, slightly spicy, not too salty Montreal steak seasoning recipe. Flavor steak, burgers, chicken, potatoes, and more. This is an easy seasoning mix to make and store. Plus it is a unique gift to give to your favorite chef.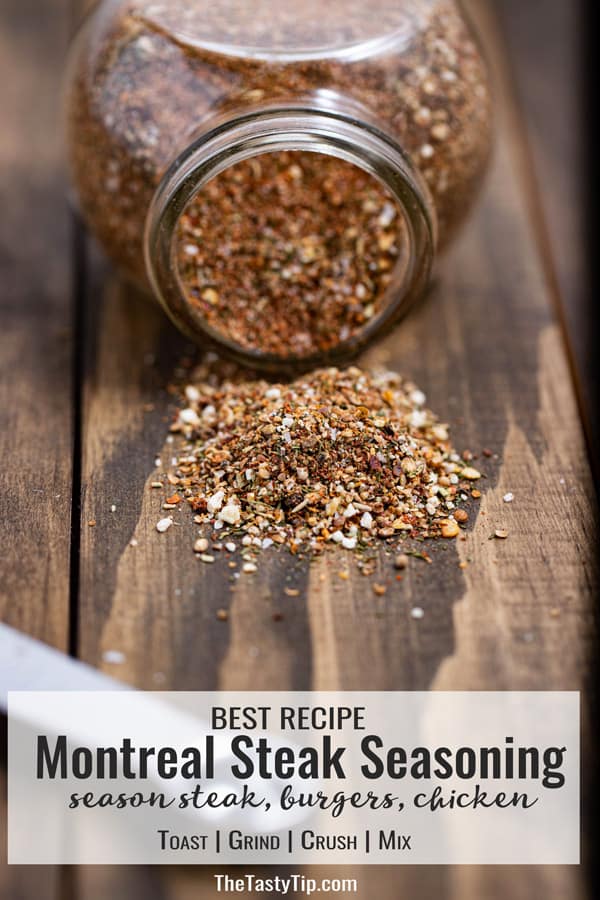 Nine years ago at a toddler's birthday party, as I bit into a burger the host had grilled, I paused.
I have never been much of a hamburger fan, but this was no ordinary burger. It was delicious — peppery, piquant, complex, interesting. Since my friend was a culinary school graduate, I figured she had used some technique to make the meat taste so amazing.
When I asked her about it, she simply said, "Montreal steak seasoning."
That was my first introduction to a seasoning that has been around for more than 70 years.
Montreal Steak Spice Origin
Over 70 years ago, Morris Sherman, a skinny man nicknamed "The Shadow", created a sensation by accident.
Sherman worked as a grill man at Schwartz's, a smoked meat deli in Montreal, Canada. A Jewish immigrant from Romania by the name of Reuben Schwartz owned the deli.
Schwartz allowed his employees to eat liver steak for free.  Sherman "The Shadow" wanted to make his meat more appetizing, so he seasoned it with a concoction of spices.  He had Jewish pickling and pastrami spices, salt, and pepper at his disposal.
As legend goes, Sherman unassumingly added Schwartz's Jewish pickling spices to the liver steaks as he grilled them.
Since he was grilling right in front of the customers, people noticed what he was doing. They requested the same seasoning on their food too. And with that, Montreal steak seasoning was born.
The seasoning became so popular in the community that Schwartz's deli began selling the seasoning mix to its customers.
Soon other Montreal delis and steakhouses began duplicating the recipe for their customers.
At first Montreal steak seasoning was only sold locally. But that changed when the flavor experts from McCormick Canada visited Montreal in the late 1980's.
They fell in love with the seasoning and decided to bottle and sell it.  Originally, they intended to sell the spice blend to restaurants only.
But even after distributing samples to chefs in restaurants, no orders came.
However, McCormick's did receive repeated requests for the samples from restaurant employees. As it turned out, employees were taking the seasoning mix home and cooking with it. 
It was so popular with home chefs, McCormick's decided to launch the seasoning in supermarkets, rather than focus on selling it to restaurants.
It was a huge success with the average consumer, becoming McCormick's top selling spice. The McCormick brand helped Montreal steak seasoning became an international sensation.
This is What's Wrong with Commercial Montreal Steak Seasoning
You may have seen it on grocery store shelves. There are many varieties of Montreal steak seasoning available. Small hand-crafted versions as well as mass produced spice blends vie for shelf space.
After my introduction to the seasoning, I began stocking it in my pantry and using it on many meat dishes. However, over time, I couldn't keep overlooking a major problem. It was far too salty.
In my experience, all the commercially produced Montreal steak seasonings are too salty. And I like salt. But McCormick's Montreal steak seasoning recipe adds too much salt. And McCormick's was the brand I used the most.
I also suspected that it was so salty to hide the taste of old spices that had become bland.
My version of the Montreal steak seasoning recipe attempted to eliminate the problem of bland spices combined with too much salt.
Why Make Your Own Montreal Steak Seasoning Recipe
Control the salt level.
Use the freshest spices and herbs.
Toast the spices to enhance their flavor.
Customize the recipe.
What's in Montreal Steak Seasoning?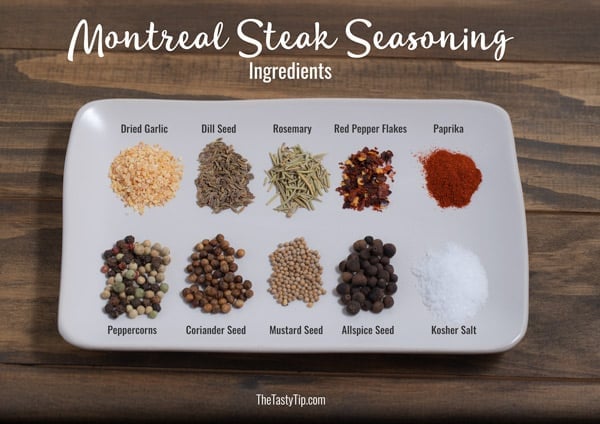 My Montreal steak seasoning recipe combines peppercorns and salt with basic pickling spices in their seed form (coriander, mustard, allspice, and dill). Additional herbs and spices add even more flavor.
The secret to a vibrant, fresh recipe is whole spices. I recommend toasting most spices in this recipe before grinding them.
As soon as a spice is ground, it starts to lose potency. Who knows when commercial coriander was ground before it hit the shelf?
There is a clear difference in taste and aroma between pre-ground and freshly ground spice.
So back to what Montreal steak seasoning is made of … here are the ingredients:
Whole Peppercorns: I recommend a peppercorn blend consisting of black, white, green, and red peppercorns.
World Market sells them in a packet that is easy to open and grind. You may find other brands in grocery stores. Beware of the containers with sealed lids where the only way to get the pepper out of the jar is to hand grind it.
If you purchase these peppercorns, you will have to grind them in the jar. This is time consuming and inefficient. Plus, you can't toast them before you grind them.
Can you use just black peppercorns? Of course. Black peppercorns are the most widely available peppercorns. However, for a more complex flavor, use a combination of peppercorns. Even a black and white pepper combination is better than using only black peppercorns.
Toast the peppercorns before grinding.
Coriander Seeds: Coriander are seeds of the cilantro plant. When crushed, coriander seeds have a light citrus, mildly sweet, earthy flavor. Coriander seeds are essential in this recipe.
Lightly toast the coriander seeds before grinding.
Yellow Mustard Seeds: Mustard seeds are pungent and slightly bitter. They are often an important ingredient in pickling spices. This was one of the unexpected spices in the first Montreal steak seasoning recipe.
Toast them first before grinding them.
Allspice Seeds: Allspice is one spice, but the taste is similar to a combination of nutmeg, cloves, cinnamon, and black pepper. It has a little heat, and a strong, warm aroma.
Toast the allspice seeds before grinding them. Your kitchen will smell heavenly.
Dehydrated Garlic: Garlic powder will not be as flavorful as dehydrated garlic. Add a kick with garlic.
Dill Seeds: Dill adds a fresh herbaceous note to a powerful, spicy blend.  You can substitute dill weed in place of the seeds if you must.
Sweet Paprika: Paprika adds a vibrancy and color to the seasoning mix. This is the only pre-ground spice I use in this recipe. I use powdered paprika because it is labor-intensive to process peppers into paprika.
I have never considered paprika to have much of a flavor. However, it takes some of the bite out of the intense peppery flavor and balances the taste of all the other spices.
Red Pepper Flakes: Red pepper flakes add some heat and color. They add "heat" in a different way than whole peppercorns do. If you like things a little hotter, you can add more than the recipe calls for.
Likewise, if you like a little less spicy taste, omit the red pepper flakes.
Rosemary: Rosemary brings a little woodsy and peppery flavor to the seasoning mix. Rosemary compliments other flavors without being overpowered.
Coarse Kosher Salt: Salt is a flavorant. This means it brings out the flavors of other ingredients, yet doesn't contribute a flavor of its own. It helps release the aroma of food and it brings all other flavors into focus.
How to Make Montreal Steak Seasoning
MEASURE out the whole spices and dried herbs.
TOAST the peppercorns, coriander seeds, mustard seeds, and allspice seeds separately in a small skillet over medium low heat. The peppercorns take about 5 to 7 minutes to toast over medium low heat. Coriander takes about 4 to 5 minutes, mustard seed takes 3 to 4 minutes, and the allspice seeds take 5 to 6 minutes to toast. Take care to not burn the spices.
COOL the spices for a couple of minutes after toasting them and before grinding them.
GRIND the spices with a spice grinder, food processor, or blender. If your spice grinder or food processor is small, it may be helpful to grind the spices separately. Pulse 5 to 7 times.
CRUSH the rosemary, dill seed, and garlic. Pulse 2 to 3 times.
STIR all the ingredients together in a bowl.
STORE in an airtight container in a cool dark place (like your spice cupboard) for up to 3 months.
Montreal Steak Seasoning Uses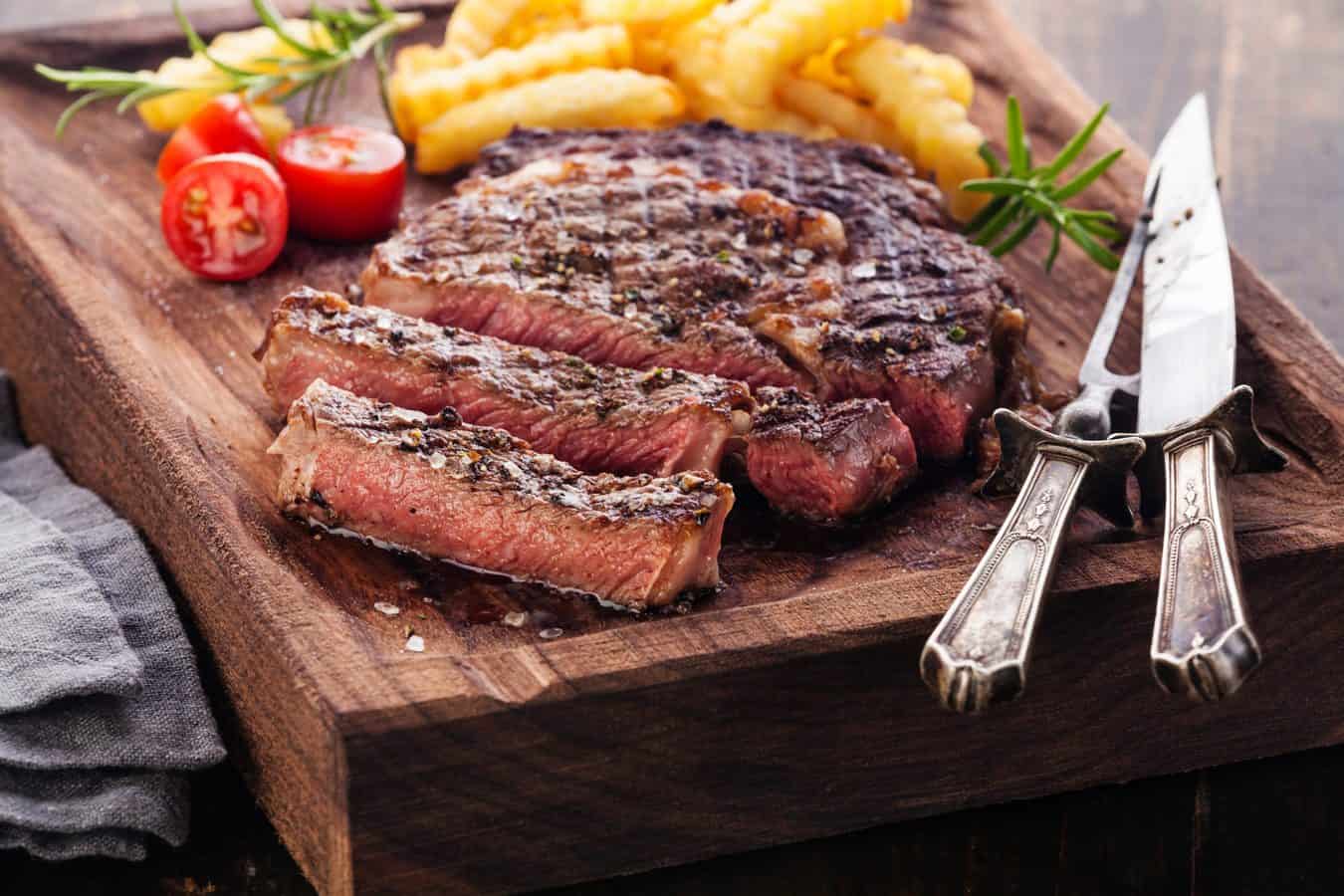 Montreal steak seasoning flavors not only steak and hamburger, but also chicken, kebabs, vegetables, turkey burgers, potatoes, salmon, and more.
Sprinkle the steak seasoning on a steak or hamburger on the grill. When you flip the meat over, sprinkle some on the other side.
Add 1 ½ to 2 tablespoons of this Montreal steak seasoning recipe per pound of ground turkey to make turkey burgers.
Add Montreal steak spice to salmon on the grill. A light sprinkling will work here.
Season any grilled or pan fried chicken with the steak seasoning on both sides as it cooks.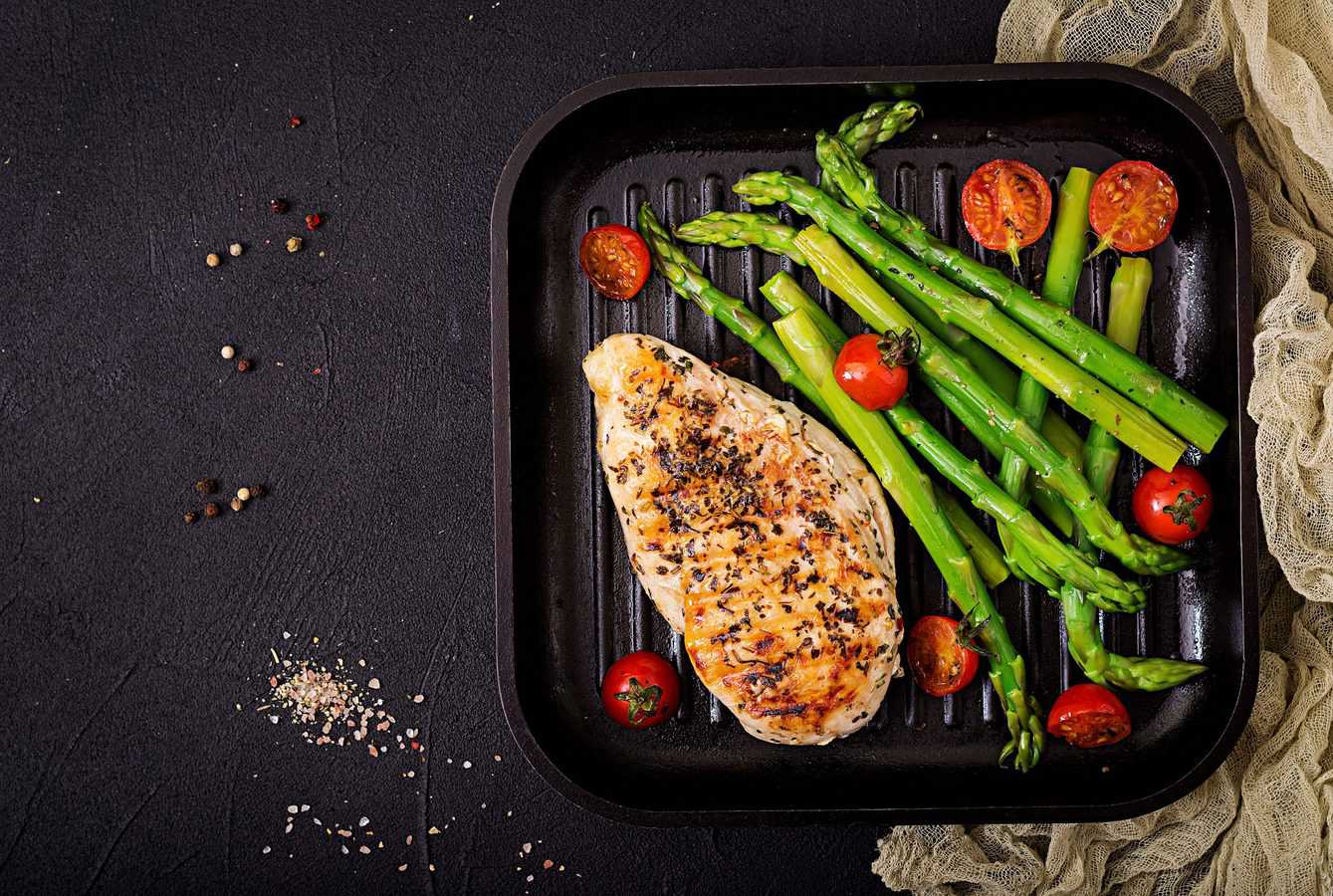 Frequently Asked Questions
Is Montreal steak seasoning from Montreal?
Yes. The seasoning mix was invented at Schwartz's, which is Montreal's oldest deli in Canada.  Schwartz's is famous for smoked meat sandwiches and for inventing Montreal steak seasoning.
What can I use instead of Montreal Steak Seasoning?
Using salt and pepper is the best way to flavor any meat if you do not have Montreal steak seasoning and you don't want to make it.
Is Montreal Steak Seasoning Gluten Free?
Each manufacturing company has their own recipes for Montreal steak seasoning and if their recipe is gluten-free, it will say so on the label.  If a commercial seasoning mix is not specifically listed as gluten-free, you cannot assume it is. Don't assume, even if you do not see wheat, rye, barley, and oats on the ingredient list.  

However, if you use this Montreal steak seasoning recipe, you can be sure it is gluten-free.  The only ingredients are whole spices, dried herbs, and salt.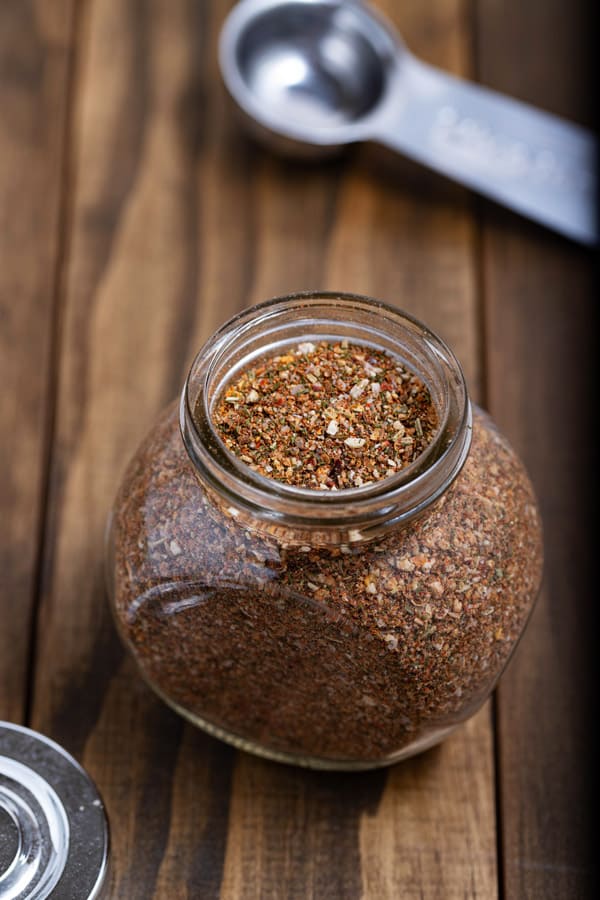 ---
Did you like this post? Then let's be social. FOLLOW ME on PINTEREST and INSTAGRAM to keep up with the latest tutorials, favorite recipes and interesting happenings.
---
Yield: Approximately 1 cup
Montreal Steak Seasoning Recipe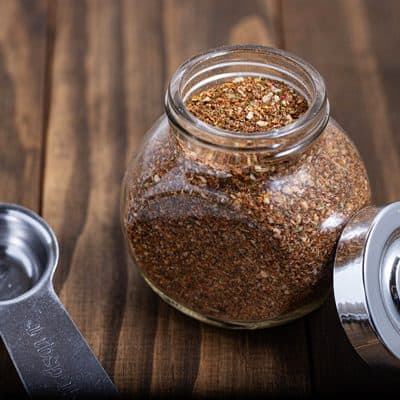 Create an easy Montreal steak seasoning recipe by toasting and grinding whole spices and crushing dried herbs. This recipe makes a peppery, slightly spicy, not too salty seasoning to flavor steak, burgers, chicken, potatoes, and more.
Ingredients
2 tablespoons mixed peppercorns (black, white, green, and red) or all black peppercorns
2 tablespoons coriander seeds
1 tablespoon mustard seeds
1 tablespoon allspice seeds
1 tablespoon dehydrated garlic
1 ½ tablespoons dill seed, dried
1 tablespoon rosemary leaves, dried
2 teaspoons sweet paprika, ground
1 teaspoon red pepper flakes
2 tablespoons Morton kosher salt
Instructions
MEASURE out the whole spices and dried herbs.
PRE-HEAT a small skillet on the stove over medium heat.
TOAST the peppercorns, coriander seeds, mustard seeds, and allspice seeds separately. Because of the different seed sizes, not all the spices toast at the same speed. The peppercorns take about 5 to 7 minutes to toast over medium low heat. Coriander seeds take about 4 to 5 minutes, mustard seeds take 3 to 4 minutes, and allspice seeds take 5 to 6 minutes to toast. Take care to not burn the spices.
COOL the spices for about 3 minutes before grinding.
COARSELY GRIND the spices. Use a food processor, spice grinder, or small coffee grinder. Pulse about 5 times, or until the spices are coarsely ground. If your spice grinder is small, you may need to grind the larger spices separately.
CRUSH the rosemary, dill, and garlic. I recommend using the same spice grinder or food processor. Pulse 2 to 3 times.
MIX the ground spices, crushed herbs, and the rest of the ingredients in a medium sized bowl. Stir with a spoon until all the ingredients are mixed well.
STORE in an airtight container on your spice shelf for up to 3 months. Spices slowly lose their flavor and aroma after being ground, so keep the lid on the container.
Notes
All images and content are © TheTastyTip.com. If you want to use this recipe and techniques, please take your own photos, write your own description, and link back to this page. Thank you.
Nutrition Information
Yield
16
Serving Size
1
Amount Per Serving
Calories

9
Total Fat

0g
Saturated Fat

0g
Trans Fat

0g
Unsaturated Fat

0g
Cholesterol

0mg
Sodium

794mg
Carbohydrates

2g
Fiber

1g
Sugar

0g
Protein

0g
Nutrition information is an estimate only and may vary based on individual ingredients added and cooking methods used.
---
Did you make this recipe? Tag @thetastytip on Instagram and hashtag it #thetastytip.