Unleash your inner cake artist with the secrets to create a stunning minimalist cake design. Even beginners can make simple, elegant cakes for any occasion.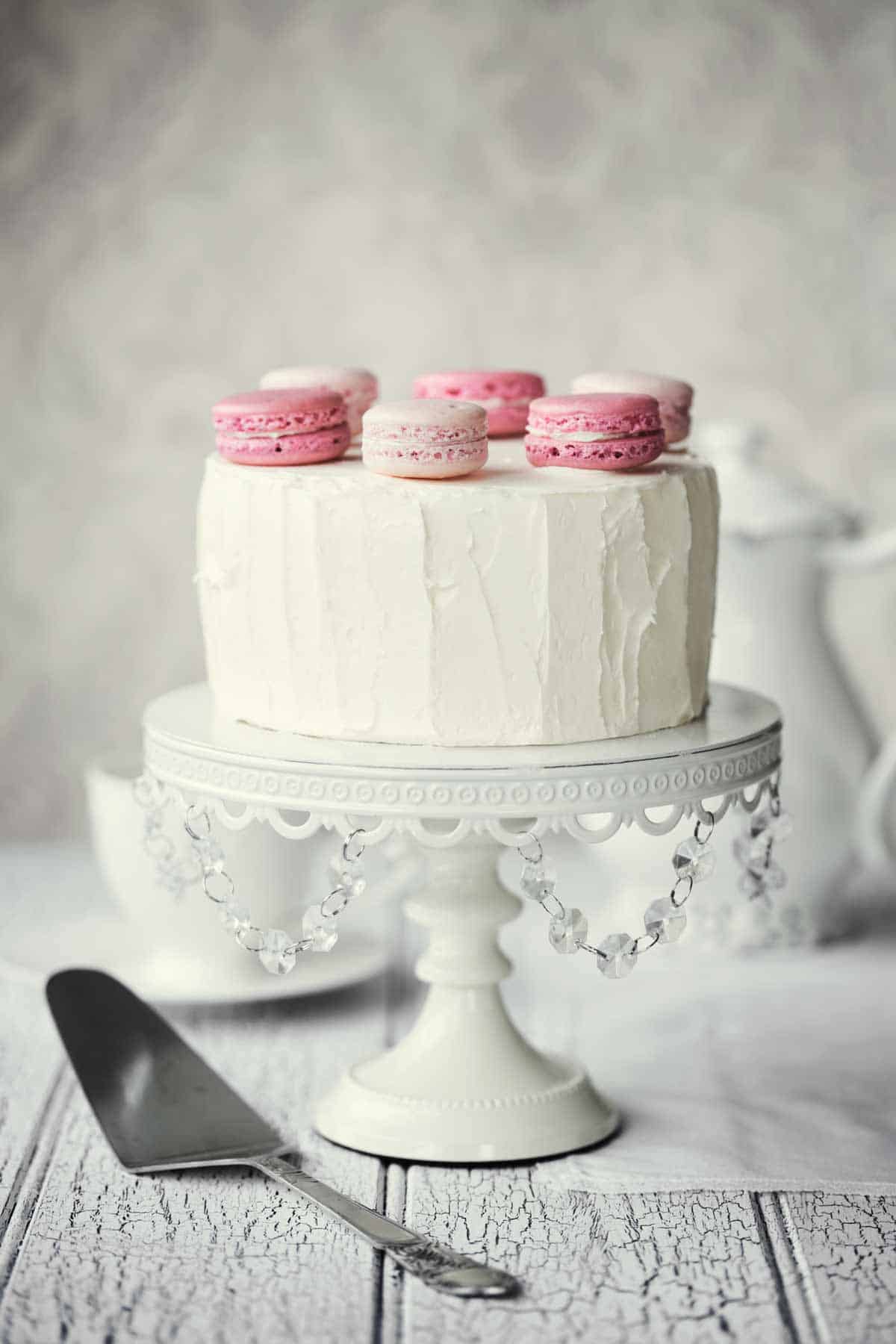 "Let them eat cake," said Marie Antoinette, maybe. And why not?
Homemade cake is a brilliant way to celebrate any occasion - big or small. But if you thought a cake had to be drowning in buttercream or smothered with fondant to look breathtaking, think again.
Minimalist cake designs are all about simplicity, elegance, and clever techniques that create a visual impact.
But don't worry. You don't need to be a skilled decorator to make it happen. With the right tools and a sprinkle of creativity, you can design a minimalist cake that is both stunning and unpretentious.
Ready to make a gorgeous cake that will leave a lasting impression long after the final crumb is gone? Then check out these cake styles and prepare to craft an unforgettable but simple minimalist design.
See all the other desserts too.
Jump to:
What is a Minimalist Cake Design?
A minimalist cake is a simple, elegant dessert that features clean lines, a limited color palette, and understated decoration. It focuses on quality ingredients and skillful execution.
The cake can be single-layer or stacked and lightly frosted or naked. This style is often associated with a modern, refined aesthetic.
Check out all the ingenious techniques and see that anyone can make one of these cakes -- even a beginner.
Make the Pan Do all the Work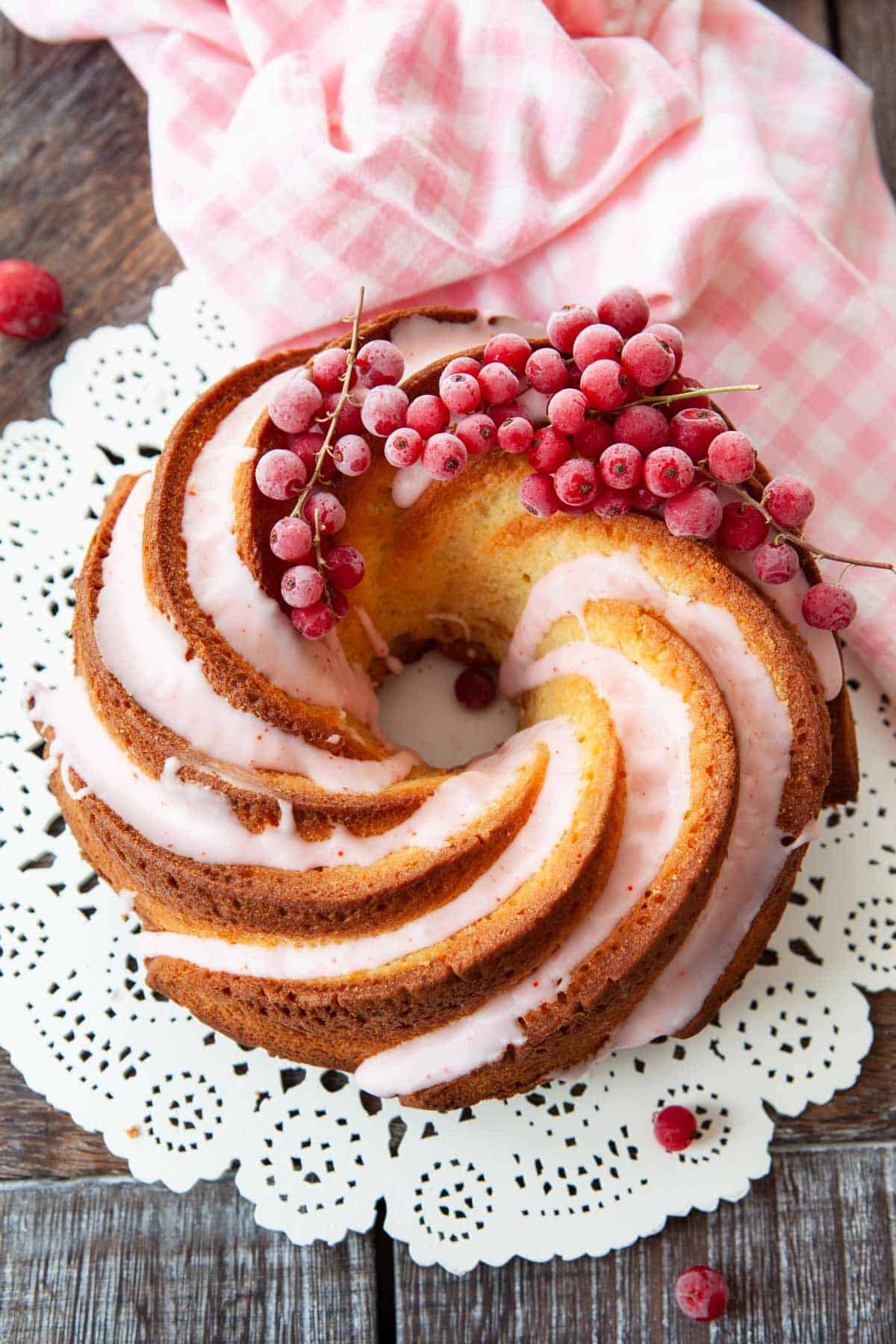 Use a Bundt cake pan. It is the easiest path to a beautiful unadorned appearance. The lines and style of the pan do all the work, creating the perfect vibe and appearance.
And with a myriad of pan shapes, you will surely find the one that speaks to you.
If you don't want to go naked, here are a few suggestions for simplistic finishing touches:
Drizzle a glaze along the side grooves. This type of cake is elegant as a modest wedding cake.
Dust with powdered sugar, cocoa, or cinnamon powder.
Pipe a straight line of cream cheese frosting in the cake indentations. Start halfway down the side and pipe into the center of the cake.
Spoon chocolate ganache over the top and let it flow freely.
See this chocolate chip Bundt cake. And check out all the Nordic Ware Bundt pans.
Dazzle with Candy Accents
Now is your chance to unleash your inner Willie Wonka. Kids of all ages smile when they see this sugary creation.
With candy, you can go as light or heavy as your sweet tooth can handle. Candy cakes are one of the most popular concepts for a birthday celebration.
Here are just some of the ways you can embellish simplistically with candy.
Make a border (on the top or bottom of the cake) with M&Ms, Whoppers, or Hershey kisses.
Construct patterns with round candies. Spell words, write numbers, or fashion shapes (like a basic floral design). Emoji cakes outlined in sweets are one good idea to celebrate your big day.
Highlight the center. Make a centerpiece by sticking a giant decorative lollipop in the middle of a lightly frosted cake.
Get Creative with Buttercream Frosting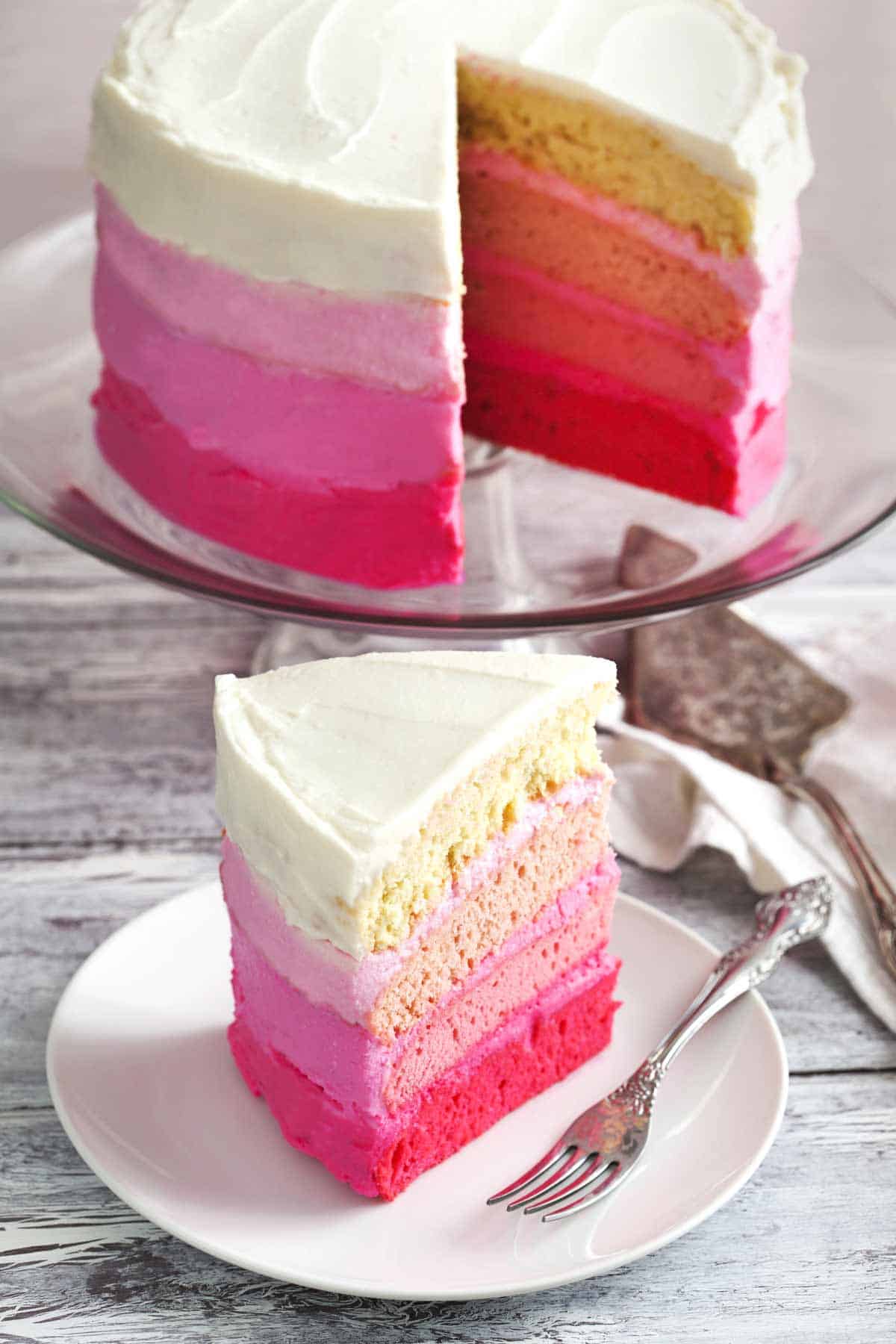 When it comes to minimalist cakes, buttercream can be your best friend. But don't just slather it on. Get creative!
Here are some simple tips to elevate your buttercream game:
Create an ombre effect. Use different shades of frosting for this technique. Start with a light shade at the bottom of your cake and gradually add more color as you work your way up. The result is a stunning gradient effect that's sure to impress.
Use everyday tools. Who says you need fancy tools to create patterns? Grab a spoon, a fork, or even a comb, and get creative with patterns. These everyday items can help you create all kinds of fun textures and designs in your frosting.

Drag the edge of a spoon through your frosting to create an elegant design or swirled effect. Or, use a fork to create a textured, rustic look that's perfect for a more casual dessert.
Try frosting tips. If you're feeling fancy, pull out your frosting tips. A simple star tip can be used to create a lovely swirl, while a leaf tip can be used to make delicate, realistic leaves.

And don't forget about your trusty round tip. Use it for dots, lines, and other simple patterns that look great on any cake.
Sprinkle a Fun Masterpiece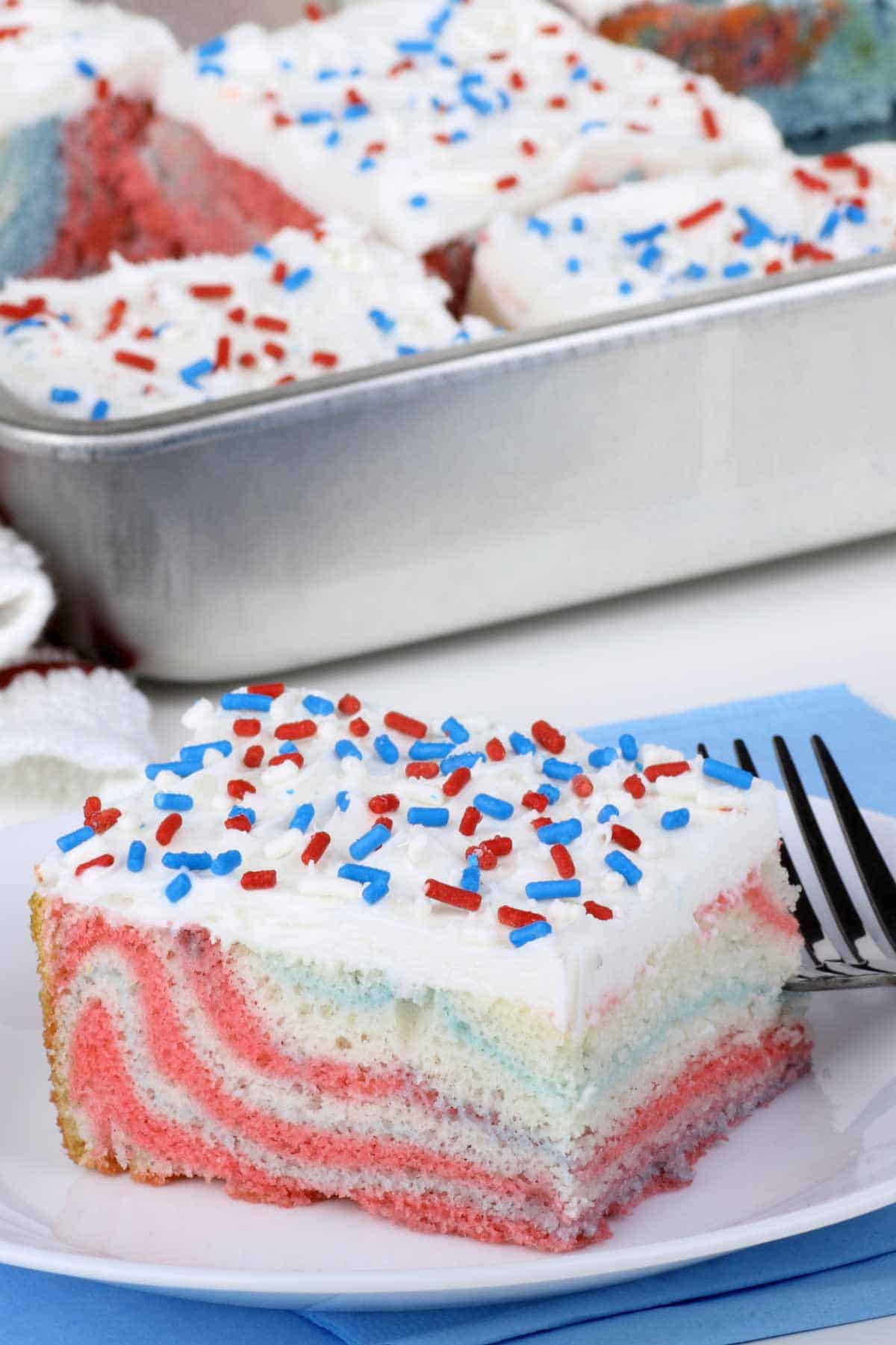 Sprinkles are a very simple way to decorate. They come in all shapes, colors, and sizes, so finding ones that fit your cake theme is easy.
Top: Lightly sprinkle the top of a sheet cake with colorful jimmies.
Borders: Push large sprinkles into a border at the bottom of the cake.
Shapes: Place a shaped cookie cutter on the cake. Then pour a light layer of sprinkles into the form. Gently remove the cookie cutter and see the shape remain.
Dust on a Beautiful Finish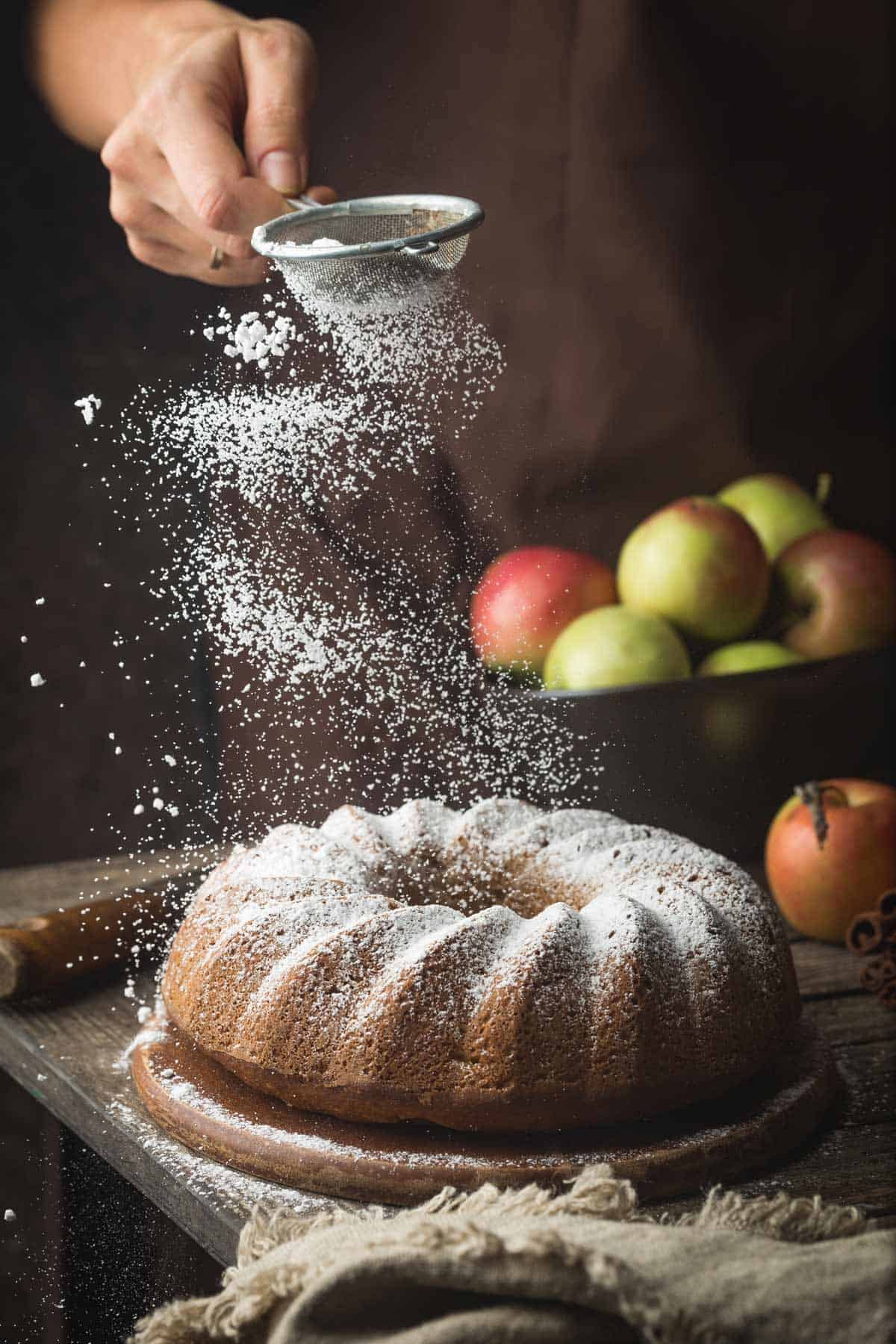 A dusted finish is a very cake simple design. But it is elegant enough for any special occasion.
Bundt and angel food cakes look radiant with a light dusting of powdered sugar. Especially when garnished with fruit.
To lightly and evenly dust, you will need a small fine mesh strainer or dusting wand. Try dusting with powdered sugar, cocoa powder, freshly grated spices, or edible luster dust.
Here are the two best ways to dust:
For Bundt or angel food cakes: Lightly sift the powdered sugar over the cake with a fine mesh sieve.
For a flat cake: Place cutout shapes on the top and then sprinkle powdered sugar on the cake's surface. Remove the cutouts and see the shapes shining through the sugar.
Add a Touch of Whimsy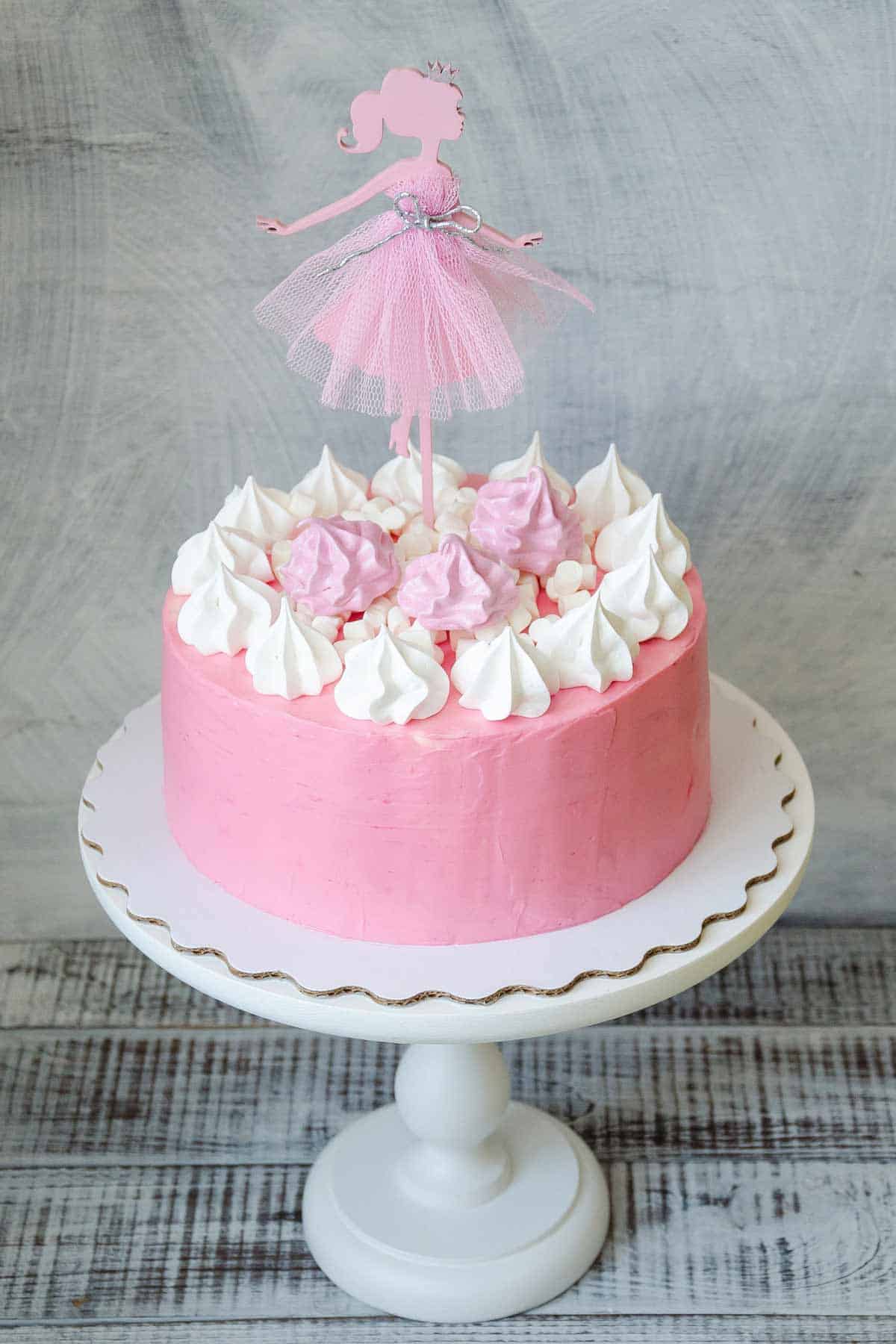 If you're a fan of the clean and simple aesthetic, you might think that a cake topper would be overkill.
Fear not. You can add a touch of whimsy to your pristine creation without sacrificing its understated charm.
The right topper can add personality to your dessert and give your special day a playful theme. The best kind of cake for a topper is one that is frosted smooth with or without a border. Then your eye will be immediately drawn to the center.
Here are a few suggestions for toppers that will elevate your cake.
A box of candy. Attach an empty box of candy to a cake stick and insert it in the center of the cake. To add more excitement, arrange the candies on the cake to look like they spilled out of the box.
Paper cutouts. One of the simplest ways to make a cake topper is by cutting out a design from cardstock.

You can use scissors or a craft knife to create a minimalist design, such as geometric shapes, silhouettes, numbers, or letters. Attach the cutout to a wooden skewer or toothpick and insert it into the cake.

If you have a Cricut or Silhouette machine, it is a breeze to cut shapes from cardstock. I own a Silhouette and use it often for this type of project.
Fresh flowers. Fragrant, newly-cut flowers give the cake a fresh look. They are a charming way to top a refined wedding cake. But they also make great toppers for Mothers' Day or graduation baked treats.
Plastic cake toppers. You have a wide variety of options for plastic cake toppers. Children's cartoon characters, superheroes, animals, and sports are some of the choices at your disposal. These cake toppers are often found on birthday cakes.
Glam up with Glaze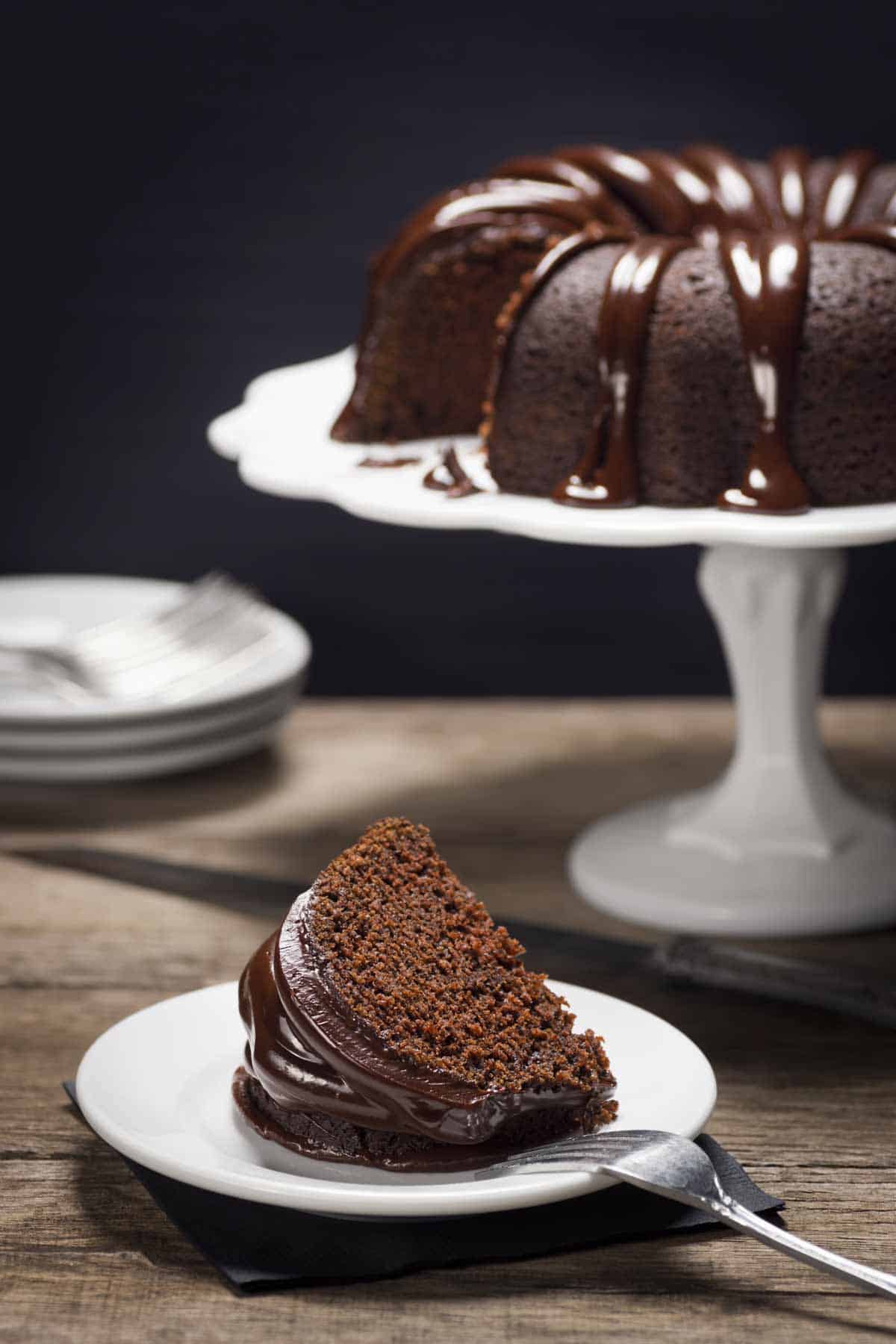 A glaze can be shiny or dull, but the cake's flawless appearance will stop you in your tracks.
Use ganache. Make chocolate ganache by melting chocolate chips in hot cream. When the ganache is smooth, pour it evenly over the cake and let it drip down the sides.

When it dries, the top will be smooth and pristine. This is one of the best techniques to use when you want to avoid frosting a cake.
Use store-bought frosting. Heat the canned frosting in the microwave for about 30 seconds. It will liquefy and be pourable.

Pour the liquid frosting over the cake, covering it completely. The icing will harden as it dries.

If you want a thicker coat, repeat the process after the first layer dries. A glazed cake makes a fantastic minimalist birthday cake.
Berry-fy with Fresh Fruit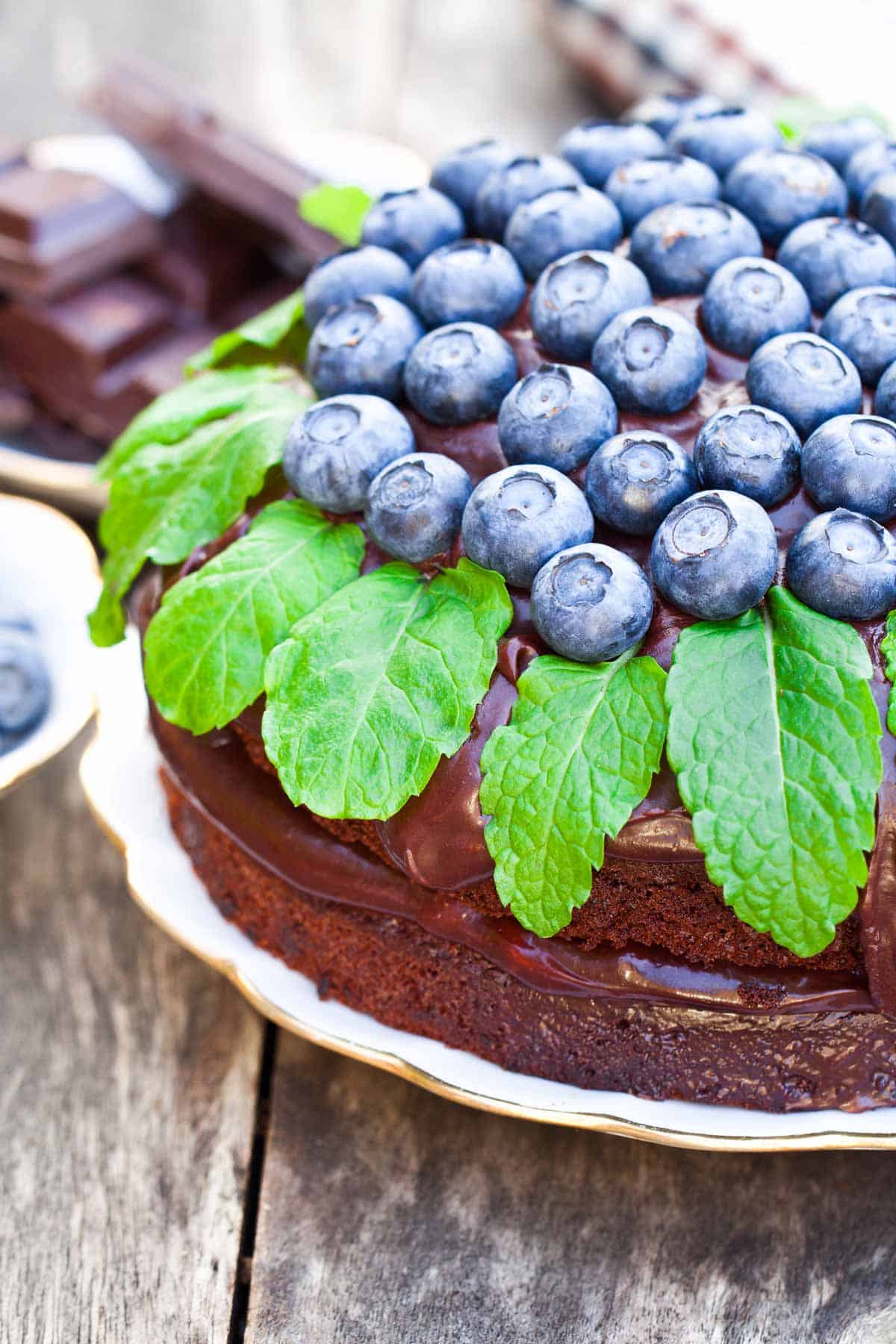 Naked cakes are a popular form of minimalist cake. The cake and decorations shine without the distraction of a thick layer of frosting.
Berries are a wonderful choice for naked cakes. Their vibrant colors and natural shapes provide a striking visual element. Whether arranged in a pattern or scattered haphazardly, berries add color and texture to a minimalist theme.
Use the same fruit for a solid color theme, or mix two or three berry varieties to add color contrast.
Berries look brilliant on glazed or dusted cakes. But if you want to ice your cake, berries will also look magnificent on frosted cakes.
Tips for using berries:
Keep 'em dry. Wash and then thoroughly dry the berries before putting them on the cake.

If they are even slightly damp when they go on the cake, the cake can get mushy, and the berries won't look very attractive.
Beware of the shelf life. Berries on a cake will shorten the shelf life of the cake. The best way to prevent the fruit from going bad prematurely is to refrigerate leftovers immediately after eating a slice.
Embrace Minimal Color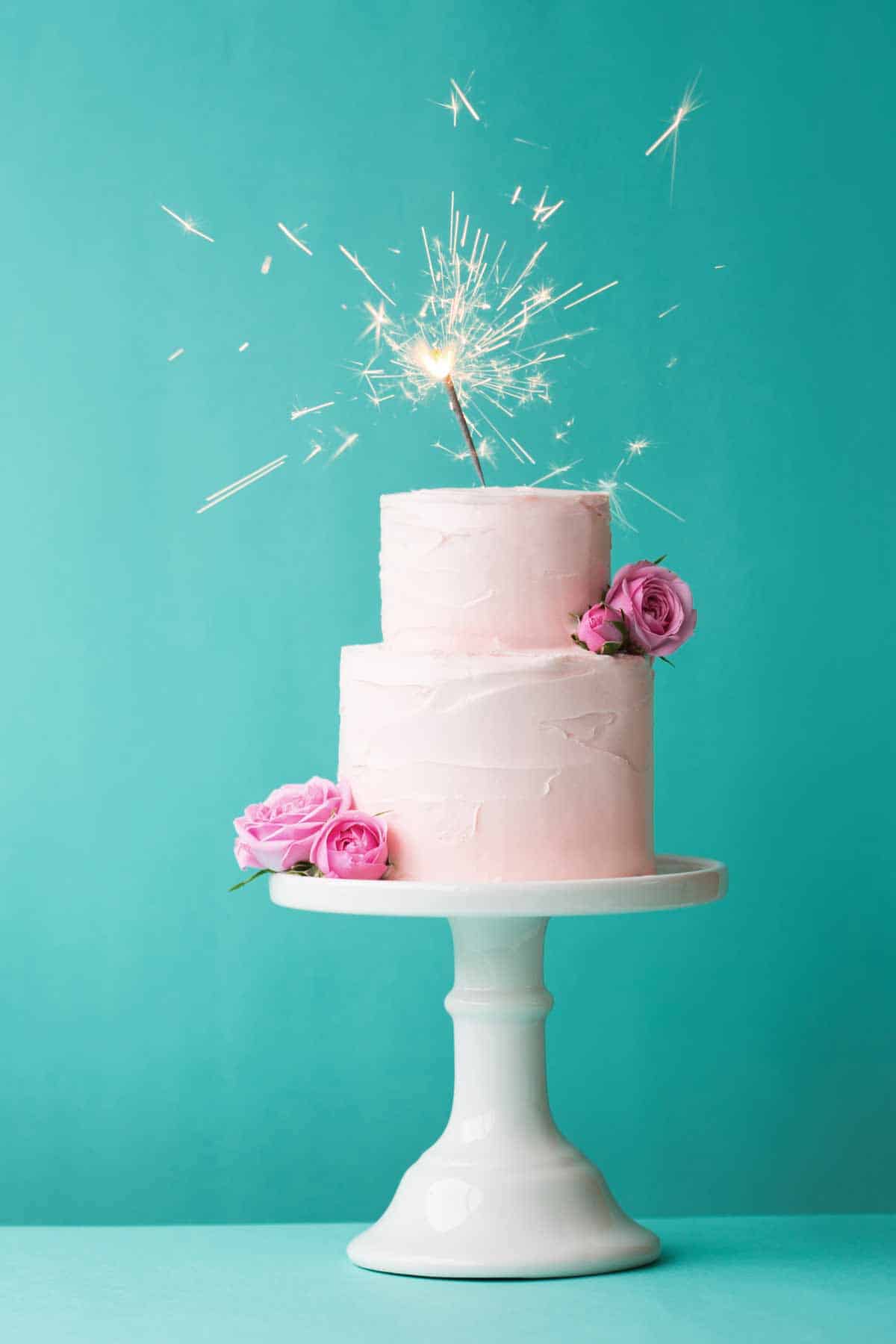 Make a solid color cake. Go for a bright and bold look with a single shade, or use a softer tone for a more subtle effect.

Either way, the result is a cake that's chic, elegant, and understated. A solid color cake is a perfect canvas for adding minimalist decorations like fresh flowers or geometric toppers.

And just because the cake is one color doesn't mean you can't use decorating tips. Add a border or pipe shapes on the side. Just keep all the decorations the same color.
Go for a monochromatic scheme. Monochromatic color involves using different shades or tones of the same color to create a subtle gradient effect. It's a great way to add depth and interest to your cake while keeping the overall look minimalist.

A pink cake may have three shades of pink to grab your attention. Get this effect by dividing your frosting. Then use different amounts of coloring in each portion.

The possibilities are endless, and the result is a cake that's anything but boring.
Note: Avoid using liquid food coloring to color frosting. It can change the consistency of the icing and you may be disappointed in the color.
Instead, use a coloring paste made for tinting frosting. It gives you the perfect consistency and color you want.
Flip the Cake on its Head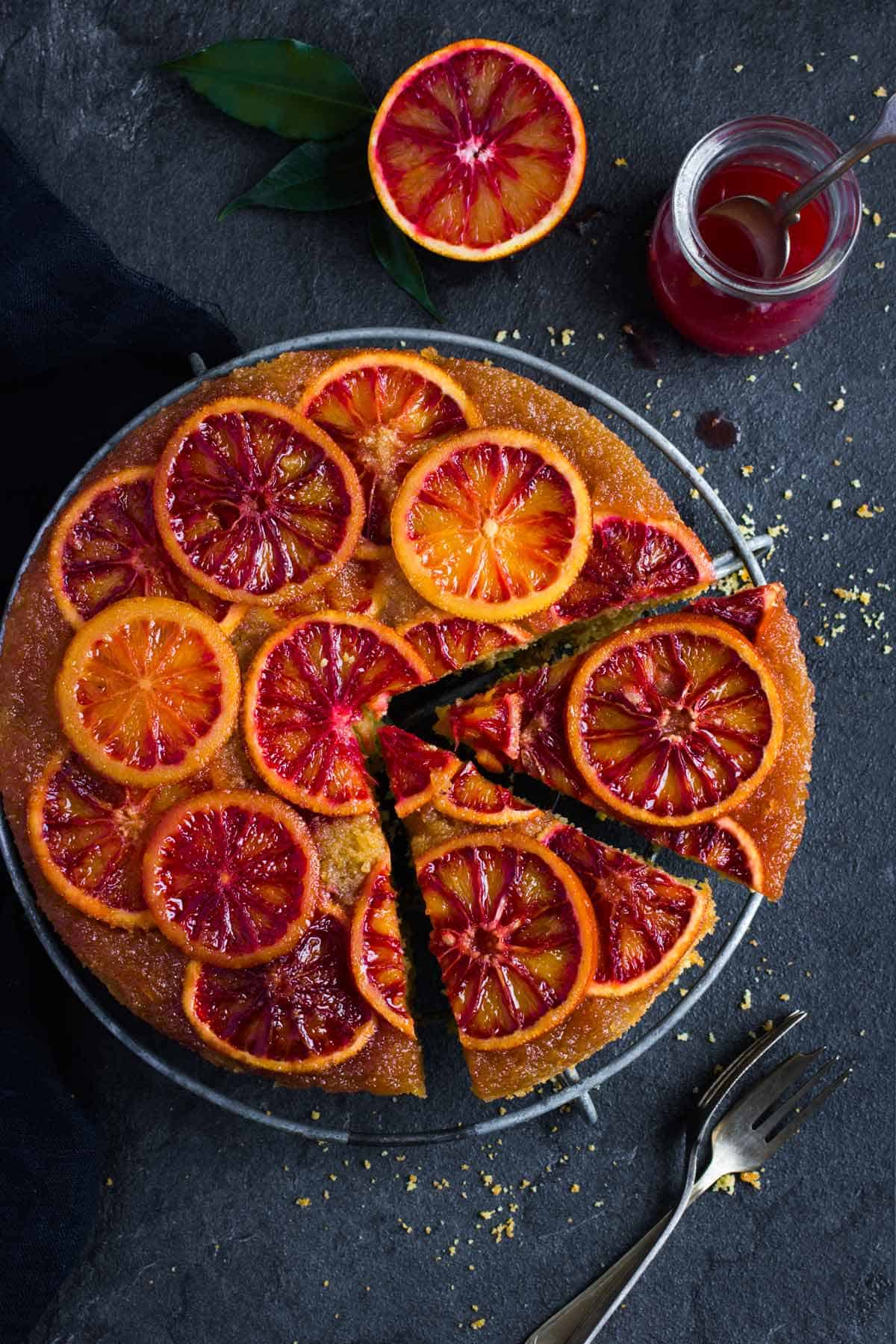 Decorate your cake before you bake it. Yep! I'm talking upside-down cake.
Although it is a simple minimalist cake, the fruit's exquisite placement creates a visually stunning display.
With the ability to arrange and adjust the fruit slices at the bottom of the pan, you can structure your masterpiece before pouring the batter over it.
That way, when you flip the baked cake upside down, you'll be greeted with a beautiful and impressive work of art.
Here are a few favorite fruits that are aesthetically pleasing in upside-down cakes.
Citrus slices
Pineapple slices
Caramelized banana
Strawberry and rhubarb
Apple
Conclusion
Artistic cake pans, genius garnishes, and unleashed imagination are the keys to stunning but modest designs.
Use your creative skills to give one of these minimalist cake design ideas a try. And discover for yourself that happiness is baked, not bought.
Can't Get Enough Cake
Learn all about cake with these incredibly helpful articles.
Did you like this post? Then let's be social. FOLLOW ME on INSTAGRAM and PINTEREST to keep up with the latest happenings.