Discover why you should even bother to cook pumpkin when pumpkin puree is available in a can in your grocery stores.  The answer may surprise you.

Why Cook Pumpkin Instead of Open a Can?
So, to cook a pumpkin or not to cook pumpkin . . .  Why should you cook a whole pumpkin when pumpkin puree is available in a can in the grocery store?
Many people look for shortcuts and time savers because we are all so busy.  However, some people are getting back to basics, learning how to make things that have become a lost art.  The maker movement inspires people to "do it yourself" for reasons ranging from self fulfillment to increased health benefits.
So with the maker movement in mind, here are a few good reasons to cook pumpkin in your own kitchen.
#1 Know Exactly What You Are Eating
Lots of "exposés" have appeared in recent years about how Libby's canned 100% Pure Pumpkin does not contain pumpkin, but rather a type of squash.  Before you get alarmed, let's get a few things straight.
Botanists explain that the term "pumpkin" has no botanical meaning.  Pumpkin, as we may think of it, is actually a type of winter squash.  (Squashes are divided into summer and winter varieties).
Since 1938, the US Food and Drug Administration (FDA) has allowed food canning companies to label squash as "pumpkin" or "canned pumpkin".  The FDA does not believe this practice "misleads or deceives consumers" and so the policy remains in effect.
Four different species of squash (Cucurbita moschata, Cucurbita mixta, Cucurbita pep and Cucurbita maxima) are defined as "pumpkin".  Libby's has developed their own variety of the Dickenson squash (pumpkin) which is the botanical variety Cucurbita  moschata.  Therefore, their 100% Pure Pumpkin is in fact, really pumpkin since it is one of the squash species defined as "pumpkin".
Dickenson pumpkins and butternut squash come from the same species of squash, characterized as sweet, creamy, and fleshy.  The pumpkins we carve for jack o' lanterns or use for decoration are a different species of squash (pumpkin).  These pumpkins are not very suitable to eat.  There is not much flesh and they are tougher and stringier.  Not very appetizing for your pumpkin pie.
There are many varieties of squash, you may define as pumpkin.  Several varieties are tasty to eat in sweet and savory dishes.  When you cook your own pumpkin, you know exactly what variety you are eating.
#2 Cook Pumpkin that is Fresh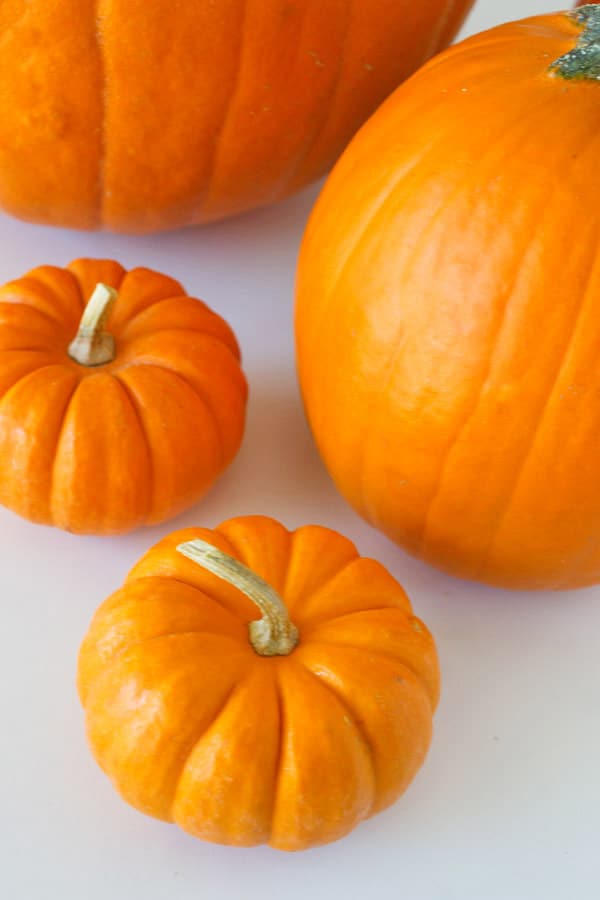 The pumpkin you cook is fresh.  The pumpkin in a can is ??? old?
If you cook pumpkin from a pumpkin in your garden or from your local farmers market, you know how fresh the pumpkin is.  Not so with a can.  You don't know how old the pumpkin was when it was canned.  And you also can't be sure how old the canned pumpkin is.
To be sure, there are expiration dates on the cans, so you know when the pumpkin puree is too old to eat.  But always, the fresher the canned pumpkin is, the better tasting it is.
There are valid reasons to can any food - pumpkin included.  For example, it is almost impossible to find fresh pumpkin in March.  You have to buy it in a can.
However, if pumpkins are in season and available at the store, cooking your own will give you the freshest pumpkin possible.  Fresh always tastes better.  Save that canned pumpkin for spring and summer.
#3 Roast the Pumpkin Seeds
When you cut open a whole pumpkin, you hit the jackpot with the pumpkin seeds.  Roasting pumpkin seeds is a tasty and healthy fall treat we anticipate every year.  It is easy to roast the seeds. Try a whole range of flavors such as plain roasted seeds or cinnamon sugar pumpkin seeds.
#4 You Don't Have to Puree the Pumpkin
If you know how to cook pumpkin, you are probably familiar with pureed pumpkin.  However, you can roast pumpkin and dice it or grill pumpkin in slices.  You can eat pumpkin in cubes or chunks too.  Cube the cooked pumpkin and use it in a fall salad.
#5 Save a Little Money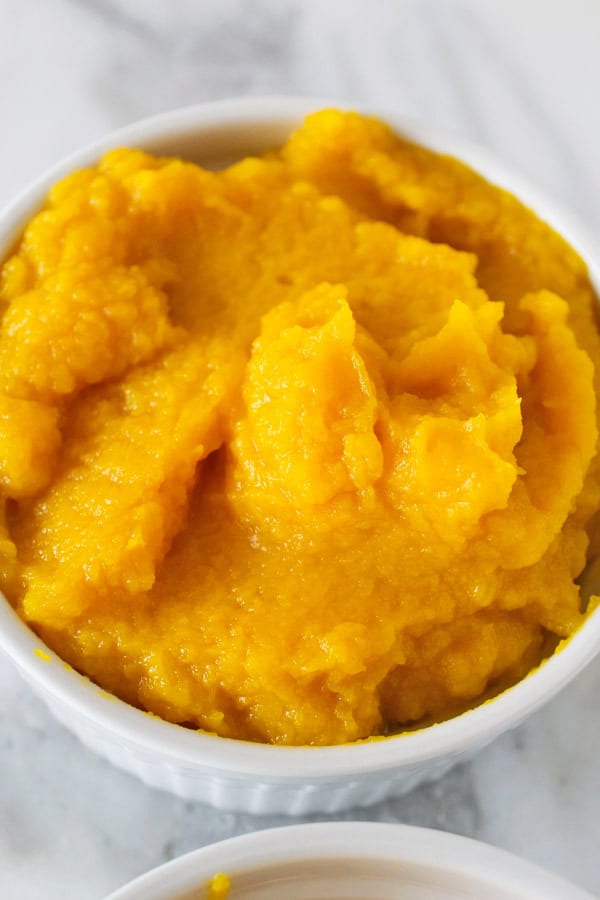 Grow your own pumpkin, make your own pumpkin puree, and you have saved yourself some money in the store.  But if you haven't planted pumpkin this season, you can find good prices on edible pumpkin at farmers markets or your local grocery store.
In the fall, a small sugar pumpkin can cost as little as $1.50 and produces 2 cups of puree.  The cost of a can of pumpkin ranges from $4 to $6 for 29 a ounce can.   It is a small difference in cost to be sure, but combine the money saving with the other benefits and you will find it is well worth it to cook your own pumpkin.
Although it is easier to use canned pumpkin in your recipes, there are benefits when you cook pumpkin from a fresh, whole pumpkin.  Trying cooking a pumpkin today.
Know exactly what you are eating
Control the freshness of the pumpkin
Roast the pumpkin seeds
Eat cubed, pureed, or sliced pumpkin
Save some money